Get Multiple Model Releases at Once
You asked for it, we listened: It's now easier to send several releases requests in one go.
Model releases are one of the more administrative tasks you face as a photographer: For each picture with an identifiable person, you need to request a permission from that person to sell it. To take the pain out of the task, we let you request releases with your favorite messenger in our app or by sharing a link from the web.
For some of you, that's not enough, however. Some of you show the same model in multiple photos, and you let us know how tedious it can be to request permission from the same person over and over again.
As of today, we've made some tweaks to solve this issue: You can now easily manage releases for several pictures at once or simply upload your own PDF releases. That means you'll save lots of time managing releases and your models will need to fill in their details just one time.
We're calling this multi releases, and here's how they work:
• Log on to EyeEm on the web, open the notifications pane and go to your To Dos
• Click "Releases for multiple photos"
• Select all photos that show the same person
• Click next and fill out the model's name
• Click next and share the link with your model
Once your model has signed the release, we'll send you an e-mail confirmation. We'll also remove the request from your to-dos and proceed to offer your photos for sale.
Prefer to upload to PDF release? Now you can: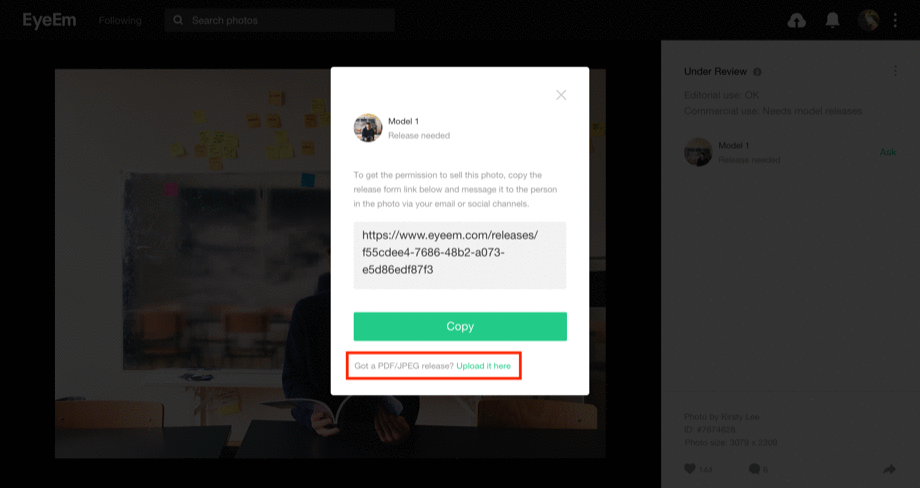 Find the PDF upload right in the release request.
• Follow the steps above
• Instead of sharing the link, upload your PDF/JPEG release
• Submit
We'll proceed to review your document and send you an e-mail confirmation once it's gone through. After that, we'll beginn the process to get your photos on EyeEm Market and partner sites.
We're hoping that multi releases will free up lots of your time so that you can go out and shoot more pictures. Got other feedback for us? We're always listening: Just contact our support to let us know how we can improve your experience with EyeEm!
Header image by: Alp Peker.