Update Your App for a Simplified Selling Experience
A better overview of your Market images, faster releases, and more!
We have a new version of the EyeEm app for you and it's designed to make selling images a lot easier and faster. Read on for the new features!
Market Profile
We have completely revamped the way EyeEm Market looks on your phone, integrating it more deeply with the rest of the app.
On your profile, the Market button shows how many images you have on sale. Press it and a new tabbed view of your photos clearly shows which of your photos are selling on Market and which have been selected for distribution at Getty Images, Adobe Stock, and others.
You can also see each photo's status right from your profile. Just select it and below the image you can immediately see whether it's for sale on Market or even available at our distribution partners via the Premium Collection.
Releases
Many photos need releases to be sold commercially. A release is a permission by the people shown in your photo that their picture can be sold commercially. You also need a release from owners of a building and logo or creators of artwork if they are visible.
We know that managing releases and reaching out to models can be difficult, so we have simplified it a lot: You can now see which releases are required on each photo and request them in ways other than email. Just tap "Ask" and we'll generate a link that you can send to the models or owners via your messaging app of choice. Once the release has been signed, it is automatically shown under the photo. You can even remind models if you have an outstanding request.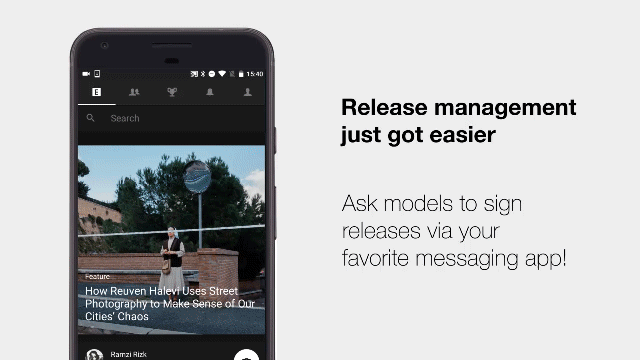 It has also become simpler to sign a release for yourself if it's you or your child in the picture – with just one click, you can take care of it.
Remember that photos with signed releases have a much higher chance of selling on EyeEm Market. Photos with outstanding releases also cannot be selected for third-party distribution. With the new functionality, you can spend less time asking for releases and more time taking pictures.
Tasks
Finally, there's a new feature just for Android users: Tasks. In your news feed, the new app will remind you to complete outstanding tasks – like confirming your e-mail address, requesting a payout, or adding model releases to your photos. In this centralized view, you can see all the action you need to take to sell more photos and make the most money from your uploads.
We're bringing this function to our iOS app and the web in the very near future.
Happy updating!
Header image by @Karl006.