Meet the Team: Bianca Waldherr
By EyeEm Team - 7 min read
Bianca is our lovely Head of Operations, a true homegirl of Berlin, a blonde beauty, and a crazy early bird. Want to know her better? Read on!
Biancais our wonderful Head of Operations. She is a true homegirl of Berlin, a blonde beauty, a crazy early bird and has been with us since December. Already we are much more organized thanks to this lovely lady!
But what makes Bianca tick? We caught up with her to fire some questions her way.
Who are you?
What do you love?
What really annoys you?
Where is your favorite place in the world?
portrait airport Woman monochrome by スエヨシリョウタ on EyeEm
What is your best kept secret?
Please tell us something about yourself: who are you, where do you come from, what have you done in the past few years and how did you find your way to EyeEm?
Hi, I'm Bianca! This sweet city of Berlin is my home town but I've also spent a significant amount of time living in the States in various cities, so that's home, too. After getting my Master's in Economics and a stint in consulting, I joined the startup world and have worked in several companies over the past few years. I've followed EyeEm closely over the years and met Flo through a mutual friend last summer. The rest is history.
Can you please give us a little insight into what you do at EyeEm?
I do operations. This mainly means I make sure that the right processes are in place so that all teams can work most efficiently. This also includes Project Management for some exciting things we're working on right now. It's fun to be so involved with all departments of such a great company!
Please show us a photo you took recently and tell the story behind it.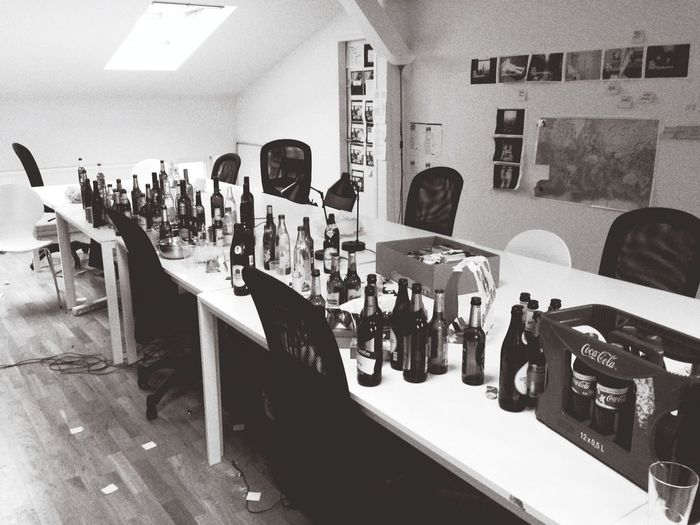 Good morning! Great party !krawallundremmidemmi time to cleanup by Bianca on EyeEm
This picture was taken when I walked into the office the morning after we had a party. We hosted a Dribbble Meetup and also invited some of our friends over. Lots of fun people came and I guess the picture shows that everyone had a great time. Being the first to arrive at the office I got to witness first hand the full beauty of the party aftermath. Luckily, three of my lovely colleagues showed up soon after, so cleaning it all up wasn't all too bad. It's a good thing photos can't capture the smell of stale beer though…
Who would you like to go out for a drink with, if you could go with anyone? And bear in mind, going for a drink is different than going for a meal…
Yeah, I suppose that is more someone you would go partying with, huh? Well, it's not related in any way to my political views, but I'd actually really like to go for a drink with Angela Merkel, the German Chancellor. I'd just love to know how you run a country. Everything about politics seems so abstract to me, I mean, what do these people actually do all day? I know Barack Obama would be more fun to go drinking with, but I guess as a German, I can relate more to Merkel.
You wake up tomorrow morning and suddenly are your dream animal. What are you?
Ooh. Do I want to run, fly or swim? I'd like to fly, but sitting in a nest all day? No thanks. I guess I'd like to be somewhere warm… Oh, I know! I'd be a dolphin. Social, in the warm waters and smart. And I'd be grey- that's my favorite color, so I'd like that.
Is your favorite place in the world really the airport? Do you have a favorite airport?
Yes!! I love everything about it – from the hustle and bustle in the terminals to the activities on the tarmac and, of course, planes. I've been really into aviation since I was little and actually worked for the Berlin Airports at Schönefeld and for Lufthansa Cargo at JFK. I don't have a favorite airport, but there are definitely some that are not so fun to have to go through as a traveller.
Your 3 favorite songs right now
Ah, a difficult one. I love music and think there cannot actually be a favorite song. "Winter Song" by Sara Bareilles is everywhere, but I really like it. Love the acoustic version of "Bis einer geht" by PRAG, and "If I didn't know better" sung by Sam Palladio and Clare Bowen from the show Nashville.
What makes you laugh till you cry?
Actually, this is embarrassing. Of course I watch and read more highbrow comic things, but what really makes me cry with laughter tends to be really stupid stuff. Seriously, the sillier the better. I recently was reading those autocorrect fails, and honestly, I was sitting at my desk, shaking with laughter and tears falling down my face, trying to contain myself. I also really love this video.
Your favorite album(s) on EyeEm
Urban Geometry
Street Photography
Interior Design
So tell us a bit more about those cowboy boots. Are you a Southern girl at heart?
I did live in the South, but if anything, I am a Southern girl only for the one genre of music that I (now not so) secretly listen to every now and then: country music. I don't like all of it and am not so much into the newer stuff. But some Johnny Cash and some classic Garth Brooks… Anyone? No? Okay. Those boots I actually bought when I lived in New York. I had no money and these were new and cost only $6. Alas, I didn't wear them very often.
Since you're a "real" Berliner, can tell us something unique about this ever-changing city?
Berlin is the largest city in Germany, yet you will run into people you know in the most random places and times. I love when that happens!
Hey Angela Merkel, come have a drink with Bianca! We know you'd have a great time. Thanks for that, Bianca. If you want to see what Bianca gets up to, check out her EyeEm profile, or why not drop her an email?
Want to join the EyeEm team? Have a look at the jobs we're currently offering.