Visual Minimalism: Learn From EyeEm Awards Winner and Creative Director George Kroustallis
By Ellen Clipson - 4 min read
Do you need a strategy to achieve visual minimalism? We speak to the winner of The Minimalist category from The EyeEm Awards 2019, George Kroustallis, to find out what makes the perfect minimal image stand out.
As a professional photographer and Creative Director George Kroustallis, otherwise known as Minorstep, explores the strategic use of texture, tone, and composition through his approach to visual minimalism.
We catch up with George to find out what he's been working on since becoming winner of The Minimalist at The EyeEm Awards 2019. Keep reading to hear his expert advice for creating minimalism aesthetics don't only cut the clutter but champion innovation and great design.
The Minimalist category is back for The EyeEm Awards 2021. Read the full brief, see this year's cash prizes, and enter your photos now!
You were crowned our most recent category winner for The Minimalist in 2019. Can you tell us more about your winning image?
A big part of my artistic vision has been to create images bridging together architecture, art, and fashion. My winning image is part of a project called 'hourglass' which visualizes a conversation between all three.
The project is about the concept of time and differing perceptions of it. What is it that happens between two glances? And what happens if we visually try to pair the time-tracking-device hourglass with the hourglass shape found in an ultra feminine figure? It was a fun project to shoot as it combines a lot of the things that are persistent throughout my work. For example Brutalism, contemporary art, muted and warm color palettes, and a strong sense of femininity.
What made you select that particular image as an entry to The EyeEm Awards?
All of my work is on the minimalistic spectrum, but I think that that image had a poster-like quality to it that I felt would do well in print and featured in The EyeEm Awards Exhibition.
I also like images that have a sense of meaning behind them. Most of my work fitted with The Minimalist category brief, and so it became a matter of picking an image that represented what I believed in most strongly. I love pretty images, but images that also feature elements of storytelling even more.
What's your advice for anyone submitting to The Minimalist category for The EyeEm Awards 2021?
Take a stand. Submit your favorite image, not the one you think is going to do well in the eyes of others. As creatives, we're bad at guessing what others will like, but better at knowing what we choose to stand behind.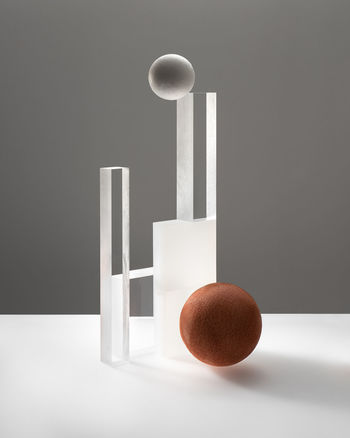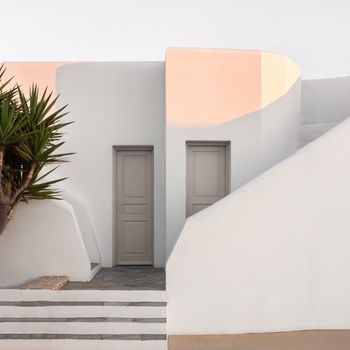 Where do you find your inspiration from and has it changed over the course of your career?
I am forever fascinated by good design, architecture, fashion, and art, especially when they meet minimalism as an aesthetic movement. Stripping things down to the essentials, and elevating these as much as possible, allows us to ask the right questions.
There's a feeling of completeness, sophistication, and satisfying tranquility found in the work of architects such as Mies van der Rohe, the traditional architecture in my beloved Greek islands, or genre defining artists like Robert Morris. It's inspirations such as these that I trace my visual philosophy back to. This is the space within which I am interested in making my work, whether that's a campaign for a brand or personal work that I publish.
"I see photography not as the capturing of a moment, but the intentional crafting of a scene."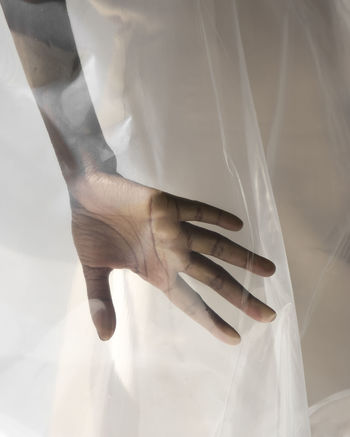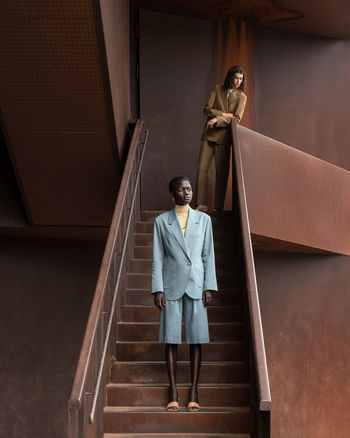 Looking at your wider portfolio, what projects have you been working on since winning in 2019?
I'm really proud to have recently published my latest editorial 'Utopia: Sisters.' It explores the beauty of form, structure, and texture at the intersection of fashion and architecture (the two titular sisters) and drawing parallels between them. Capturing two female models on and around a sculptural observation tower that presides over a vast expanse of manmade lakes and canals in Germany, the series evoke a sense of stillness, steadfastness, and optimism, as well as embodies my love of the female form. Lyrical and symbolic, the utopia that I've conjured unfolds as a landscape where fashion and architecture will keep growing together, inspiring one another, more interconnected than ever.
Your photographs have an outstanding ability to draw in the viewer. Can you describe some of the ways in which you use visual storytelling elements to bring certain themes and narratives to life?
Details matter. There's magic in stripping down an image to its core elements and elevating them as much as possible. I will never get over what artists such as Caravaggio achieved through the use of light, or how Zaha Hadid's work feels so sculptural. Abstraction through geometry makes so much sense to me. I see photography not as the capturing of a moment, but the intentional crafting of a scene. The brush is your light strobe or the sunset. The color palette is strictly predefined, and there's restraint in its use. Retouching is equally important, everything leading to the final product.
Plan it all out extensively, and you'll find that the decisions that go behind every single finished image are thousands. What happens if you figure out which direction to go, and then go the long way to optimize every single detail as much as possible?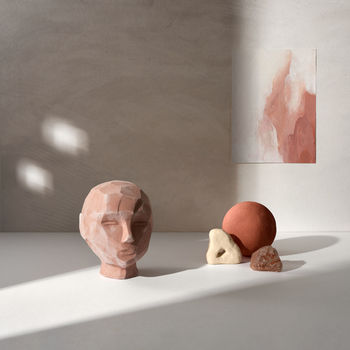 "Behind all of my shooting, my intent is exactly the same."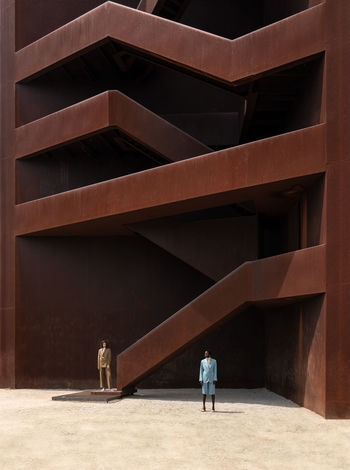 You've developed an expertise in exploring textures and light. How do you explore and experiment with certain visual elements whilst also upkeeping your sleek visual style?
Behind all of my shooting, my intent is exactly the same. I'm interested in exploring form, texture, and interesting light, through a minimalistic point of view. That's the core of my practice and I apply it to different subjects. If there's unity in one's approach, you can find that shooting architecture and shooting bodies are more similar than they are different. I always like to say that architecture is body and body is architecture.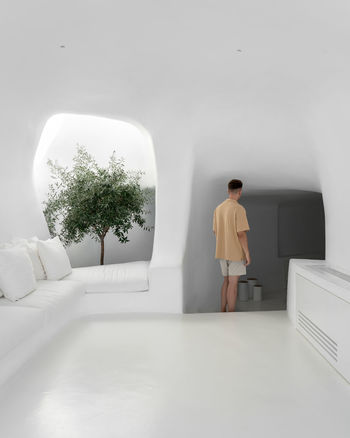 What's the influence of color on your work?
I have a complicated relationship with color. I adore a very strict palette of colors and stay away from the rest. There's beauty in blue, just not in my world. I found beauty in terracotta, beige, and white there. When I like something, I want more of it. I don't want everything. I want that thing.
Does visual minimalism always mean less color?
I have to say no. Less saturated or muted color is still color. Color is going to be there, unless we are talking B&W photography which I have strong negative feelings about. But if we are simply talking about "bright colors" then there's amazing minimalist art done with brighter colors. You just have to be intentional.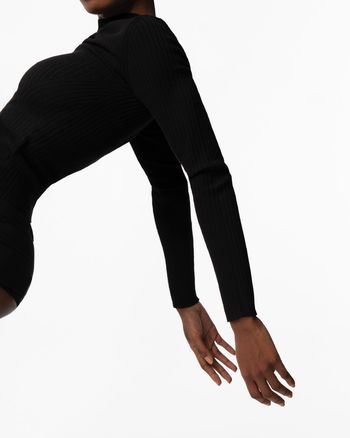 You're both a professional photographer and creative director. How does your approach change when you are the creative director on a particular project?
These two are interconnected. If you're shooting with no intent then what are you shooting? I enjoy both roles and there are projects where I do both or just one of these roles. If we're talking about commercial projects, there should never be shooting with no creative strategy, and if we're talking artistic endeavours, there's not much interesting shooting without creative vision.
Typically, doing the creative direction in larger projects will require a copious amount of interpersonal and coordination skills, and don't forget selling creative ideas and handling client relationships. People on instagram enjoy the performative aspects of everything creative, and so they focus on the "creative" aspect but tend to forget the "director" aspect.
Ultimately, I think the best projects are the ones who push you to create something new. And then you have to be able to set up effective creative teams towards a clear goal. Creative leadership needs experience and it's synonymous with courageousness. You have to solve a creative problem in a way that might not work. Risk, hardship, and doing meaningful work all go hand in hand.
Find out more about The EyeEm Awards 2021 and enter your photos now for your chance to win this year's cash prizes, get exhibited, and published!
See George's full portfolio and projects on his official website and be sure to follow him via his Instagram for more minimalistic inspiration.