The Future of Image Search: Meet Sriram and Harsimrat
By EyeEm Team - 7 min read
A product manager and a computer vision engineer walk into a bar…
Sriram Sathish and Harsimrat Sandhawalia are two of EyeEm's newest team members, having joined just last week!
As members of the Search team, they work on building out the world's best image search. What does it take to teach a computer all about what makes a photo? It's actually rather fascinating.
That's why we sat down with the two–to get to know them better and learn what it really means to find a needle in a haystack.
Hey guys! So you've just moved to a new city in a different country. What's the most surprising thing about moving to Berlin?
Sriram: German bureaucracy has been surprisingly easy and the people have been nice. I heard a lot of horror stories, so I've been pleasantly surprised!
Harsimrat: I've been looking at different activities to do in Berlin and have noticed that most of them are more community-based than commercialized. I moved from the US, and there everything is based on membership, kind of a do-it-yourself style; whereas here, activities seem to be more communal activities.
What were you guys doing before EyeEm?
Sriram: Since I graduated from university, I worked at Yahoo! in India for over 10 years. First I was an engineer coordinating scientists and lab teams, then I did data analysis and finally moved to product management before coming to EyeEm.
Harsimrat: I was working as a robotics engineer at the Robotics Institute at Carnegie Mellon University. We made quadro-copters, which are a type of drone that would fly through the forest and avoid trees, while simultaneously mapping the landscape.
You're both from India, but from very different parts. Where exactly? And what do you miss most about home?
Sriram: I'm from Tamil Nadu in southern India, near Coimbatore, a city of about 2 million people. The city has such an entrepreneurial spirit, having had many industries pop up and flourish because of the hard work of the people there (automobiles, textiles, etc.). I think this spirit is one of the reasons why I became interested in entrepreneurship and ended up working at a startup! But I miss the people, especially my family, back in India.
Harsimrat: I'm from a city called Ludhiana in the region of Punjab in northern India. Flying kites and sleeping in winter sun are what I miss the most. In that order.
By Gen Sadakane
Being from India begs the question: How many languages do you speak?
Sriram: Tamil, English, Kannada, and I'm learning German now.
Harsimrat: Punjabi, English, Hindi, French (I lived in France for 5 years), and now I'm also learning German.
What's a typical day like in the lives of Sriram and Harsimrat?
Sriram: Wake up 6-6:30 and have coffee with my wife. My daughter then wakes up & I play with her for a bit before we all eat breakfast together. Then I head to the office. I'm back home in the evenings to spend time with daughter, cook & listen to music, before putting my daughter to bed. That's during the week; and on the weekends, we try to go out and explore the new city we live in!
Harsimrat: Get up at 7, go running for 40 minutes, shower, breakfast, office. I'm usually home again by 7:30, and I like to listen to music, watch a TED talk, cook, read something and head to bed. I'm training for a half ironman at the moment, so exercise is a big part of my routine.
What interests you about photography and images?
Sriram: They say a photograph says 1000 words. Our job now is to extract those words and make them available to everyone in photo form. A photo contains so much more than what you can put into words. That visual element and how you make sense of that is the most exciting thing!
Harsimrat: A good piece of literature, music and an amazing photograph (IMHO) share the same genesis. I'm curious what that looks like.
Alright, let's get into the nitty gritty. What exactly do you do at EyeEm?
Sriram: I'm the product manager on search. The search team looks at the millions of images we have and tries to understand those images. Then we put them in front of users and make them relevant and appealing for you.
Harsimrat: My job is to take what Sriram says and make it happen! More specifically, I create algorithms to identify different objects and concepts in a photo. We want to be able to tell you that an image has a dog that is happy with a person that looks sad.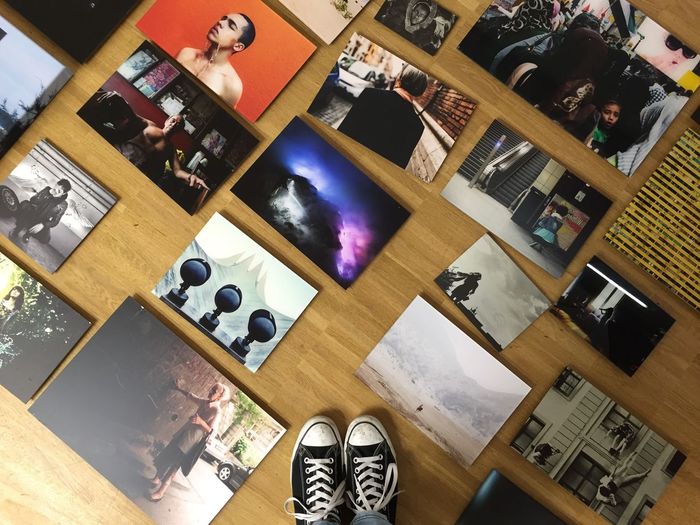 By cainvommars
How would you describe your job to a 5 year old kid?
Sriram: Come up with a word and we'll find you the picture. Think of a concept and we'll find an image to match it.
Harsimrat: What's the word that comes to your mind when you see this picture? I want the algorithm to find it.
What's the biggest challenge in your job?
Sriram: How do we do all these things in a scalable fashion in a way that we're confident that we're progressing toward our vision? We should aspire to do everything in a scalable fashion.
Harsimrat: We are one of the 6-10 companies doing this. You can count the number of companies in the world who are doing this. We are competing with the giants with a 6-person team.
Show us a photo you liked recently/that you took and tell the story behind it.
Sriram: This is a photo that I found interesting that shows Bismarck as a thinker, which is normally not what we associate with his name. He is usually portrayed as a man of "blood and iron", an action-oriented person; that's why I found this statue of "Bismark the Thinker" so intriguing. Apparently this statue was not well regarded during his time, especially after his death, and the Soviet forces commandeered this as a war bounty (to be melted and used for the metal); but this statue survived nevertheless.
Harsimrat: I took this photo of my roommate's dog before I moved to Berlin. Her name is Maggie, and her eyes say a lot when she looks at you, as if piercing through your people-pleasing-face and asking, "are you okay?" She keeps staring at you until you relax and then this happens. It ain't gonna fetch itself.
And finally, what's the weirdest/craziest thing you've ever done?
Sriram: Moving to Berlin, probably. Everyone in my circle, in my group of friends, were completely surprised. They didn't know that Berlin was happening. It's natural to move to the States, but Berlin was a shock for some. Maybe even for me too – Berlin was an unconventional option.
Harsimrat: Going up the Alpes d'Huez in the Tour de France 2013. It's not commonly known, but it's possible to cycle the same route as the pros who compete in the Tour de France. A couple years ago I did one stage of the route. It was HARD.
Thanks for sharing guys! We're glad to have you in Berlin and can't wait to see what you create. Follow Sriram and Harsimrat on EyeEm.
Want to meet more EyeEm Team members? Get to know Appu Shaji, Sebastian Kopp and Eric Hartsuyker.