Photography Intelligence – What You Can Learn from William Eggleston
A look at the artist's upcoming exhibition & how he takes pictures.
From 21 July to 23 October 2016, The National Portrait Gallery in London is holding an exhibition called "William Eggleston Portraits". Born in 1939, the photographer is a true veteran of the craft, and the person most often credited with making color photography acceptable as an art form.
We're big fans of Eggleston, not only because of the way he looks at the world and what he decides to photograph, but also because he has produced a seemingly endless amount of quotes explaining it. To celebrate the exhibition, we are showing some of his remarkable portraits with his most memorable quotes – each of which holds a lessons for photographers.
Let's start with the most iconic one:
"I am at war with the obvious."
Untitled, c.1975 (Marcia Hare in Memphis Tennessee) by William Eggleston, c.1975 ©Eggleston Artistic Trust
As a photographer, Eggleston focuses on the things most people would probably miss: He cares very little about the flashy, prominent motives that jump out at us, but instead concentrates on the beauty of the everyday moment, the sometimes mundane, seemingly normal things that aren't obvious to photograph. It takes focus not to get distracted, but his images show that being patient, paying attention, and reconsidering what you find important will give you lots of new subjects to work with.
"You can take a good picture of anything. A bad one, too."
Untitled, 1970 (Self-portrait) by William Eggleston ©Eggleston Artistic Trust
To cherish the normal also means to accept it. In his portraits, Eggleston doesn't look for the most memorable settings but the ones he finds his subjects (or, in this case, himself) in. To take photos that are nevertheless surprising, he plays with the light and shadows, or uses uncommon compositions. Challenge yourself to experiment in a "boring" setting, and you will be surprised how creative the limitation makes you.
"You become technically proficient whether you want to or not, the more you take pictures."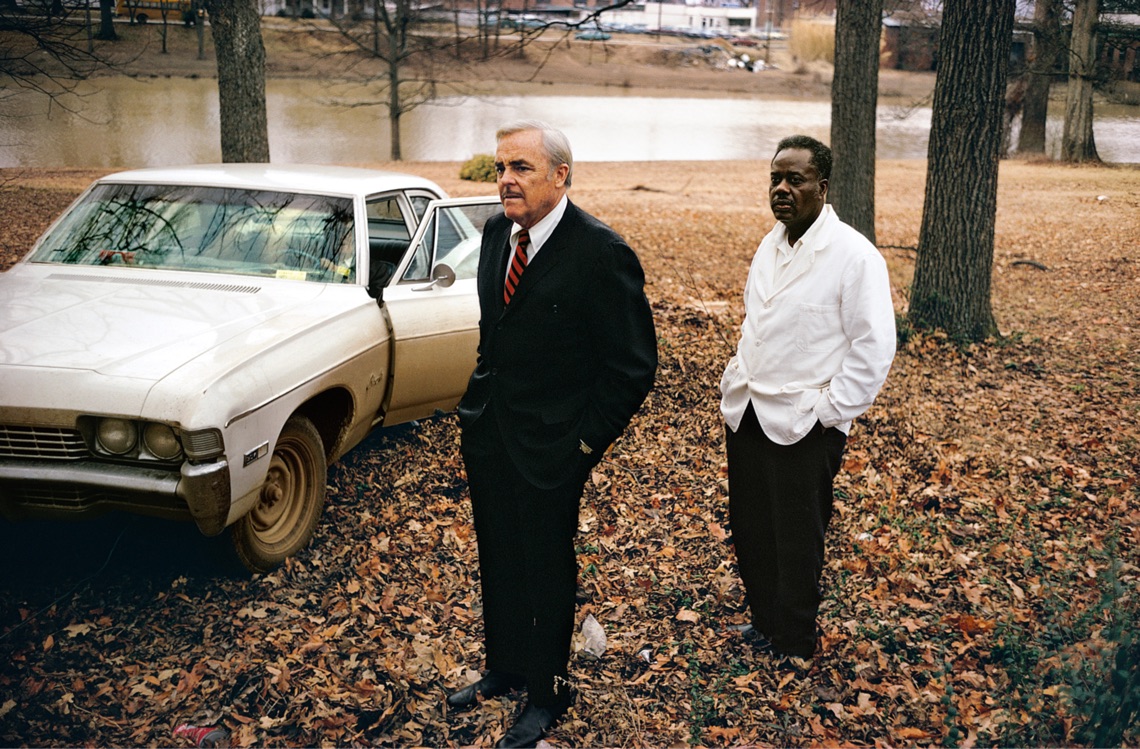 Untitled, 1969 – 70 (the artist's uncle, Ayden Schuyler Senior, with Jasper Staples, in Cassidy Bayou, Summer, Mississippi) by William Eggleston ©Eggleston Artistic Trust
Our societies have a tendency – not just in photography – to perfectionism. Taking good photos can seem challenging, and it is tempting to search for a technical solution to take great pictures. But the beauty about photography is that there is no winning formula for it, no technique that always works. Instead, great photos come from developing your own skill set and finding your own visual language, which only happens through practice.
"Often people ask what I'm photographing, which is a hard question to answer. And the best what I've come up with is I just say: Life today."
Untitled, 1965 (Memphis Tennessee) by William Eggleston, n.d Wilson Centre for Photography ©Eggleston Artistic Trust
Eggleston looks at the world with the eyes of a documentarian rather than a curator: He shoots from unexpected angles or when the subjects are looking away. This creates the impression that the photographer isn't there, and makes the images all the more intimate. Remember that the most memorable moments often happen by themselves, and try to capture them when they happen, no matter how imperfect the framing or how crooked the smiles.
"Photography just gets us out of the house."
Untitled, 1970 – 4 (Dennis Hopper) by William Eggleston, 1970–74 ©Eggleston Artistic Trust
At the end of the day, taking pictures is a great excuse to leave the house, explore the neighborhood, and meet new people. When you don't know what to shoot, pack your camera and go out, try something new and remember: The more pictures you take, the better you will become.
If you liked these images and what to find out more about Eggleston, make sure to catch the exhibition at The National Portrait Gallery in London before 23 October 2016.
Header image: Untitled, 1974 (Karen Chatham, left, with the artist's cousin Lesa Aldridge, in Memphis, Tennessee) by William Eggleston, 1974 Wilson Centre for Photography ©Eggleston Artistic Trust