Web upload is here! Adding, tagging and selling photos made easy.
By EyeEm Team - 3 min read
Upload your photos and let EyeEm Vision do the rest.
Web upload is here, and it makes its long-awaited debut with EyeEm Vision, EyeEm's sophisticated computer vision engine that recommends tags based on what's in your photo.
You'll now be able to share the hundreds of photos that have been idling on your camera and hard drive. Even better, EyeEm Vision will save you hours of tagging and make sure that all of your newly uploaded photos get seen by buyers on EyeEm Market. Get started today by entering eyeem.com/upload into your desktop browser.

How it works
Gain access via EyeEm Market
With a single drag and drop, you can now upload up to 50 photos at once to your EyeEm profile directly via your browser. To gain access to web upload, simply join EyeEm Market. What's EyeEm Market? It's a marketplace for photographers to license their photos to editors, brands, and creatives directly via their EyeEm profile.
Intelligent tagging with EyeEm Vision
Once you've dragged and dropped, EyeEm Vision will suggest tags based on what it detects in your photo. This can span from something as basic as an object in your image to something as complex as an idea. Take the images above. At this point, you can choose to add all the suggested tags at once or select each one individually. Keep in mind that having relevant tags gives your photos a better chance of selling. You can also take this time to select which photos to add to Market.
Seamless feed integration
You won't have to worry about flooding your followers' feeds with 50 photos at once. Only the first five photos will show in your Friends feed, while the rest of the photos will immediately be viewable in your profile. The new uploader will also show the date and location alongside your image, which it pulls from your photos' EXIF data.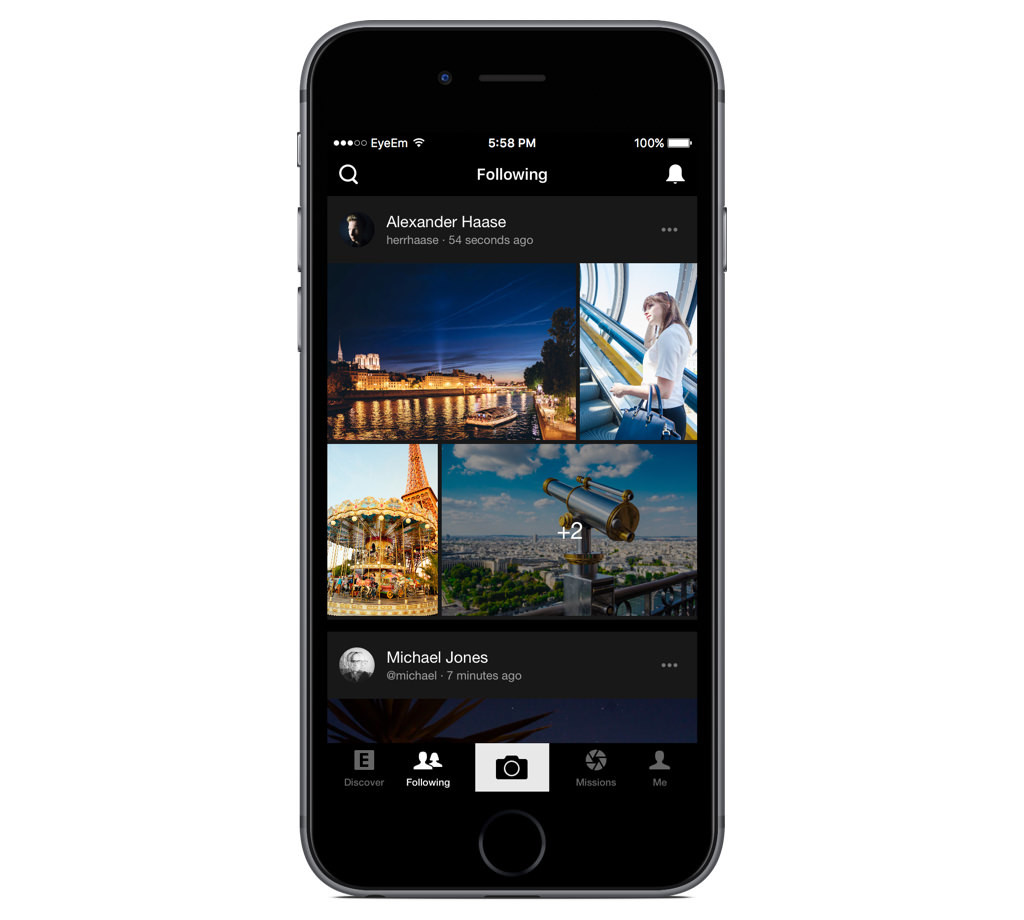 Your first uploaded photos appear in 'Following.'
What our beta-testers say
"It automatically recognizes what sort of image I uploaded and suggests keywords that are quite accurate. It also tells me how many keywords is sufficient so as to be recognized by other users and buyers, so it has become much more easier to tag even when I do batch upload." –@yukoyamada
"I'm very excited to try EyeEm Vision as I find the hardest part of sharing any of my photos is tagging them…I Love what EyeEm has done for photo sharing." –@eye_heart_ny
"The new tool for uploading photos is wonderful, especially the facility to upload photos from the computer. It is extremely quick and makes tagging very easy. I always felt the need for a tool like this." -@garakali
"I love the EyeEm Vision tool, it's bloody fantastic. Great accuracy (sometimes spookily great)." –@Haje
A big thank you goes out to our beta-testers, EyeEm users photographers contributed their time and feedback to improving web upload. We couldn't have done it without you!

Header image by @lapicnic