Top Tips for Tasty Shots. Food Photography with David Griffen
By EyeEm Team - 5 min read
We caught up with the man behind mobilefoodphotography.com to learn how to create images that will make your mouth water.
David Griffen is an Australian food photographer based in the UK. In addition to shooting food for ten years, he also runs davidgriffen.co.uk, mobilephonefoodphotography.com and is a published author. In general, David is completely crazy about taking great photos of delicious food. So who better to ask for some advice on how to get the best shots on your phone? We caught up with him for some tasty tips and tricks.
I love photography, and like many others, I love food. Shooting with my mobile affords me many more opportunities than a traditional camera to capture great dishes. Lots of the photography in my recently published cookbook was produced with an iPhone and illustrates that the camera is not as important as the shot you are taking with it.
I shoot a lot of pics with my mobile phone; I also share images on EyeEm taken with my pro set-up. Today, I am going to share the top five things to remember when shooting food with your phone.
1. Lighting
I use both available light and studio flash heads. Indirect window light can be a really lovely way to get a natural look to the images. Use a diffuser or scrim (a large piece of tracing paper) to soften the light coming in through the window, and a reflector (large silver/white surface) to bounce the light back towards the window on the other side of the food – this fills in the shadows.
The best time of day to take shots is lunchtime when there's lots of natural light, rather than dinner time. That said, generally I avoid shooting in direct sunlight. It's too bright and the images become quite contrasty.
2. Color and appearance
Color is important in food styling and propping. I style and prop a lot of the jobs I work on. At the start of each shoot we talk through all of the food and dishes we are shooting, and match the style and color of the props to compliment the food. The food is always key – the propping should support and compliment the food. For example, you will see mostly unpatterned and simple plates in most food photography.
I prefer to shoot real food, which means when it comes out of the kitchen, I am ready to shoot. That way I can work quickly before the food looses its freshness. I also do commercial shots when the food is completely inedible. The stylists have lots of tricks to make this staged food look better. The most common thing I see is reductions and glazes on meat. A good trick is marmite and detergent, painted onto cooked meat to make it a little juicer and browner.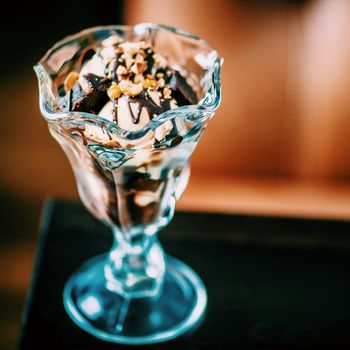 3. Post-production
I use a few editing apps on my phone. What I tend to do is capture a bunch of shots in the native camera app, then select the best image and open it in Snapseed. I use Snapseed to correct the cropping and straighten the image if necessary, then adjust and increase the sharpness of the image. Sometimes I also use the Drama filter in Snapseed, but try not to overdo it, as it can make the food look unnatural.
I often add a vignette to my shots, using an app like Vignettr, which darkens the corners and edges, and creates some real focus and impact. VSCOcam is a great app for filmic effects and gentle filters, much more subtle than other alternatives.
4. Composition
There are no set rules that I follow for photo composition, I just follow my instincts. That said, loosely presented food (my favorite) often shoots better further back, while exacting, highly styled and precise food tends to look better close up. Generally, chefs seem to like super close up shots of their food, so feel free to get right in there!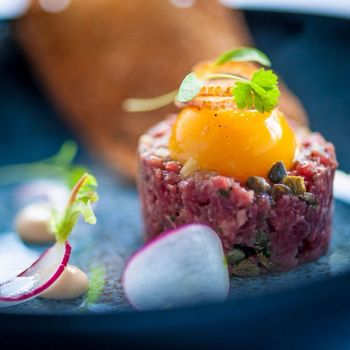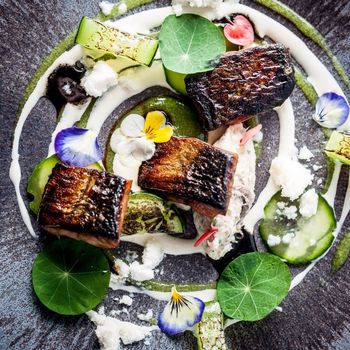 5. Remember to enjoy yourself!
It's my opinion that your evening meal should be enjoyed and savored, without the need to capture it. Take time to prepare the meal, then wash it down with a cold glass of wine, and wait for the sun to come back up before you take any more food shots.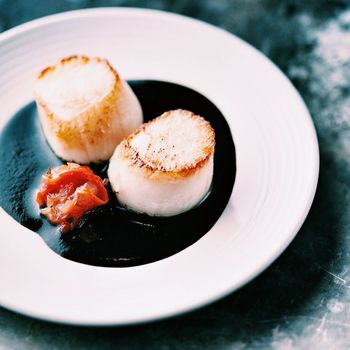 Thanks David! We particularly like your final tip. If you want to see more about what David is up to, check out his new project "la FEMME", a cookbook about female chefs in commercial kitchens. You can also follow his absolutely mouthwatering EyeEm profile. Top tip: don't look if you're hungry!
For more tips and tricks, check out these great tutorials:
– 10 Tips for Taking Stunning Silhouette Photos with Your Smartphone
– 5 Ways to Ace Your Concert Photography with Guy Prives
– 5 Easy Ways to Keep Your Gallery Fresh and Your Followers Coming Back for More