The Winning Hacks from Photo Hack Day 4 Berlin
From virtual reality to image recognition: See the amazing projects from this year's 24 hour hackathon!
EyeEm, Canon and Imaging Mind hosted the fourth annual Photo Hack Day on the weekend of November 28 + 29 in Berlin. 85 developers, designers and creatives came together for 24 ­hours to hack the future of photography.
From virtual reality galleries experienced with a simple cardboard device to photo ranking platforms and 21st century ViewMaster hacks, this year's projects demonstrated the creative collaboration of smart minds coming together for one weekend.
The jury of Photo Hack Day judges included Alberto Spinelli, Director of Digital Services Business, Canon; Julia Kloiber, Project Lead, Open Knowledge Foundation Germany, Nancy Birkhoelzer, Managing Director, IXDS; Ramzi Rizk, Co­founder & CTO, EyeEm; and Sven Ehmann, Creative Director, Gestalten.
Winners received over €15,000 worth of prizes including €1,500 in cash, a DJI Phantom 3 Standard Camera Drone, a Canon PowerShot G7X, Xbox One and more.
The Winners
Grand prize winner: Float
Prize: €1,500 in cash
Creators: Billy Rennekamp, Alan Woo, Nick Kort
APIs used: EyeEm Vision, Amazon, Stripe
Float is an app that allows you to upload photos and get them ranked via the aesthetics algorithm of EyeEm Vision. The goal: To see how your image performs against all other images on the platform. You simply drag and drop a photo, and Float will rank it and display the order of the current top-ranked photos by aesthetics. Can you crack the high score? You'll find out on www.float.photo.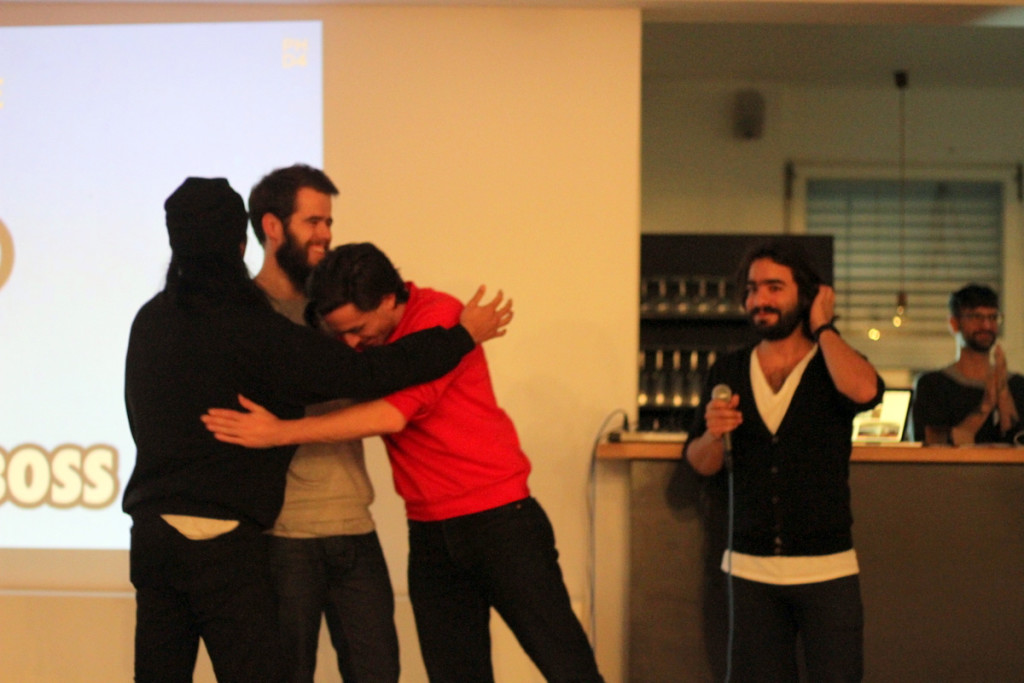 Runner up: Commentie
Prize: €5,000 in Amazon Web Credits
Creator: Hitoshi Wada
APIs used: EyeEm, EyeEm Vision
Commentie is a web app that pulls photos via the EyeEm API and integrates the comments that were made on the photo into the image itself. In the web app, you can then freely arrange the main keywords of all comments on your photo and save it to your desktop. But what if a photo doesn't have any comments? Commentie takes the keywords that EyeEm Vision detects on each photo and generates comments for you based on what's in your picture. Now you not only take a picture, but already have an entire conversation added to it.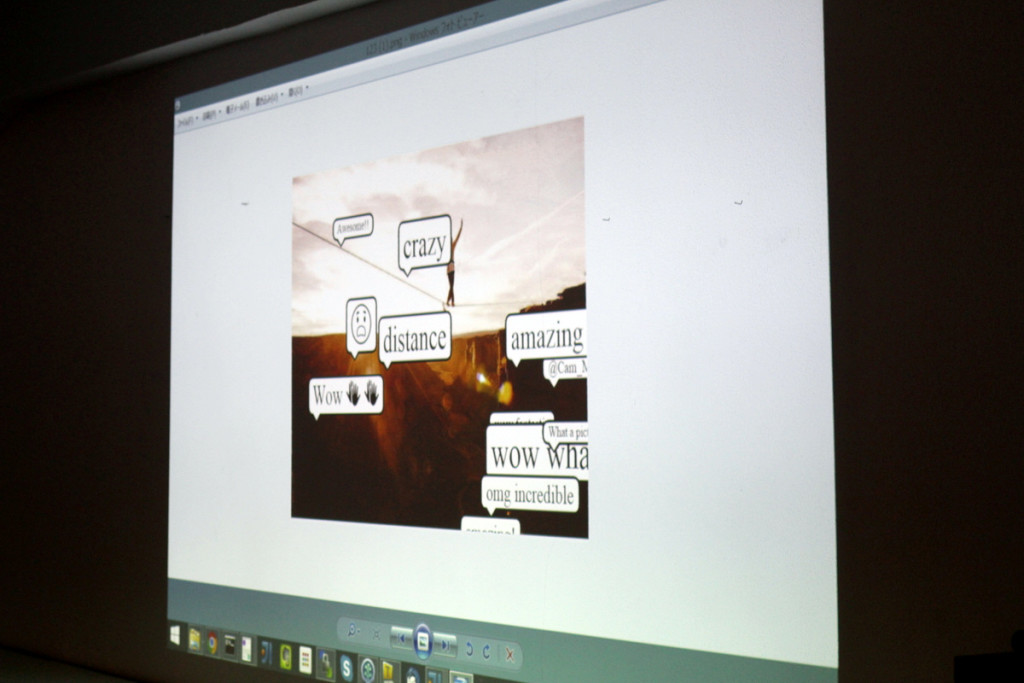 Audience Choice Award: Rooms
Prize: 2x Canon PowerShot G7 X cameras
Creators: Dario Penic, Lorenz Aschoff
APIs used: EyeEm Vision, Unity 3D, Google Cardboard
Rooms is a virtual reality Android app that lets you explore photos in a virtual gallery. Using Google Cardboard attached to an Android phone, it's an immersive experience that takes photos from the EyeEm API and categorizes them by topics into different rooms. With a click on the Google Cardboard device you're taken from Tokyo to street photography to portraits and more.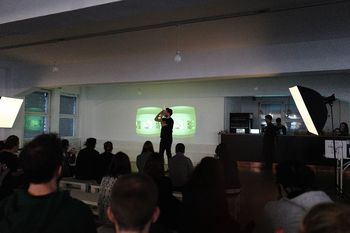 By
All other hacks & winners:
Liemo
Creators: Susanna Ferrari, Jörn Malich, Daniel Carasusán
APIs used: EyeEm Vision, Narrative, Adobe Creative SDK
Liemo is a web­-based graph that shows the most emotional moments of our day in a "circle of emotions." Using the photos captured through your Narrative clip­-on camera, the web app takes your daily stream of photos, uses the EyeEm Vision API to keyword each photo, categorizes these keywords based on the intensity of emotions, and visualizes this data in the circle of emotions. The circle informs you about the most emotional moments you experience each day, and lets you share these photos with your friends.
Klikki
Creators: Silke Neijenhuis, Christoph Neijenhuis
APIs used: EyeEm, Google Cardboard, KITE
Taking the concept of the original Viewmaster, the famous photo-viewing device from the 80s, Klikki brings this immersive experience into the virtual reality space with Google Cardboard. The app pulls the most trending images from EyeEm via the EyeEm API, creates a slideshow out of it and the viewer clicks forward photo by photo, similar to the original Viewmaster. By using the KITE API, viewers can also send their favorite photos to get printed.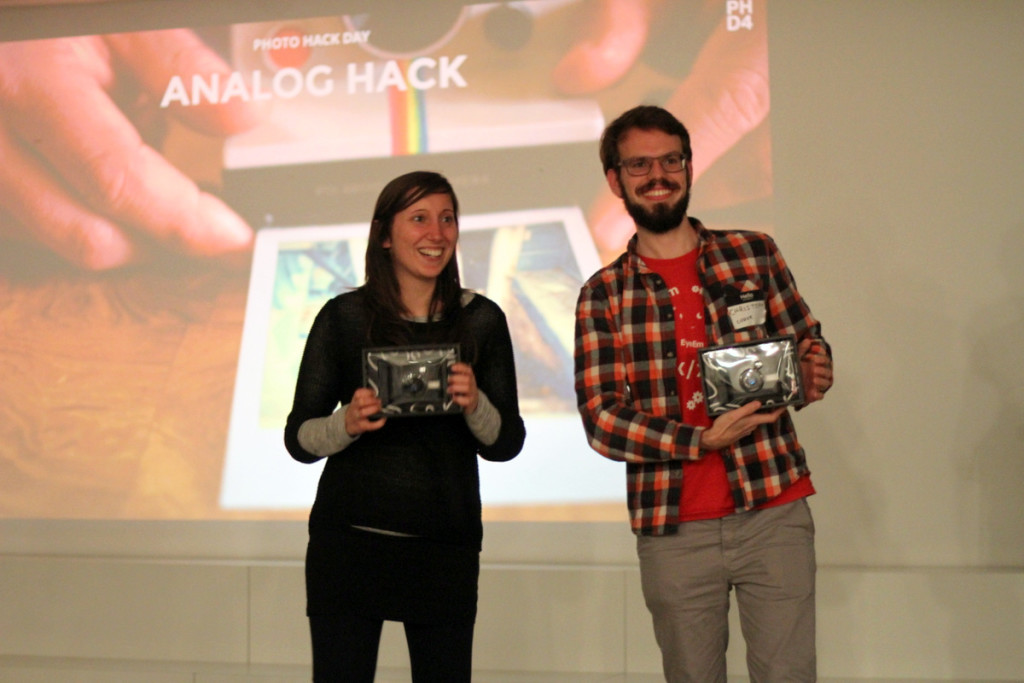 Video Tags
Creator: Mircea Preotu
APIs used: EyeEm Vision
Video tags uses the front­-facing camera of a Macbook to automatically take photos every few seconds. While the photos get recognized and tagged via EyeEm Vision, Video Tags allows you to create alerts based on tags. For example, when you set an alert based on the keyword "bottle," the app notifies you every time the camera captures a bottle in a photo.
FAHNDr
Creator: Iwan Gabovitch
No APIs used
FAHNDr is an Android game that crowdsources escape paths of fugitives. If, for example, a person robs a bank and the police have to guess which path they have taken to flee, the crowd can suggest their paths to find the most common denominator. If you have special information about that path, for example a hole in a fence, you can add a photo and help the police track the path of a person.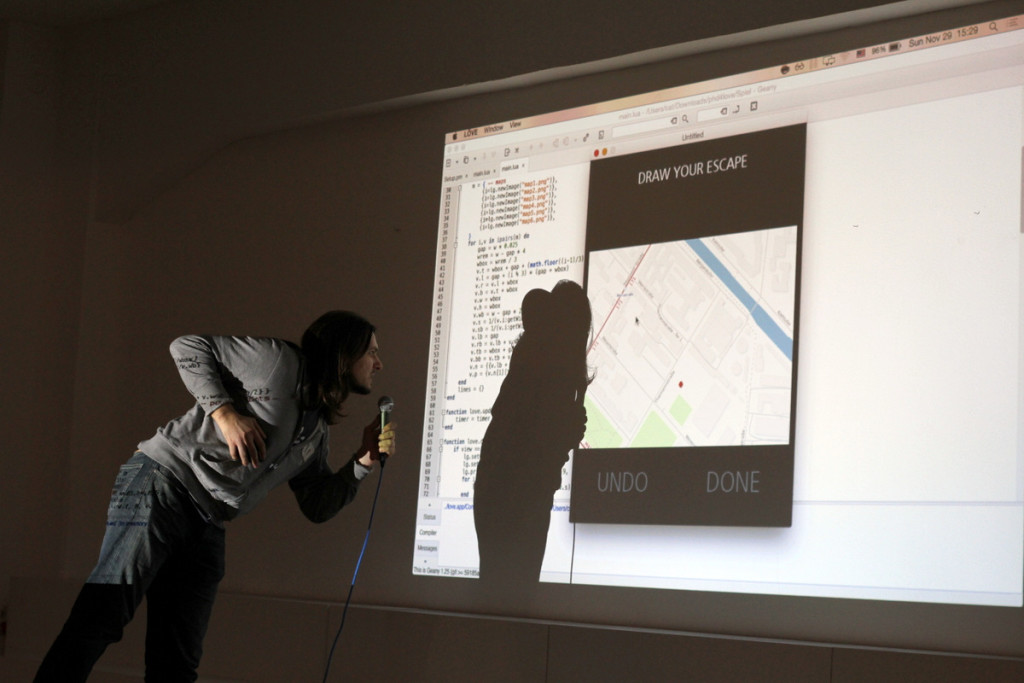 Try Your Best
Creator: André Rieck
APIs used: Evercam, Adobe Creative SDK, EyeEm Vision
Try Your Best takes photos from public surveillance cameras via Evercam, lets you edit them using the tools of the Adobe Creative SDK, and compares the original and edited photo based on its aesthetic rank via the EyeEm Vision API. The simple tool lets you analyze how much a photo improves when you edit it using filters, color and tone corrections and additions like stickers and smileys.
fotofall­upload
Creator: Lukasz Wisniewski
APIs used: EyeEm Vision, Aviary
fotofall reimagines how we upload photos. Using the web editing tools available via the Aviary API, the app uses the EyeEm Vision API to show you the aesthetic rank of your original photo and the edited photo before uploading it. Using this app, you can try several ways of editing your photo and once you press "upload," the app automatically chooses the best-ranked photo to share online.
XMSMXR
Creator: Dierk Eichel
APIs used: EyeEm, Adobe Creative SDK
XMSMXR, or Christmas Mixer, lets you create postcards based on photos from the EyeEm Community. You can then edit the photos using the Adobe Creative Cloud SDK, save it and share it. All christmas cards are available to the public. People can choose their favorite card and directly donate money to a good cause via a "pay with card" feature that uses the Stripe API.
Photoopp
Creator: Wojciech Hupert
APIs used: EyeEm, Evercam, Adobe Creative SDK
Photoopp is an app that connects street photographers with selfie enthusiasts. It lets people who requirephotos schedule opportunities with photographers in the area. As a photographer, you can take on any assignment (and get paid via the Stripe API) and even have recognition features to recognize photos of the individuals you shoot on the street. Using the Evercam API, the same individual can then be located via public CCTV cameras all over the world.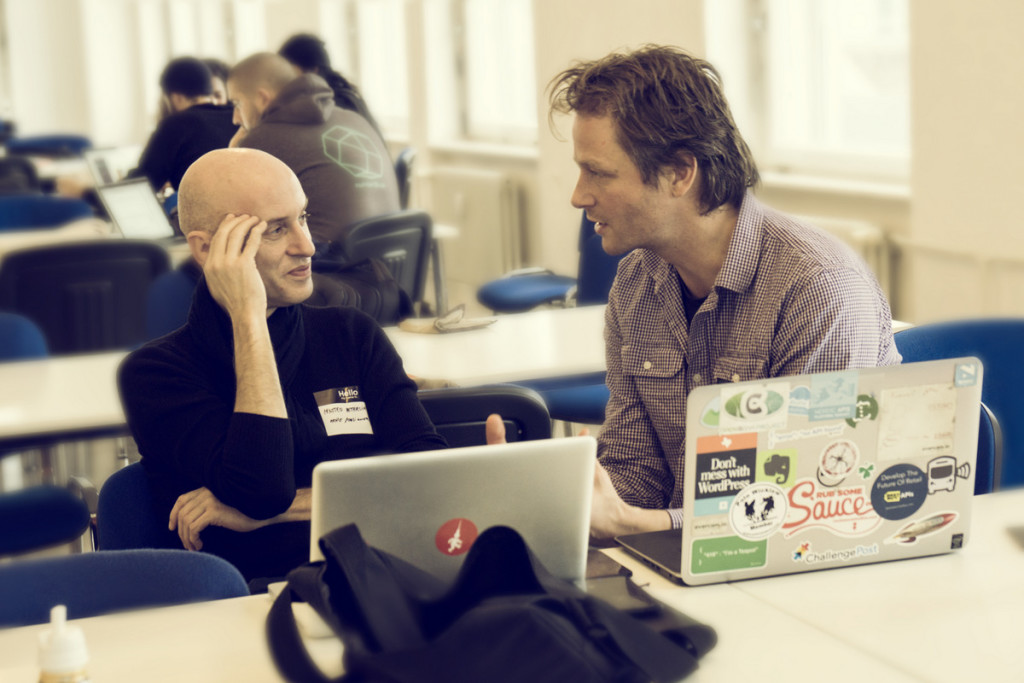 BigBrother­hood
Creator: Georgi Kadrev
APIs used: Evercam, Narrative, Imagga, EyeEm Vision
BigBrother­hood is a web app that aims to connect the huge amounts of photos generated every day through public web cameras and Narrative clip-on devices. Based on keywords that are recognized by the Imagga and EyeEm Vision APIs, it lets you discover photos generated through the clip­-on camera devices worn by people around the world.
EyeEmMosaic
Creators: Sebastian Lutter, David Backstein
APIs used: EyeEm, Similarity Metric by Pixolution, Twitter, ascribe
EyeEmMosaic is a web app that creates high-­res mosaics fromyour photos. The Similarity Metric API recognizes the colors of a photo you take, then fills it with thousands of photos from the EyeEm Community with the same pattern! This helpsyou recognize patterns you might have not seen before – and zoom in to discover thousands of photos that are little elements of each mosaic.
Travel4You
Creator: Hunter Foo
API used: Stripe
Travel4You lets you hire other people to travel for you. Via its map-­based web interface, it lets you detect where people with cameras are located – then requestthat theyshoot a certain photo at that location for you to see.
MOODIFY
Creators: Elisa Kurniawan, Alexander Rautenberg, Martin Yates
APIs used: EyeEm Vision, Spotify or other music streaming API
MOODIFY takes your photos, analyzes them and suggests soundtracks based on the mood of your photo. Based on keywords provided via the EyeEm Vision API, it takes a user­-generated playlist on Spotify that relates to thosekeywords – and thereby creates a visual­-audio experience for you to share with your friends.
A huge thanks to all the amazing teams, the jury and the supporting crowd! And special thanks to all our partners and supporters who helped make it awesome: Canon, Imaging Mind, Amazon, Adobe, KITE, Narrative, ascribe.io, stripe, evercam.io, Crumpler, Lomography, Panono, Gründerszene, Kaptur, Venture Village, überlin, TechBerlin, t3n, Welcome Project and Silicon Allee.
We can't wait for the next Photo Hack Day to continue hacking the future of photography with you. Follow @photohackday on Twitter to find out when's the next one.