Team Snapshot: How To Develop In Your Business Career
By Ellen Clipson - 3 min read
Being a part of a growing team provides great opportunities for your own career. We speak to our Director of Sales and Services, Nico Dapprich, to find out some of the highlights of his career in business and his top tips for stepping into a director position.
Before our Director of Sales and Services, Nico Dapprich, joined EyeEm there was no sales team at our head office in Berlin. Four years later, we sat down with Nico to find out more about his advice for anyone looking to propel their business career.
Psst…we're hiring! Take a look at our jobs page to find a new opportunity that suits you and speak to our team to find out more.
Our Director of Sales and Service Shares His Top Tips
How did it all start for you at EyeEm?
Four years have passed but I still remember my first week at EyeEm. I was the first person in the sales team at our head office in Berlin. At that time we were crushing it in the field of creative technology, but there was room to grow on the business side.
What stood out to you about EyeEm at that time?
From our CEO to interns, the team was really welcoming. It was this environment that helped me first connect with brands such as Daimler, N26, Trivago, Skyscanner, & Sennheiser. It's also great to still be working together with them now.
What is something that surprised you when you first started on the team?
One of the best things about EyeEm is it's truly international team. Today, our team of 60 represents 20 different countries! When I first started, I had primarily been working in a German-speaking environment and so I was surprised by how quickly I adapted to the multi-cultural environment at EyeEm. This experience still remains one of my greatest tools for adapting to international clients and industries.
You've gone from the only member on the sales team to Director of Sales and Services in just four years. What is your advice for anyone looking to take their career in business and sales to the next level?
In my opinion, the world of sales is one of the best places to develop yourself. From exciting meetings and pitches to working with a client to find the best solution for their needs, progressing your career is always about how you take on new opportunities and being quick to reflect on your own work or perspective.
What's one thing you've learned during your time at EyeEm that you wish you had known at the beginning of your career
If you are convinced that you have a strong idea, then don't be afraid to challenge the status quo. Feedback is one of the most valuable things and so I see daily the importance of the feedback that our sales team is hearing from our clients. It's our responsibility to the company to raise those needs within the company and find new, innovative ways to meet them.
A huge part of working in business and sales is being able to think on your feet. We work with a huge variety of clients and brand partners. What's your tips for anyone regularly adapting to different clients, sectors, or industries?
Never stop learning, continuously improving on yourself, and keep things simple.
How do you focus on new learning and self-development at EyeEm?
There are two major ways to grow your own knowledge. As with most things in life, the right mix leads to success. There's the theoretical side which, for us here at EyeEm, covers technical things such as usage rights and copyright in various parts of the world. This is an understanding we need to learn before consulting clients. Then remains the practical side of learning. These are things that have to be trained and practiced, such as the sales qualification process or how to ask the right questions to get the information you need to help your clients develop.
On both sides, it's important to stay hungry for knowledge. We must all regularly adapt in our fast-paced world and so it's important to keep yourself up to date with new theory and practical skills available to you.
Talking of adapting, 2020 has been a challenging year for every industry and sector. When it comes to managing teams, what is your top tip for keeping up motivation all year round?
We are truly a team driven company. For the sales department, that means that we need each other to be able to help our clients and create new solutions. To stay focused and motivated our meetings are critical. As well as our regular team meetings throughout the week, we also have a number of cross-team sessions, for example with our productions team, marketing, finance, and tech departments, to get a broader vision for what we are working on and what we can offer our clients.
How do you carry this sense of collaboration into the broader team?
Just before the pandemic, we launched our social hour where the whole company could get together to catch a drink at the bar around the corner of our office. This was great for fuelling creativity and discussing new ideas with every department of the company.
What gets you most excited to work with our clients?
I like the consultative approach we have. Although our clients come to us with many different challenges we nearly always find a solution within our offering framework. I love seeing clients taking advice from our sales team when it comes to finding the right solutions. Even more so when we see an out-of-home advertising campaign for a major brand hanging up in your city because you know how much of your effort and work went into it!
We've just released The EyeEm Visual Trends Report 2021. Can you share your favorite image from the visual guide and tell us why?
I love this shot by Caterina Theoharidou because it's minimalistic and surreal visual style gets the viewer thinking about perspective. Plus, I'm a dog person–especially our office dogs!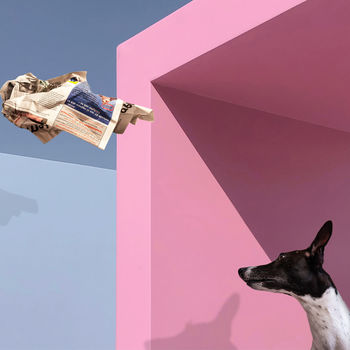 We have a number of open opportunities in our sales and business team here at EyeEm! Find out more about the roles and our company culture on our jobs page. You can also connect with us on LinkedIn to get the latest updates and more team snapshots!