Super Woofers: The Best of Summer Dogs
By EyeEm Team - 3 min read
Paws what you're doing and enjoy these heart warming shots of dogs enjoying the summer!
So, we know Fall "officially" started last week, but just in case you are still missing summer just a little bit, we have a big treat for you! Our recent Summer Dogs Mission with The Huffington Post was probably the cutest photo Mission ever run on EyeEm, and we're jumping for joy at the results.
The Huffington Post made a somewhat enormous selection of the happiest dogs of summer to publish on their HuffPost Home pages, with full credits and links back to all the winning profiles on EyeEm. Brace yourself though everyone, these little fellas are incredibly cute! Check out the full article here!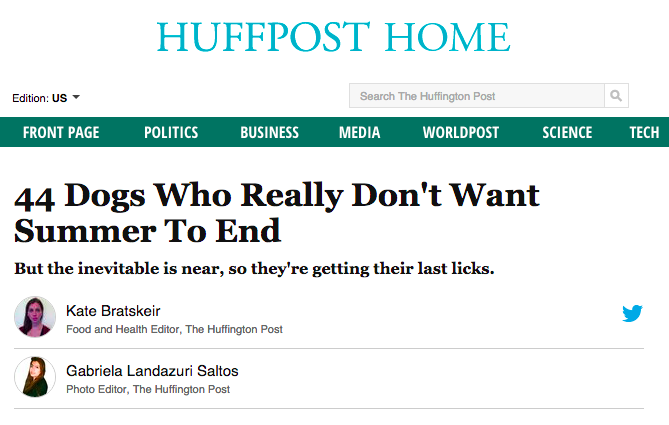 Congratulations to Dee , Nikolai Mitov, Roman Kraft, Silvia, Miloš, Ian Mc, Anabela Henriques, Jenn Blossom, grellgrau, Ira Sarita, Patrick Kidney, Juanmoley, debo_l, James Ronan, Klaudie Moravcova, Yana P Bardachenko, julia, Amy, Arun Bhaskar, Eric Chu, ddayi, Cory Dean, Kalin Geisreiter, Kaylyn Smith, Mónica Durán, Han Linsanity, michelle, Bill, Jo Cattan, Sruff, Valentina Matelli, Richard Moon, Hung Lung, Sven Hartmann and Katie Jordan who were all featured. As you can see, it was a bit of a whopper image collection, so below are just a few of our favorites!
By Jenn Blossom
By Ira Sarita
By Juanmoley
By debo_l
By James Ronan
By julia
By AnG3la
By michelle
By Jo Cattan
By Sruff
By Richard Moon
By Katie Jordan
Congrats everyone! Thanks for taking part. For more ways to get featured, published, exhibited or win great prizes check out the Missions tab in the app.
Header Image by Juanmoley