We need to stop using filters and retouching our bodies
By Kate Lucey - 3 min read
How Durex and Reckitt broke the mould of 'Filter Culture' to truly capture a generation
No retouching. No models. No script. This is Gen Z, unfiltered.
More than ever before, young people are being exposed to unrealistic body and beauty standards. Filter-culture isn't going anyway, with "this selfie filter shows you how pretty you are / makes you prettier!" dominating social media discovery feeds, and supposedly "cute animal" filters that actually suck in cheeks, enlarge eyes and increase pouts. It's just not real life.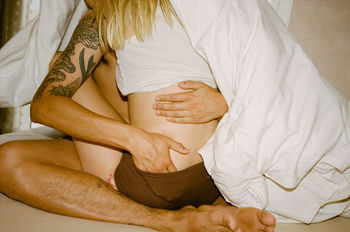 Representation on social media often is nowhere near the truth of how we live, how we look, and how we have sex. There's an urgent need for more realistic imagery, supported by research[1] that shows digital searches for 'body positivity' have increased by an astonishing 428%, while searches for 'real people' were up 115% in 2020 compared to 2019.
The bombardment of highly edited images that promote an unrealistic and often wildly unattainable body image has resulted in 71% of social media users refusing to post a picture of themselves without editing it first[2]. The need for change is urgent, and Reckitt with their brand Durex are putting their visuals centre-stage during the push for realistic representation.
Durex by Reckitt and Hill+Knowlton teamed up with EyeEm to counterbalance the view of life through an Instagram filter, with their groundbreaking 'As Real As It Gets' campaign, photographed by Kane Holz. Using no retouching, no models and no scripted action, these beautiful images truly capture the essence of Gen Z and how they live today.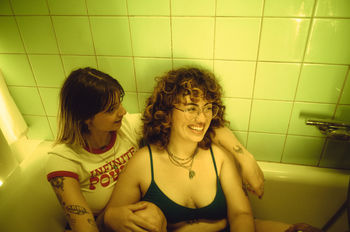 Reckitt Germany has made a powerful statement that brands like Durex or Veet will use real and authentic imagery in their campaigns, especially when it comes to Gen Z, protecting people from false and harmful expectations and allowing them to nurture their relationship with their own body and sexuality. This is all part of Reckitt's mission to to help raise awareness and encourage behavioural changes that can have a real difference for a cleaner and healthier world - including a fairer society where everyone feels comfortable expressing themselves openly as they are."
The beautiful imagery for 'As Real As It Gets' candidly captures a group of real friends relaxing, having fun and enjoying each other. No filters, no editing, no retouching and no scripts were used during any stage of production, and the resulting images are stunning.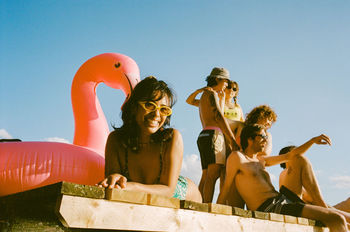 "Many young adults don't feel authentically represented in media and stock pictures used in marketing communications which has a great impact on their sexuality and sexual identity and studies show that," said Jennifer Feustel, Category Marketing Manager at Durex. On top of that, there is a strong lack of diversity in the portrayal of sex and body types in media and stock imagery.
"We want to pioneer real changes in stock photography. We also know that we can't make a change by ourselves. That's why we're working with a panel of experts and our very own Employee Resource Group (ERG) to make sure we include as many perspectives as possible. Our expert for queerness and diversity Saskia Michalski, said it perfectly: 'Stock images have power. Recognising yourself in stock pictures leads to more confidence and feeling validated'."
Unrealistic imagery is doing serious damage, and the use of filters on social media is having an astonishing impact on consumers' mental health. The Wall Street Journal discovered that "thirty-two percent of teen girls said that when they felt bad about their bodies, Instagram made them feel worse" and "among teens who reported suicidal thoughts, 13% of British users and 6% of American users traced the issue to Instagram."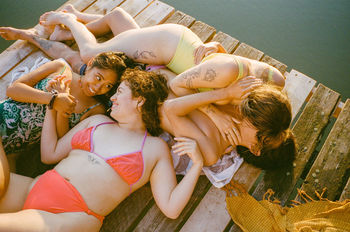 The Durex Sex Survey 2021 showed that 18 - 24 yr olds in particular feel anxious about their bodies, with only 39% saying that they feel at ease with their bodies ​(compared to 83% of 50-64 y.o.)​. This is alongside only 46% feeling at ease with their sexual identity, and only 37% feeling at ease during sex​.
"Frankly, we believe that everyone who wants to be sexually active should be empowered to have good sex," said Jennifer Feustel. "However, sadly only 37% of Gen Z respondents feel at ease during sex and have an enjoyable, satisfying experience. We believe this has to change. As the world's leading condom brand, we can have a huge impact. Feeling at ease with one's sexuality is one way to become happier and more confident in your own skin, so we try to support this and include empowerment and self-love, especially in external communications of Durex. As one of our experts, Norman Wolf stated: `Durex can make people feel seen in their sexuality - regardless of what their bodies look like, what gender they are or who they love. That's a big deal!´"
"This is just one way to live diversity, authenticity, and representation. All those values are an integral part of our internal working culture. We support our colleagues no matter what and with our Reckitt Inclusion Board we ensure that all employee needs are heard and considered."
Enjoy the beautiful image collection, here.
[1] Getty Images & YouGov (USA, 2020) https://marketing-workbench-assets.s3-us-west-2.amazonaws.com/pdfs/Getty_Images_Visual_GPS_Global_Report_1.pdf [2] https://graziadaily.co.uk/life/in-the-news/photoshop-instagram-facetune/