War Through an iPhone Lens. Q&A with Ben Lowy
Documenting the wars in Afghanistan and Libya with his iPhone, Ben made it to the cover of TIME Magazine and has won numerous awards for his work.
Ben Lowy can be called a pioneer in photojournalism.Having started his career covering the Iraq war in 2003, his most recent work involves photos taken with his iPhone.
Ben was amongst the first to use the tiny, unobtrusive device for shooting in conflict zones and has been awarded numerous prizes for his work. Among these are World Press Photo, the Magnum Foundation Emergency fund and the ICP Infinity Award for Photojournalism.
Having joined EyeEm recently, we were interested in Ben's recent work & musings and asked him a few questions. Read on to get to know his story.
Thanks to DPReview Connect for co-hosting this feature with us.
Libya ©Benjamin Lowy/Reportage by Getty Images
Hi Ben! Briefly, how did it all start with you using a phone to shoot in conflict zones?
I shot with my iPhone in Afghanistan and Libya. Which is what I'm know for, but I started in the US in 2010. At first I was just using the phone to record little things in the world around me. Less journalism, more visceral reaction to what I saw on a given day. But during an assignment for a client I was asked to shoot chrome film on a panoramic camera.
"Film," I hadn't shot film since I was in university a decade earlier. A little known app called Hipstamatic had just come out, and no one was familiar with the images it produced. I ended up shooting the assignment on both the film and on the iPhone. I delivered the iPhone pics printed 8×8 while the film was being processed and the client loved what I produced. And that's when it all started for me.
©Benjamin Lowy/Reportage by Getty Images
Libya ©Benjamin Lowy/Reportage by Getty Images
As for shooting in conflict zones – As I grew more and more comfortable using the phone, I realized it had certain advantages – it was anonymous, it wasn't particularly heavy, it didn't get in the way of being intimate with a potential subject. And it was fast, I could just pull the phone out of my pocket and take a picture as things were happening in front of me.
More than that, it produced images in a visual style that people weren't used to seeing. That is important to me. There is so much information out there these days, and its very hard to capture the attention of a – for the most part – apathetic public. By showing important images of a war or social issue to people using a unique aesthetic, I believe I can capture their attention and shine a light on some of these stories.
Libya ©Benjamin Lowy/Reportage by Getty Images
Was it hard to be taken serious using an iPhone at first?
In the beginning it was tough. Definitely. It still is in many ways. There is still negative feedback and a certain level of disrespect. Its not outright though. Now Im seeing clients wanted iPhone pictures, but wanting to pay a smaller fee.
In terms of working in the field, it was a great icebreaker. And most people – whether in Libya or Afghanistan were more likely to have a phone than a huge DSLR. So there is a certain level of commonality.
Libya ©Benjamin Lowy/Reportage by Getty Images
Libya ©Benjamin Lowy/Reportage by Getty Images
Are there any technical restraints when using a phone to shoot in places like Afghanistan: what about battery supply and wifi, for instance? Did you ever wish you shot some scenes with a DSLR instead?
In the middle of a high intensity situation I used both iPhone and DSLR. There are too many fast paced events that the phone isn't great for. Sometimes you can make a great capture, but it can be difficult. Low light situations and night time aren't great for the phone either.
As for battery Ive been carrying around several battery pack cases like iBattz and Mophie, and I always have a car power adapter in my pocket.
For internet, in the middle of nowhere I usually have a small satellite device that I use to transmit. But believe it or not, the GPRS in Afghanistan is amazing. Faster than NYC certainly.
Do you also shoot with your iPhone just for fun?
I do a lot of street photography in NYC. And when I'm home I always have my two kids in tow – they are a constant subject of photographs. In fact, the birth of my second child was completely recorded with only iPhones. We left the big cameras at home.
If you had a time machine, what big historic event would you like to cover?
Being a photojournalist interested in recording history, there are too many events I would want to see first hand. Arch Duke Ferdinand's assassination which lead to WW1 and everything else since. Or Afghanistan in the 60s.
But really, it would be amazing to see dinosaurs. Imagine posting those images!
Did your photo journalistic work affect your view of the world?
Without a doubt. We all have preconceived ideas and opinions of people and places and ideas. And some people never get to interact with the foreign. But for my job I do. It's a privilege. And it opens your mind and heart.
Libya ©Benjamin Lowy/Reportage by Getty Images
You recently had an assignment by the New Yorker to cover the National Conventions. Do you think more media will employ photo journalists to live cover events around the world through photo sharing?
Certainly. I also covered hurricane Sandy for Time Magazine and also posted live updates. I think for very fluid events, both large scale and fast changing, there will always be a need for live coverage. And the technology is there.
The problem arises if the 24 media news cycle will be more interested in quality or quantity of content. In the end, which has happened several times last year – media organizations can just pull non-professional's images off social media platforms and publish them for a middling fee.
With more people having access to smartphones, people start to share their own perspectives on what's going on. What's your vision for the future?
Syria has been covered primarily by citizen journalists, and they played massive parts in the Arab spring. The future of information sharing and communication is here.
But all of use have pens – not all of are writers and illustrators. We all have computers, but not all of us are Bill Gates or Steve Jobs. There will always be a need for talent and consistently good work. Having more smartphones out there will just give us a bigger more interested audience.
Is there a photo of recent times that's special to you?
Sometimes, we are out looking for a "pretty" picture or have our mental shades on. Sometimes you need to interact with the world around. And sometimes that can lead to amazing results.
This an image and caption from a week ago: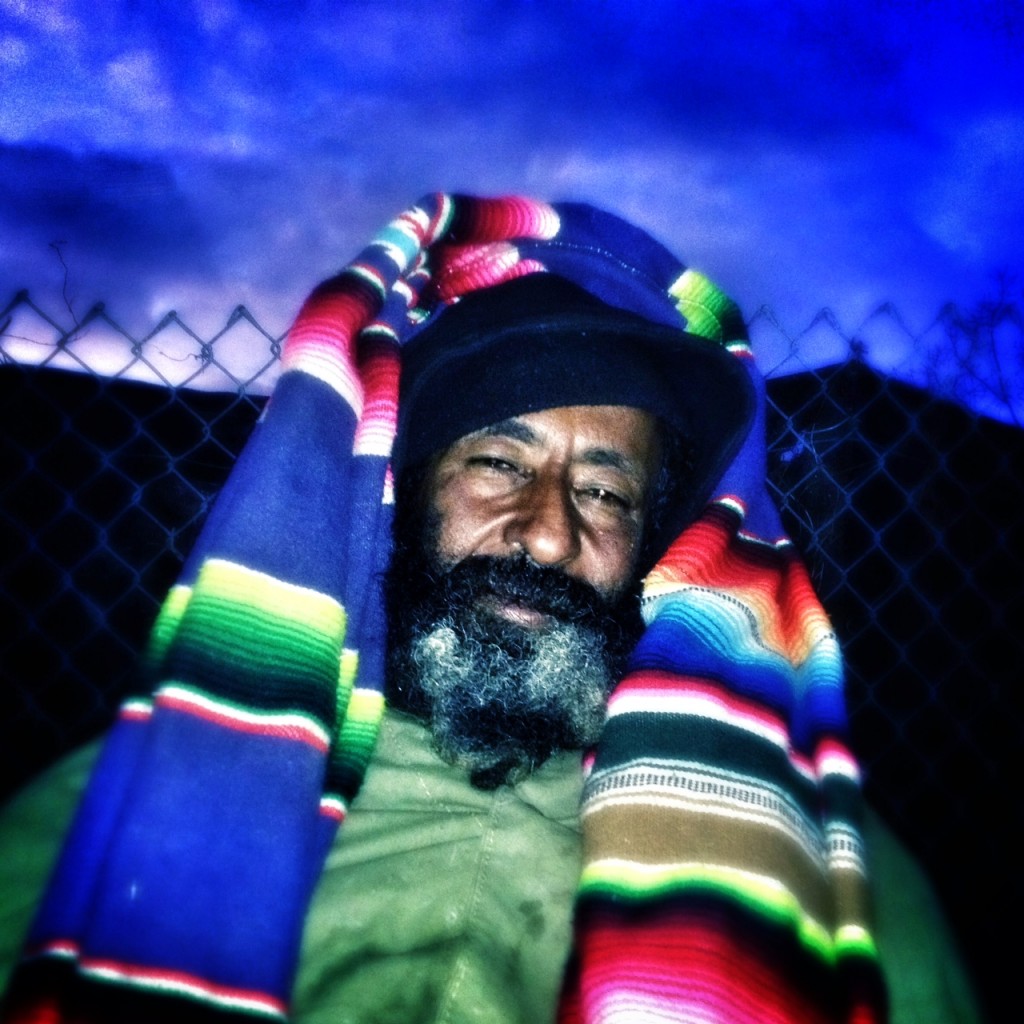 I literally ran by Eshete as I was jogging along the Brooklyn waterfront path this evening. He was sitting on a pile of discarded Christmas trees along the Redhook Marina construction sites. Surrounded by 10 cats Eshete told me his story.
Originally from Gondor in Ethiopia, he fled to Sudan in 1982 and then to the US in 87. After being evicted from his home he lived on the streets of NYC before getting a small studio in the Times Square Hotel. But Eshete comes back to Redhook everyday to look after his family of cats. All are named after historical world leaders, the eldest are Cleopatra and Haile Selassie, the youngest is Churchill.
What's coming up for you in 2013?
Im doing a bunch of teaching and a few gallery shows. Other than that I'm just watching the light and waiting to see what walks through it.
Thank you for speaking with us, Ben!Check out Ben's work on his website and follow him on EyeEm.
More links:
New York Times:Ben Lowy: Virtually Unfiltered
New Yorker:Ben Lowy: War Photographer
Tumblr Storyboard:Capturing Libya: Through a Hipstamatic Lens