Part One: AnAkA on Shooting FKA Twigs' Short Film 'Practice'
By Ellen Clipson - 6 min read
Introducing AnAkA - the creative mind that directed, shot, and created 'Practice.' After collaborating with artists like Kendrick Lamar, Willow Smith, and Demi Lovato, the visual storyteller shares how she intimately documented FKA twigs' creative expression through this unique project.
A skillful and intricate portrayal of what it means to bring a creative vision to life. In just 7-minutes, 'Practice'. gives you an exclusive and highly-personal view of FKA twigs' recent music video 'Cellophane.'
Having graduated in Ethnographic Research, Photography and Film Direction, AnAkA tells us what it meant to direct for one of the most powerful artists in the music industry. Today we share part one of that interview.
You can watch the full film here.
A True Portrayal of 'Practice'
How did the project 'Practice' come together?
Twigs knew that in order to make her vision for 'Cellophane' happen she'd need to learn to pole dance in under a year. It wasn't until they got closer to the filming, that the team realized how much work twigs had put into the process.
It was just two weeks before they were due to fly out to Ukraine for the filming that I was asked to run the 'Practice' project. I remember as soon as we met, twigs just looked at me, felt my energy and was like 'alright, this is what I need you to do.' She didn't really question it at all which was pretty cool.
"twigs just looked at me, felt my energy and was like 'alright, this is what I need you to do."
Do you think that the confidence she had in you helped with the process?
I think it was the magic behind it. Twigs is undoubtedly a very powerful person and so it was really important to show her humanity through this project.
She emphasized to me at the beginning that I needed to film everything - every conversation, every moment. After a while I realized she was serious when she said I was to catch it all on film - after that, I just went for it.
"I feel even more grounded in my calling as it causes me to listen to my intuition"
So from the beginning this project was much more of a collaboration. Do you feel differently when you have a camera in your hand when it comes to your presence on-set or in the training room?
I think with a camera in my hand I understand that I've been given the very beautiful privilege of documenting and therefore I treat it as a very sacred act.
When I hold a camera, it's a very meditative process. I feel even more grounded in my calling as it causes me to listen to my intuition more - for example, when to press record, when to stop, what camera to use.
When it came to 'Practice' I found myself going up and down the emotional waves alongside twigs as she pushed herself to learn this physically straining skill. It was about being intimate without being invasive.
"To make what you're destined to create it's never going to be convenient"
What would you say is the biggest thing you learned from this project?
This project proved that all of my personal and professional practices have all built up to this project. It meant a lot to be able to have so much freedom, creativity, and the space to really show what I can do.
To have worked so intimately with an artist that I've admired for years, and sent my energy towards so many times, was an affirmation that even though I am a little younger in the game I have a bright future. I've learned to become more confident in my purpose, my personal practice and understand that i've been cultivating a very sacred practice within myself.
I'm excited in terms of collaborating with artists, in terms of travelling and meeting different people who create in beautiful ways. I want to help tell their stories and make sure that no information gets lost in the process.
You knew it was going to be an intense project. How did you mentally prepare?
The only mental preparation time I had was when I was on the phone talking about it. I was in the car, not even back in LA yet, when I was talking to twigs' manager. I think this is what made me able to tune in more into the grind of the project.
I was very aware that everybody else on her team had been preparing for this flow for over a year, and so it was my job to slide into this very solid team who knew exactly why I was there. Therefore, my preparation was much more about the practicalities.
Do you think if you had you had longer as I said, things would your idea flow would have been different?
Not really because the team was pretty set on creating something more than a conventional behind the scenes (BTS). 'Practice' was a film about twigs as a human, and so it worked perfectly to have documented first, and found the story afterwards.
"Being a black woman and being able to have so much creative freedom and use that to channel a really important message."
From your point of view, what do you want your audience to feel or experience when they watch 'Practice' for the first time?
The main thing is that if you make what you're destined to create then it's never going to be convenient or easy but it's always going to be worth it.
Growing up, like many others I was taught to always take the most convenient option. But there was nothing simple about the way 'Cellophane' was made. Everything about it was complicated, grand scale, and seemingly impossible.
I was able to see how a higher vision translates into a very complicated physical reality. I really liked the quote that twigs shares at the end about how everything else will take a hit when you focus on one thing so intensely.
Twigs chose to sacrifice other things for her practice, which was really powerful and to see a black woman be able to create on such a grand scale is incredible. It is revolutionary to have so much creative freedom as a black woman that also channels a really important message.
You speak a lot of using your intuition but obviously the film also speaks of the concept of 'Practice'. Is this a message that you resonate with looking back over your career?
Preparation and practice is really important. For me, the actual practice of communication is what I've put the most planning into. As a director you need to know what everybody's supposed to be doing, but you also have to trust that each individual also knows what needs to be done. When directing an entire production it's about ensuring delegations are properly organized so that everything runs smoothly.
"It's given me the opportunity to dream even bigger as a film director."
On the most practical level, how did you pull the project off?
I literally just went for it. I only took photos on film except for a few on my Sony camera and so I used my Mamiya RB67, a VHS camera, and a Super 8 camera. I had a suitcase with all of them in it which I would pull around with me so I could switch it up.
I am really grateful that I had previous experience on-set because I already knew the energy flow and rhythm of the project. From that I could gauge which camera to use.
Talking of past projects, did you see any come up the process?
Definitely! I was an assistant director for Calmatic, best known for his recent work on Little Nas X's video - Old Town Road. When I was assisting him I got to experience working on-set for large productions with Vic Mensa and Jhené Aiko.
I also worked closely with Christian Sutton for Kendrick Lamar. Working so closely with both directors meant that when it came to 'Practice', I really felt prepared to be on set.
I love the vibe because everybody is passionately working in their purpose. Watching Andrew Thomas Huang direct Cellophane gave me the opportunity to dream even bigger as a filmmaker.
What kept you going in those moments when felt exhausted or overwhelmed? What was the thing that really drove your creativity throughout?
There was a couple of moments when I felt emotionally drained because I was really tuned into the message of the film and felt twigs intentions deeply. But if I was ever in need of motivation, all I would need to do was look at twigs - her ambition was burning hot the whole time.
As I had a little more freedom than the rest of the team I found myself being able to balance the energy on set. It was a cool pocket to be in because this was a project twigs was excited about as it was sort of out of her hands and not on her list of priorities. I think that's why it was enjoyable for the both of us.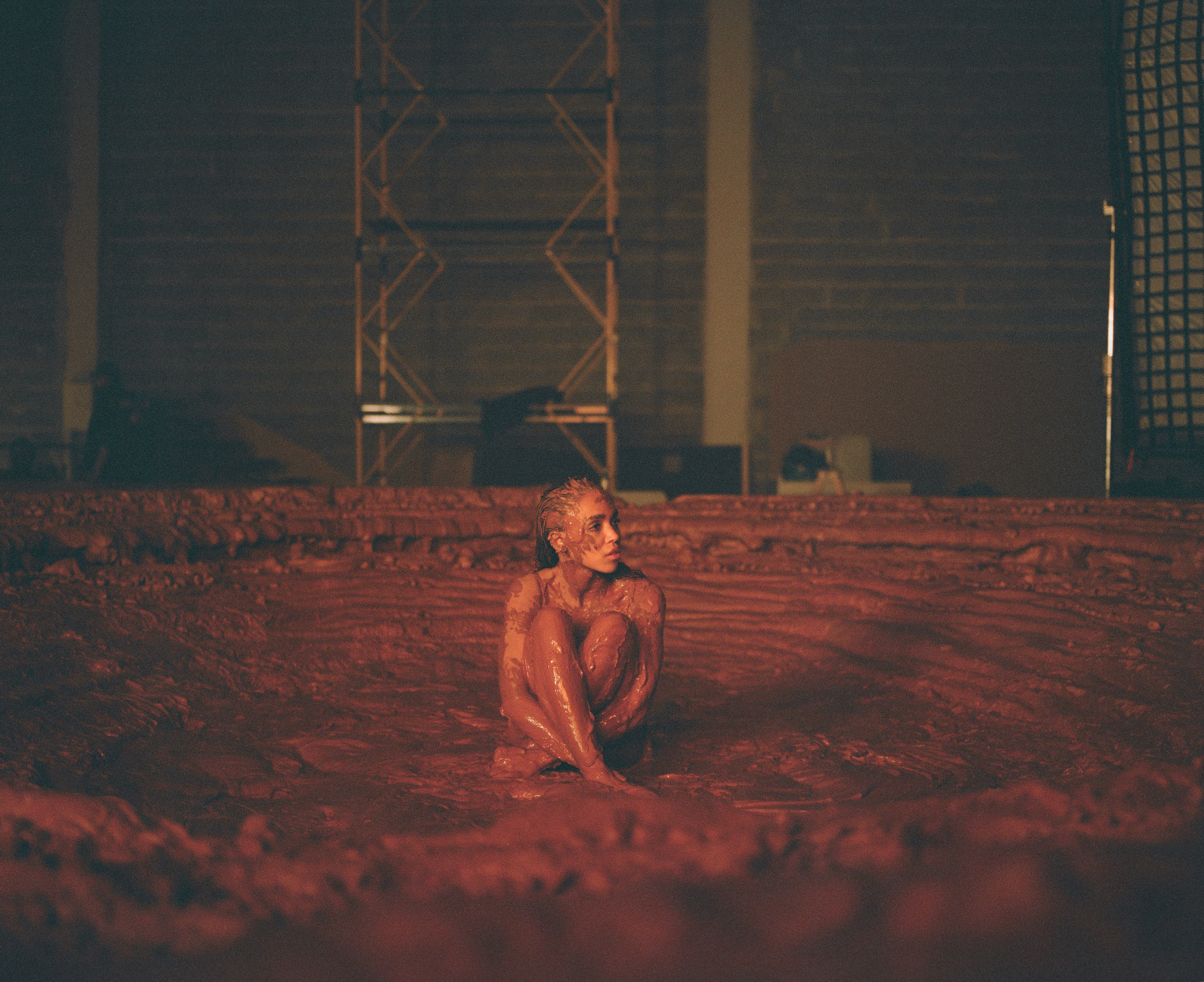 As you jumped right into the deep end and documented everything you could, what was the editing process like?
It was a really cool part of the project. I knew conversation pieces were really important as not many people have really heard twigs speak. Alongside that I wanted to keep the aspects that made her human - like when she's on her period as many people forget about those sorts of things. So, I made little categories for myself, such as conversations, striking moments, emotional moments. It was a case of gathering all the striking moments and cutting them down further.
The only feedback I got from twigs was after I'd sent her my third draft. I received a message from her saying it was incredible. To have the artist happy with it, especially an artist like twigs who is a perfectionist, was like really powerful.
Want to see more of AnAkA's outstanding photography and video work? Take a look at her website to see her ongoing global projects and her unique Artkive.
Get your daily dose of fresh inspiration by following AnAkA on Instagram.
All images by © AnAkA