Opening our Web Uploader to Everyone
Share large batches of photos & import from Flickr, Picasa, and others
Today, we're opening up our web uploader to all existing and new members of EyeEm. The web uploader is the easiest way to quickly upload large batches of photos – or to import your work from Flickr, Dropbox, Google Drive, and Picasa.
The web uploader uses our cutting-edge EyeEm Vision technology to automatically suggest accurate keywords for each photo, making light work of tagging and helping your work get discovered. Using the web uploader, you can also add your photos to EyeEm Market and start selling them.
Here at EyeEm, we are photographers ourselves and we know how much work it takes to create an image library. So we designed our web uploader to include a way to import your work and ease the transition from other services: If you are concerned about the unclear future of Flickr following the acquisition of Yahoo!, or if you're still lamenting the decline of Picasa, now is the time to move your photos over. And don't worry about having to re-tag everything: EyeEm Vision will do the heavy lifting for you by suggesting tags that you can either accept individually, or add all at once. We will also use your photos' EXIF data to determine their date and location.
We first introduced web uploader back in late 2015 for existing Market contributors. This allowed us to test both the uploader and its sophisticated keyword suggestion engine that recognizes not just what's in the photo, but also the concepts shown in them. We're happy to now make this technology available to all of you.
Uploading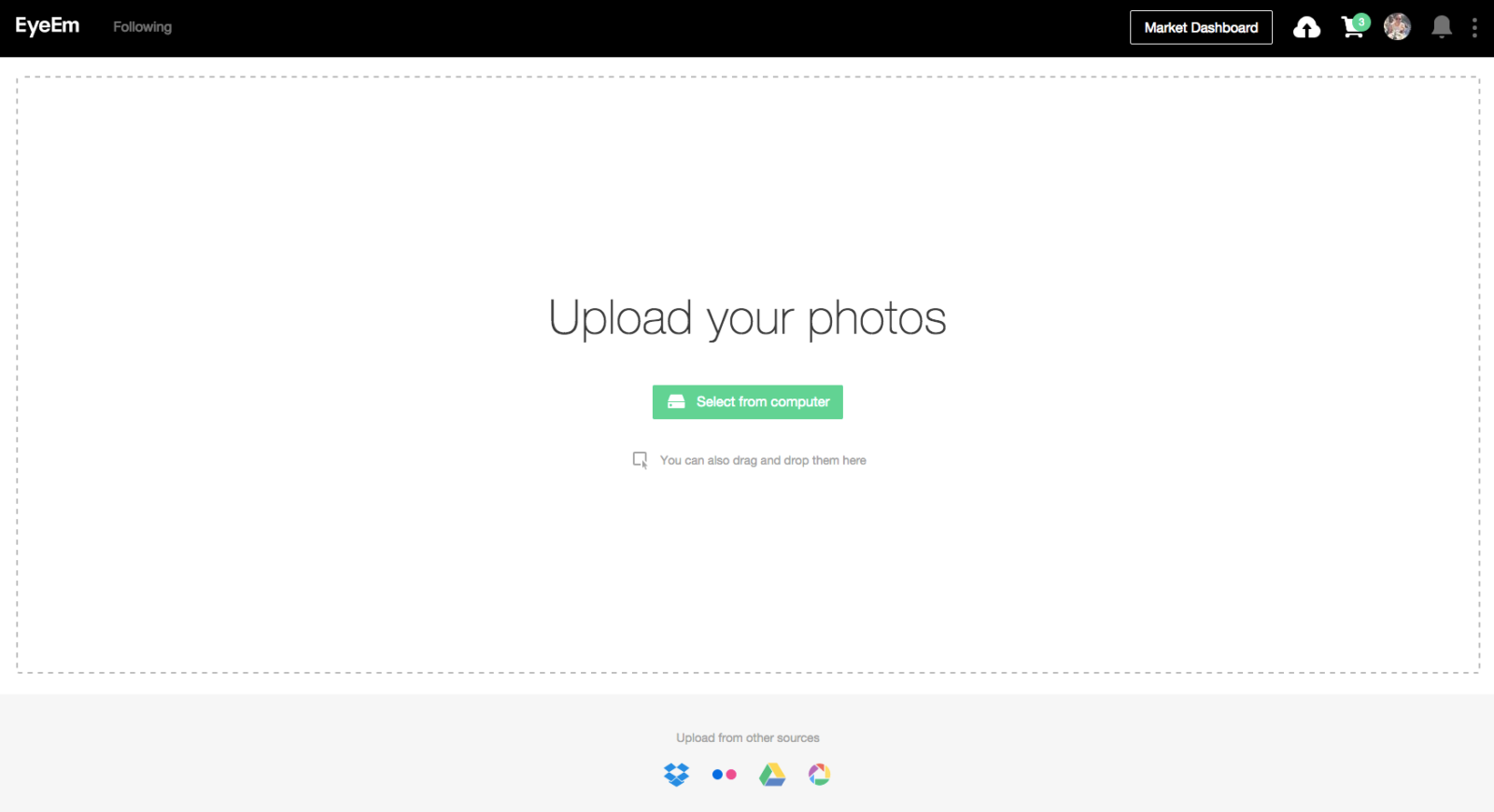 It's an easy process to share your photos with the web uploader:
• Open your browser to web upload.
• Start sharing by dropping your photos in or browsing your computer
• EyeEm Vision automatically suggests tags for each photo. Accept some, all, or add your own.
• Add them to EyeEm by hitting 'Post all photos'.
You can also choose to sell your photos on EyeEm Market or add locations. When uploading a large number of photos, up to 13 will show up in other users' feed, whereas the rest will go straight to your profile.
Importing
Powered by Filepicker, our new importer makes transferring photos from Flickr, Dropbox, Google Drive or Picasa to EyeEm as easy as uploading a batch of photos from your desktop. Import in a few quick steps:
• Open your browser to web upload.
• Click which service you would like to import from and connect.
• Select photos to import, hit 'Select', then confirm with 'Upload'.
• EyeEm Vision automatically suggests tags for each photo. Accept some, all, or add your own.
• Add them to EyeEm by hitting 'Post all photos'.
From there, you can add tags conveniently suggested by EyeEm Vision, choose photos to sell on EyeEm Market, and add locations.
Community & Market
With more than 18 million photographers, EyeEm has an active, vibrant community sharing not just incredible photos but also an appreciation for the art of taking them. If you are coming from another service, we think you'll be surprised by the interaction and positive spirit of our community. No need to pay extra to get rid of banners, either: EyeEm is ad free to use, both on desktop and on mobile.
If you want to start making money with your photos, make sure to check out EyeEm Market: There you can license your photos to third parties. The revenue gets split 50/50 between you and EyeEm. Adding your photos to EyeEm Market is possible right from the web uploader or on mobile.

Header image by @kuznetsov_spb