Meet the Team: Cat Anderson
Today we want to introduce you to this sassy redhead full of brilliant ideas, Cat. How she ended up at EyeEm is a great story filled with many celeb encounters and an appearance on British TV.
Today we want to introduce you to this sassy redhead full of brilliant ideas, Cat. Hailing from Northern Ireland, this lovely lady joined the team in January and has been an integral part of making sure your EyeEm experience is always enjoyable. How she ended up at EyeEm is a great story filled with many celeb encounters and an appearance on British TV.
Sit back, relax and keep on scrolling. These are stories you don't want to miss.
Who are you?
What do you love?
hang time with cat's pigs by Cat on EyeEm
What really annoys you?
Where is your favorite place?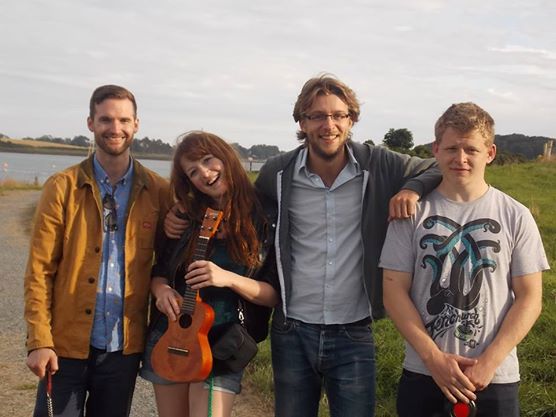 What's your best kept secret?
Wine and cheese club 2 by Cat on EyeEm Come Dine With Me Belfast
Can you tell us a bit about yourself? Who is the girl behind the red hair?
Hi! My name is Cat, I'm 28 years old and I love traveling, music, guinea pigs, dancing and generally having a laugh. I'm from Belfast in Northern Ireland, so have a pretty strong accent. This has given my colleagues at EyeEm quite a lot to giggle at – they try to copy it a lot, which is very surreal!
So how did you end up in Berlin and at EyeEm?
Actually, it's a bit of a long story. Somehow, I ended up on a British TV show called Come Dine With Me and was a joint winner. With the money I won, I came on holiday for a week to Berlin. I instantly fell in love with the place and thought, why not? I handed in my notice at the BBC and the theatre where I had been working, and was living here a month and a half later.
I started working for a company specializing in adventure, Gidsy. While I was there, we started using EyeEm. When Gidsy got taken over by GetYourGuide, Flo came to the office and gave a talk about EyeEm. When I saw the opportunity to join at the start of this year, I jumped at it.
Can you give us an idea of what you do at EyeEm?
Absolutely! I am part of the community team, so I do all sorts of things. I make sure that we are creating the content that you want to see. Currently I also am helping people around the world organize their global EyeEm meetups, which is really exciting. I also write articles on the blog, which I love. In my previous job I had been head of sales and marketing, which tended to be quite fixed. The attraction to this role at EyeEm was the variety of the job.
Because of the different jobs you've had, you seem to have met some interesting people? Tell us about your favorite celeb encounter.
Haha! Yeah, I have been pretty lucky. The most famous was probably the Queen, the most charming was the actor Colin Farrell or Kenneth Branagh, and the most surprisingly lovely was Bono. I don't tend to get starstruck, and hate people who hassle famous people for autographs and what not. That happened a lot in the theatre I worked in, and it was awful. I like meeting famous people though, because they always have good stories to tell.
Can you share any phrases with us that are unique to Ireland?
I make up phrases all the time, so I wouldn't trust anything I say. "He's deadly craic" means someone is good fun, "good woman yourself" means well done and "a wee sniffter" means a little drink. We tend to swear and tease each other a lot in Ireland, so these are the only ones fit to print!
What are your favorite albums on EyeEm?
Well, of course I like all the ones that everyone likes, but I also enjoy my personal project "Adam's Sexy Face", where I photograph Adam from the community team every day. I am not sure if he hates it or loves it- he sighs dramatically, but then always strikes an incredible pose. He's a natural!
And is your love for wine really your best kept secret? That's hard to believe…
Ah no. Sure everyone knows I love my white wine. No, that's just a picture to represent my TV show appearance. I actually never really ever did dinner parties until I did Come Dine With Me, it really did kind of happen before I knew what was going on. Afterwards, it was pretty embarrassing for a while in the UK, as that show is pretty popular there. I'd get recognized everywhere, which was so weird. Weddings, elevators, club toilets, aeroplanes, the works. It's repeated all the time, so I always get weirdos adding me on Facebook, which is SO STRANGE. It's not really my best kept secret, as it was on British TV, but in Germany, fewer people know about it.
Thanks for sharing Cat and welcome to the team! If you want to follow along with Cat's adventures, you can check out her EyeEm profile.
Want to know more EyeEm team members? Meet Eric Hartsuyker, Cat Noone and Bianca Waldherr.