Living on the Edge: Photos that Capture the Spirit of 2018
Our partnership with Canon celebrated the bold ways people around the world are stepping into the New Year.
Each New Year brings a sense of anticipation and unknown, a blank slate to make your mark on. At the end of 2017, we asked creators to capture the ways they were getting ready to create fresh moments as part of the transition to 2018 – all part of Canon's Be Ready campaign.
Of the staggering 103,000 submissions, photographers Kumarpal and Jason Dong were selected for their adventurous take on the theme and unique personal stories behind each photo. Scroll to see what inspired them to share their experiences.
Kumarpal, India
I shot this photo in Ladakh, north India, with my Canon EOS 70D. We were heading for the Chadar Trek, but our trip was delayed because of heavy snowfall – so we opted for the Lamayuru Trek, hoping to then connect to Chadar afterwards. This was taken during our third day on the Lamayuru Trek, while heading towards Ursi.
"What inspired me was the moment of happiness."
The lady pictured was a fellow trekker. What inspired me was the moment of happiness: we were a few minutes away from reaching Ursi and had just found out that Chadar was open again. I was standing behind her and chose to position myself at a low angle, trying to include the sun in my shot. I asked her to look up to show the sense of achievement, looking forward towards Chadar.
Jason Dong, United States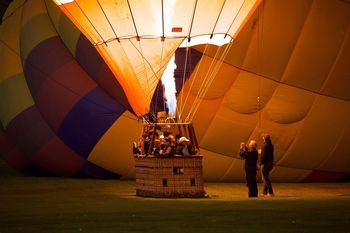 I took this photo at Balloons Above the Valley Inc. in Napa, the United States, at around 6 am. The first balloon was about to take off, while the others were inflating to "be ready" for flight too.
It was just one moment that I saw a group of people was getting ready for flight, and right before they took off, the grandpa outside the balloon was taking pictures to memorize their family's experience. The grandpa may have some reason that he couldn't get on to the balloon, so he took pictures to preserve this precious moment forever for his family. I felt extremely warm in my heart and capturedthis moment on my camera (the Canon EOS 5D mark IV).
"I felt extremely warm in my heart."
For me, this image captures the meaning of Be Ready: going up into the sky, towards a precious and meaningful future. This is what I can see from the grandpa's perspective. He's full of hope and happy for his family. Zoom out, and I'm happy too! I'm happy to see this entire story in my photograph.