Meet Food Photographer Jonas Marguet
Featured in Visual Feast, his work is a great inspiration for our latest Mission.
Visual Feast, our current Mission with Gestalten, is a celebration of experimental food photography. Here we talk to Swiss photographer Jonas Marguet, who is featured in the
Visual Feast: Contemporary Food Staging and Photography

. His work is an outstanding example of hyper-realistic photography featuring the boldest colors – a great example of how to creatively interpret food.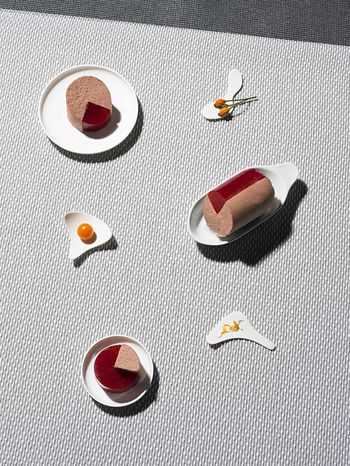 Photography by JONAS MARGUET, from Visual Feast, Copyright Gestalten 2017.
You specialize in still-life photography, much of your eclectic work seems to be inspired by minimalism. Can you tell me more about your style?
My photographic projects are often led by an economy of means and a certain simplicity of expression. By that, I'm often sensitive to minimalists and conceptual propositions, formalism, shapes, colors, and composition. On another hand, I'm also very interested in telling a story when building up a series of images… Maybe my work could be some synthesis of those two approaches.
Tell us a little bit more about you – something we might not expect…
I have a life outside the studio. I just climbed up to the top of Mont Blanc for a recent shoot. I loved it.
What kind of camera(s) do you shoot with?
I usually shoot using a small format DSLR, but it all depends on the project. I have even used a 4×5" digital view camera lately.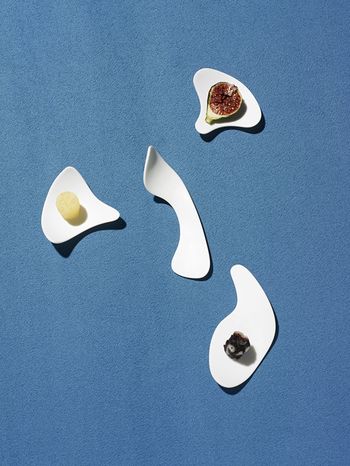 Photography by JONAS MARGUET, from Visual Feast, Copyright Gestalten 2017.
Apart from the camera, what is your favorite photography accessory/tool?
A big roll of matte black duck tape can do a lot when used the right way.
How important is post-production when you're dealing with food?
I try to stay quite true in terms of textures, reflections, compositions, even more when dealing with food.
Do you prefer to work independently or collaboratively? Why?
I do both and I like both. Although finding a set-designer with whom to build a strong working relationship is part of my goals those times.
Who has inspired you as your career has progressed?
My partner in life, Kim, whose sharp eye and critical thinking has been extremely useful and inspiring.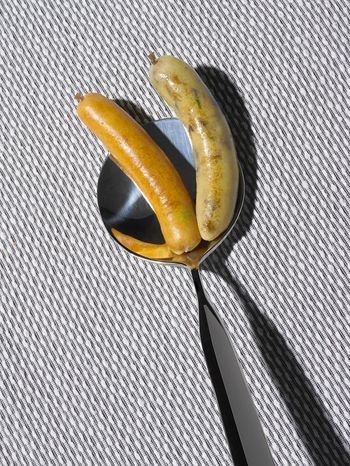 Photography by JONAS MARGUET, from Visual Feast, Copyright Gestalten 2017.
In five words, how would you define the current state of food photography?
fresh – experimental – fun – creative – colorful
If you could photography anything or anyone, what would it be?
Something very large, and beautiful… a very large exotic fruit, maybe?
Do you have a favorite photography, particularly related to food?
Putting myself at risk of not being very original. The whole work around food by Irving Penn has been a great inspiration.
Feeling inspired? Check out the "Visual Feast" Mission and submit your own food photography.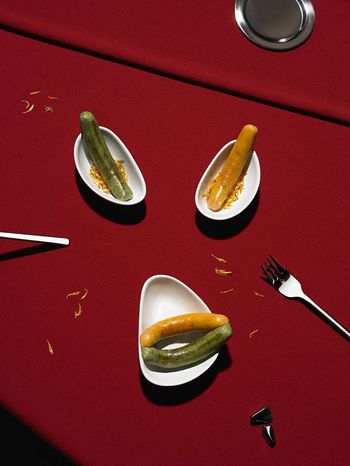 Photography by JONAS MARGUET, from Visual Feast, Copyright Gestalten 2017.
About the Book
Visual Feast reveals a world where food is both an art medium and an edible eccentricity.
Sharing photos of food has become entrenched in our daily lives. Visual Feast celebrates the interplay between a myriad of styles: maps created from vegetables, lobsters painted gold to adorn tables, jelly molded into witty dishes. These images can be readily found on social media, in magazine editorials, or transformed into infographics.
Food photographers and stylists create innovative images that make mouths water, eyes widen, and nostrils inhale imagined scents. Quenching creative curiosities and satisfying even the keenest of artistic palettes, Visual Feast explores food staging and exists as a tome of inspiration for those immersed and intrigued by its yummy and alluring realm.
All Photography & Styling by JONAS MARGUET, Art Direction by CAROLIEN NIEBLING.