Focus on the Story: 15 Photos and the Beautiful Stories Behind Them
By Marili Persson - 4 min read
Storytelling is arguably the most important aspect of photography. Just as a writer speaks using words, a photographer speaks through his images. We partnered with Focus on the Story International Photo Festival, to challenge our community to share images that tell a strong story.
A photograph has the ability to convey emotion, mood, narrative, ideas and messages – all of which are important elements of storytelling. We often takeimages that arepart of a set or portfolio, but it's also important to seek out pictures that can stand alone — that invite you in and make you feel like part of one particularstory.
Our camera is a tool we use to tell that story, to capture not only a moment in time but alsosomething bigger. Some photographers happen to be in the right place at the right timeto catch those moments, drawing the viewers into the frame and making them think deeper.Stories are all around us, one just has to look with eyes wide open.Here we feature our favorites from our partnership with Focus on the Story International Photo Festival, along with the stories behind each and every shot.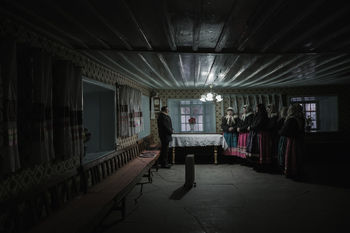 "As a Spiritual Christian religious group that originated in Russia, the Doukhobors(or "Spirit Wrestlers") are unique in their practices of pacifism and rejection of modern materialism. This ideology led them to rebuff many Orthodox Church rituals in Russia, for which they were exiled in the 1840s. While about a third of the Doukhobors emigrated to Canada at this time, those who remained inEastern Europe resettled in Gorelovka, a tiny village in the Javakheti region in what is now the south of Georgia.
With the fall of communism and the creation of an independent Georgian state, many in the Doukhobor community found it advantageous to return to Russia. However, a small and dedicated, but dwindling, group remains in Gorelovka. Preferring to live communally, the Doukhobors' share a religious space, which they use for worship on Sundays and holidays. While they are Christian, the Doukhobors differ from more orthodox sects in that they believe that God livesin each person rather than in books (such as the Bible) and other religious trinkets. Nevertheless, their shrine in Gorelovka, have been intentionally and systematically desecrated. As the Gorelovka Doukhobor community dwindles,only about 40 families remain, and of those, only about 10 persons continue toregularly attend ceremonies at their shrine. One of these members is particularly important.Acknowledged by their community as their last hope, Dasha is the only youngmember of their community to continue carrying on their traditions. She participates in their weekly rituals, including dressing in traditional garments and visiting the shrine for prayers. Dasha represents the Gorelovka Doukhoborcommunity's last hope because she is young enough to continue their traditions pass them on to future generations, and share them with historians and documentarians. Dasha is a Russian name and it means God's gift."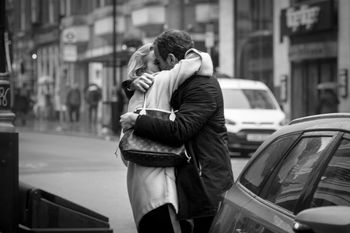 "It was a street photo of a couple splitting. The man going for a business trip it would seem. A melancholy aura surrounded them and that's what attracted my eye. It was taken on the streets of London, while exploring the town. Also taken during the earlier hours of the morning."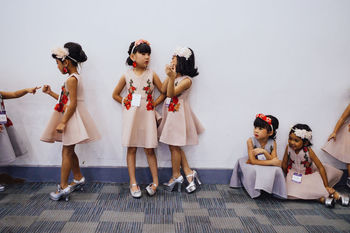 "One Two.. shoot!" This photo was taken in Bangkok. They were part of a beauty competition that day and performed a show. Some of them were playing rock paper scissors, but others waited for the time to pass."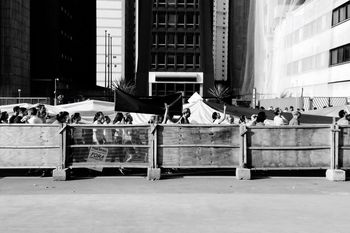 "Took this photo onthe main avenue in Sao Paulo, Brazil, called Avenida Paulista. It was during a manifestation against the country's government, more specifically to ask for the (then) president's impeachment for corruption. The written words "fora corruptos" in the sign the lady is holding, means "out, corrupt" in Portuguese. It was a period of a lot of tension and everybody was on the streets to claim for justice… children, elderly, all classes united. This movement happened sometimes, all in the same place, and gained a lot of attention. The president was impeached later on."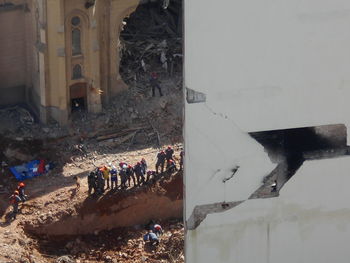 "Building Collapse: Inner City Calamity in downtown São Paulo at Largo do Paissandú; 3 am May 1, 2018. The abandoned former Federal Police steel and glass skyscraper, which had been invaded by street people, imploded in the early morning hours and the neighboring buildings, including the Lutheran Church on Avenida Rio Branco, were destroyed by fire as well. This photo taken May 9, 2018 at Largo do Paissandú and shows the efforts by firefighters and the debris removal crew as well as the damage to the two neighboring edifices. This photo captures the situation in a tri-dimensional view (3 affected building situations) and the status of the current work-in-progress."
"I was photographing the Color Run 5k race in South Bend, Indiana in 2014. This fun race took place throughout the city and was open to everyone. As people ran through stations, they were covered in colored chalkuntil they reached the race end. I don't know either of these men, but the joy they had at finishing the race was heart warming to see. Most of all, I loved how in the current days of uncalled for prejudice between races, this shows nota black man, not a white man, but friends covered in all colors happy to see each other. I think the story behind that is what made me want to capture the moment."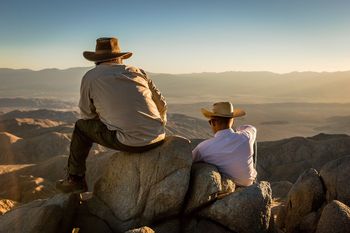 *"I often think of desert landscapes–at sunset–as being a catalyst for contemplation and meditation. On an adventure through Joshua Tree National Park, I planned to capture the sunset at Keys View. As a landscape photographer, I was watching to see what the light was doing, as the sun was setting, in order to find the best vantage points for the shots I had in mind. While I typically focus less on people and more on intriguing landscapes, I happened to notice two interesting gentlemen, dressed in cowboy garb.
They were actively embodying that very idea of contemplation, as they were gazing out on the desertscape before them. Not wanting to miss a great opportunity to share this scene with the world, but still being respectful of their privacy, I asked if they wouldn't mind me taking a photo of them from behind, just as they were. In true cowboy fashion, they sort of shrugged their shoulders in approval and continued to study the scene before them, seemingly lost in thought. I fired off a few shots and captured this golden moment."*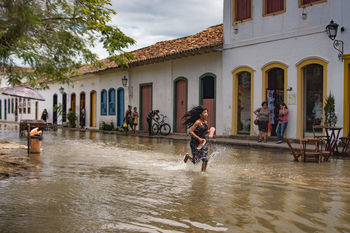 "It was quite early in my gap year in South America. For a couple of days I was in Paraty, Brazil - a lovely small colonial town south of Rio. On my last day there I took a walk through the center when I started to notice that the water level was rising. Before I know what was happening I was standing knee deep in seawater. It was astounding to observe how some people in town seemed relaxed when the water level stopped right below the entrance of their house. Others were completely stressed out to get their car and other belongings to safety. The girl in the picture, seems to belong to the latter group of people. Maybe she had to save something or maybe she just wanted to join the other kids enjoying playing in the water. It was really stunning to be right in the middle of this with my camera without even knowing what was going on. Hopefully one day I'll go back to Paraty to enjoy this spectacle once more."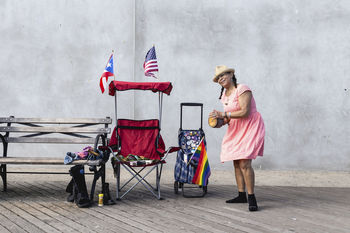 "This was taken in Coney Island, NYC just along the boardwalk near the famous Lunar Park. I noticed her from a distance just sitting in her chair watching the world go by with her very large boot on. I wandered around for a while taking photos and returned to the area near where this lady was sitting about an hour later. In that time a person had setup some DJ booth and was playing some house music. I couldn't believe my eyes but the lady had taken off her large boot, gotten up out of her chair and was dancing and hitting her Cabasa to the beat of the music. At first I was hesitant to take a photo of her, but she noticed me with my camera and smiled."
"This photo was taken in Hatgal, Mongolia, on May 1, 2008. I was going with friends to the shamans, but the weather had deteriorated and it began to snow. I went to the shore of the Hobsugul lake (Khuvsgul lake), and sawa local man come for fresh water. I took my camera to take a few pictures so I could remember this amazing place."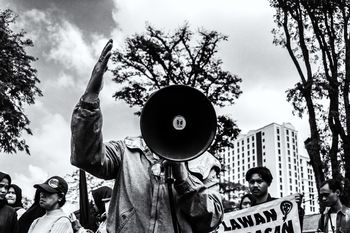 "This photo tells about the Women's March 2018 in Bandung, Indonesia. It was themed 'Gender-based inequalities', which included discussions about the oppression of women. The following five forms of repression: the exploitation, the marginalization, the powerlessness, the cultural imperialism, and the violence. As for the issues that were discussed in action this year:The child marriage, the violence against women, the discrimination against women, the women workers, and the expansion of the article fornication in RKUHP (the low of Indonesia). In this protest, there is the sound of the voice of the women who feel oppressed."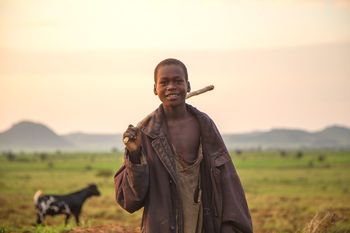 *"The image is of a young Karamojong male. The Karamojong are a warrior nomad tribe in the Northern most part of Uganda, from the region of Karamoja. The Karamojong are traditionally nomadic herdsmen, but with the reach of modernization they have slowly,with resistance, fallen out of their ways. The Karamojong region has lagged behind in development compared to the rest of the country due to various factors like environmental issues, insecurity, marginalization, illiteracy, poor health and poor infrastructure.
The districts also have the highest human poverty indices of the country. According to the Karamojong, poverty is on the rise in part due to persistent poor harvest and drought, cattle rustling and insecurity, animal death, lack of water, and limited sources of income.This image was taken as part of series of images depicting young Karamojong males herding their cows in the early morning sunrise in Kaabong district, one of the five districts of the Karamoja region."*
"This photo was taken in Hong Kong, on the Kowloon side, near an area where there are many flower shops.I like this photo because it makes me laugh and represents many different story lines. Why did the young man purchase the flowers? Perhaps for a first date? A friend's birthday? His mother?"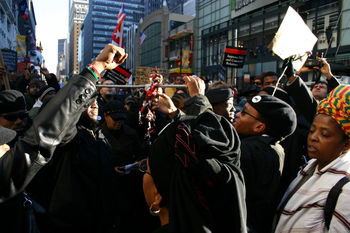 "Sean Bellwas wrongfullyshot and killedon the earlymorningofhis wedding by a team ofundercover NYPD policemen in Jamaica, Queens, New York City onNovember 25,2006. Two other friends,Trent Benefield, and Joseph Guzman were also shot but survived. The three menwere unarmed and their car was shot at50 times.Outraged by the shooting, on December 16, 2006,Rev. Al Sharpton and othersorganized apeacefulprotest marchfrom Central Park and 5th Avenue to 34th Street and 7th Avenuein Manhattan. While covering the protest for a local paper,Ishotthis image on 34th Street of thisgroup of protesterswith fists raised,calling themselves the"New Black Panthers," using their cigarette lighters toburnseveralAmerican flags hungover a bar."
"This photograph is captured in Dhaka Dockyard/Shipyard near Keraniganj at the bank of the river Buriganga. A team of shipbuilding workers are working with their tools which were making unbearable sound, but they are used to it."
These images are from our Mission with Focus on the Story Photo Festival, which takes place this weekend, June 7-10 in Washington DC. Discover all our Missions here. To take part in an EyeEm Mission, download EyeEm for iOS or Android.