#EverydayEducation: How Our Photography Project Became A Movement
"We wanted to challenge stereotypes of Africa as this 'helpless continent'." A guest post by EyeEm photographer Zach Louw.
37 days, 4 countries, 21 schools. From Johannesburg to Tanzania via Malawi, Mozambique and Zimbabwe, #EverydayEducation was a mission to share the stories of educators and students in Southern Africa through photography – and to celebrate the determination of those learning and teaching despite the challenges they face. We're delighted to welcome EyeEm photographer and project member Zach Louw to share his story.
---
The Everyday Education trip was born on a sunny afternoon in Cape Town. It was the brainchild of educator and former school principal Rebecca Crook, who pitched it to fellow photographer Sameer Satchu and myself, Zach Louw, as we were caving in Kalk Bay, South Africa. By the end of the hike, she had us pinky promising our involvement.
From left to right: Sam, Rebecca and myself, Zach
As Rebecca puts it, "it's no surprise that education is an area of debate and concern both in South Africa and around the globe. We criticize and blame our teachers, leaders and unions and implement ever-evolving reforms with copious amounts of money that never seem to realize the collective aim of improving student outcomes."
Rebecca believes in the capability of innovative teachers and leaders to design learning experiences at a grassroots level from which systematic change can occur. She believes that for education to be a transformative journey for students around the world, we need a movement to respect and support educators. She converted us, and so our trip was born!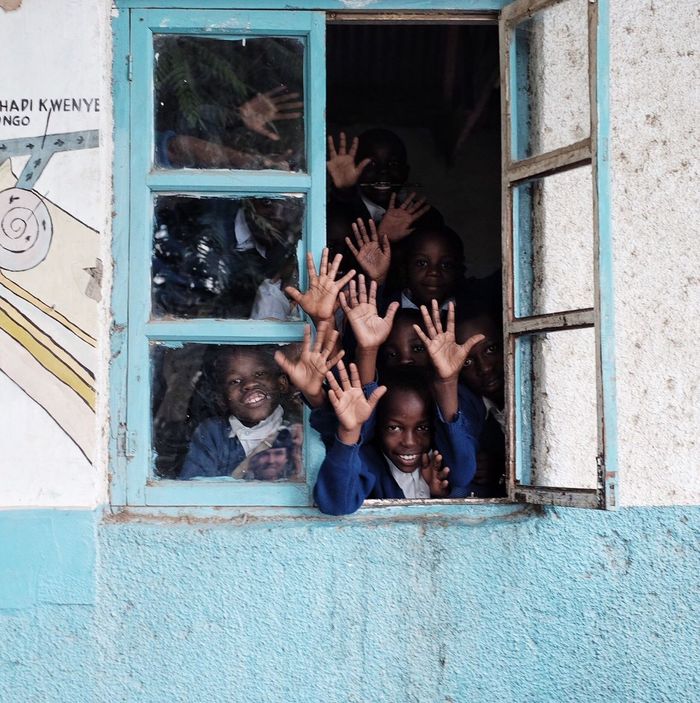 By
We set off to boldly start a movement that would celebrate and foster respect for educators and learners in Southern Africa through sharing their stories. Moreover, we wanted to challenge narrow stereotypes of Africa as this "helpless continent". As you will see from our EyeEm accounts – @diaryofzach, @samvox, @stickylittleleaves – there is a wealth of visual storytelling depicting the lives of students, parents and educators. We hope that, as you scroll through our galleries, your perception of education in Africa – the place we call home – will change.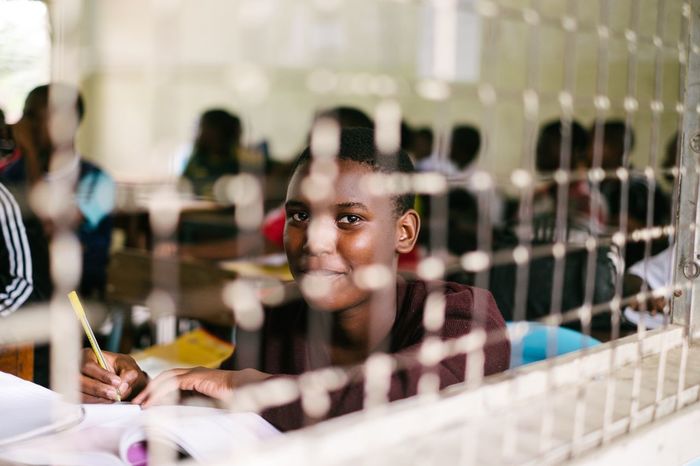 By @SamVox via
The Route
I was the architect of the route, and we asked friends for tips on previous trips they had taken in and around Southern Africa. A lot changes when you are on the road though, what with planning bus, train and ferry times. It's important to be flexible.
We travelled over 4,000 kilometers on buses, mini buses, boda bodas, bicycles, boats and hitch hiking in cars for over 153 hours of total transit time. We started in Johannesburg, South Africa and took a 23-hour bus ride to Zimbabwe. We stayed in Harare, Masvingo and Nyanga as we visited six different schools. In Malawi, we stayed in Cape Maclear and then spent three days on the Ilala Ferry stopping briefly in towns along the way. Karonga was our final destination and the last of our five Malawian school visits. Then in Tanzania we stayed in Mbeya, Iringa, Kilombero and Dar es Salaam, as well as Stone Town and Jambiani in Zanzibar, before returning to South Africa.
From incredibly under-resourced to state of the art, we visited a total of 21 schools in those five weeks. Some visits were prearranged, others were from recommendations of community members we had met along the way, and others we just stumbled upon. We would receive permission to shoot after an interview with the principal or any available teachers – and we would begin to shoot both portraits and candid moments in class and around the school.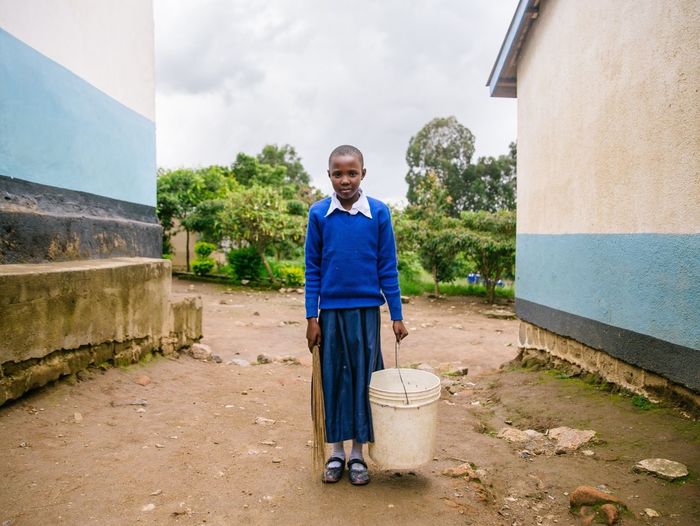 By
The Journey
My mother was born in Zimbabwe, so I've traveled it extensively since I was young – but traveling with your family is very different to traveling on public transport with a storytelling agenda. I'm fortunate to have many stamps in my passport, and traveling with such a specific purpose was both challenging and rewarding. Despite the constant delays, cramped interior and lack of ventilation, traveling on public transport with Sam and Rebecca at my side has provided me with some of my fondest memories.
In one particular bus journey in Tanzania the air conditioning was malfunctioning. Water would drip from ceiling air vents so we strategically positioned ourselves in our seats. Sameer can speak Swahili and told us that one of our less fortunate fellow passengers, rather unemotionally, asked for an umbrella to hold above his head.
The Expectations
Expectation can be a dangerous thing. It can make or break a trip for someone before it has even started. I was involved in an attempted hijacking in Cape Town where all of my photographic equipment was stolen at gunpoint. You can never quite grasp how an experience like that will affect you and I found myself losing faith in South Africa. I was starting to fantasize about my future on another continent, and it made me bitter. I recognized that my mind was in an unhealthy state and I knew that I needed this trip to get my faith back in South Africa.
The People We Met
The people I traveled with and met along the journey were the ones that helped me get my faith back. Listening to people's everyday struggles for education, and providing it, was uplifting. The power of the human spirit is remarkable.
Raphael Mattias
Raphael, pictured above, was one such person. Founder and principal of a community school in Cape Maclear called Chintsanzo, Raphael hosts up to 40 students every night at his home, providing them a place to study and sleep after school. We asked Raphael about his dream for the school:
https://www.eyeem.com/blog/wp-content/uploads/2016/04/Raphael-Dream-For-The-School1.m4a
What continues to amaze me about education in Malawi is the 'no excuse' attitude towards getting an education. Because of Raphael's low fees, he has infrastructure challenges. Three of his five classrooms are made of bamboo with thatched roofing and a river sand floor. Raphael however insists that parents must not look to the infrastructure of his school as an indication of its quality, but rather to its teachers.
Students from Chintsanzo Private Primary enjoy Every Day Education's Nomadic Exhibit.
By Zach Louw
Andrew Victory
I met Andrew, pictured below, whilst we were interviewing students at Cape Maclear Secondary in Malawi. I asked him why he was 20 years old and in grade 11. " I am late because my parents are poor, so they couldn't pay the school fees. Right now it's 10 000 kwacha ($15) per term. I didn't go to school for two years. I didn't have a job, I just did nothing. Now I pay my own fees by fishing on the weekend or sometimes after class. I catch usipa using a boat that I rent from a local fisherman, selling my catch on the shore."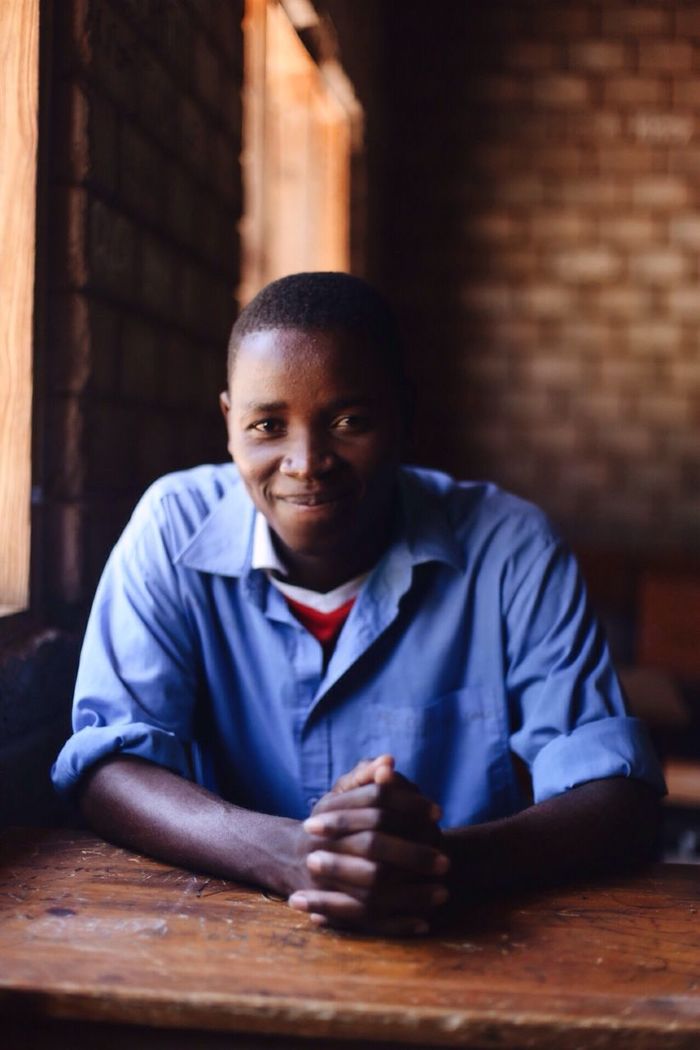 By
Mr. Mtambo
For Rebecca, one educator stood out in particular. "In Mr. Mtambo's class, laughter and learning go hand in hand. I sat in a lesson for 30 minutes, mesmerized as students learned about respiration. When a scholar answered a question that was close, but not 100% correct, he would say, "That's not quite right. Can someone elaborate on Aliyah's answer?" Mr. Mtambo, pictured below, held his students to high standards and simultaneously created a joyful and safe environment where students could take risks. These risks lead to further learning.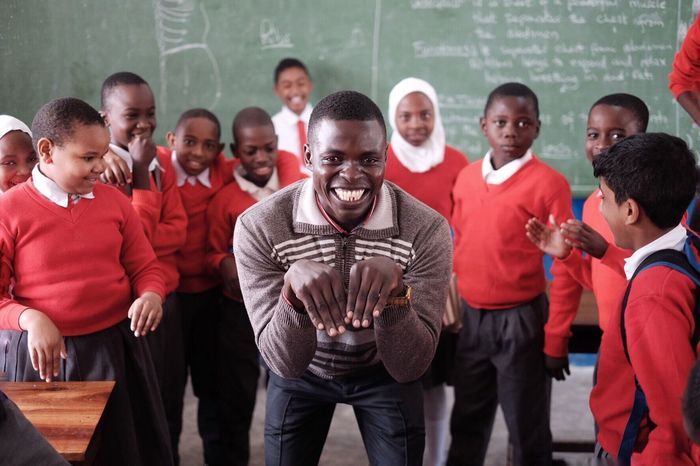 By
Just as school was ending, I asked the students if they liked their teacher. "Yes!" Was the emphatic response. Janet said: "He loves teaching. He doesn't want us to fail." Another student, Hajaf, chimed in, "He makes everything fun. Like the one time he was teaching us about amphibians and started hopping like a frog." Hajaf proceeded to reenact this particular class as Mr. Mtambo and the class laughed. Their beloved teacher even hopped around for a photo. I walked away from the class impressed with the academic rigour, joy and strong relationships, all of which are a testament of Mr. Mtambo's skill in the classroom."
Headmaster Denis
Denis, pictured below, stood out in particular for Sam. "We asked Denis what are some of the challenges he is currently facing with the school "One of my main tasks as the headmaster of the school is create better living conditions for my students".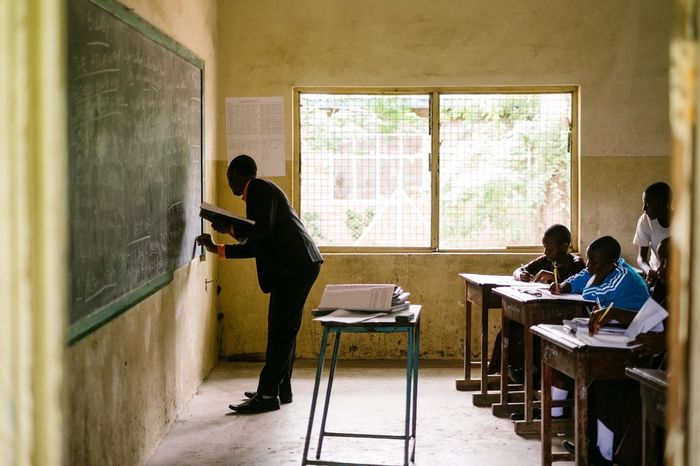 By
Denis believes that if he can improve the living conditions of his students, they will focus more on their studies. As a result, the school will see an improvement in the academic performance and popularity in the region."
Nicholas
Another person who I greatly admired was Nicholas, an 18 year old at Mutende secondary school in Masvingo. His dream is to study Commercial Law at University once he completes his A levels. So far his biggest challenge has been to learn how read and write Braille. He had limited eyesight in his left eye in primary school that allowed him to read and write normally, but the infection that took his right eye spread to his left taking his vision completely.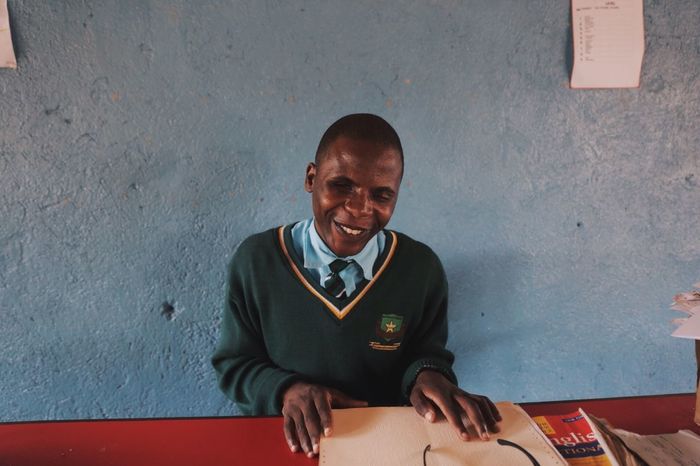 By
The children of Cape Maclear
Outside of the school visits, one of my highlights was playing with local kids in Cape Maclear. The children have no walls for their boundaries, they have water. And in the water their boundaries extend as far as they can swim. Rebecca and I would swim in the lake every evening at sunset. By day 4, after becoming more popular with the local children after dinosaur reenactments, Macarena dance moves and shoulder launching, we had a group of 15 children swimming, splashing and singing songs until the sun dipped over the horizon and their mothers called them in for dinner.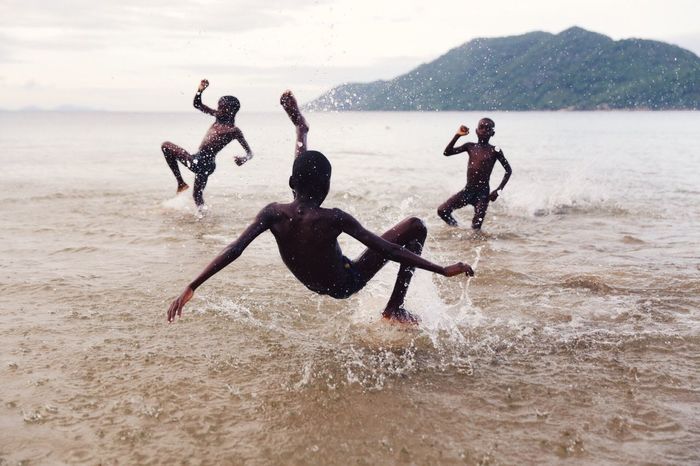 By
Another highlight was sleeping on the deck of the Ilala Ferry as we travelled the length of the lake by boat. We jumped off the deck to cool off, played cards, and learned about the local fishing industry from the many merchants on the boat. Whilst sitting in the upper deck dining hall Rebecca and I would stare hypnotically at the small boxy TV set watching the Great Angels ensemble sing stories about the miracles of God. After eating breakfast, lunch and dinner for two days with locals and the crew I had the melody etched on my brain. A few days ago in Cape Town, I got in a taxi and immediately twisted the radio dial to full blast after realizing that my driver was listening to the Great Angels! Singing along and laughing together reassured me that Malawi is a magical country that will forever hold a special place in my heart.
Veronica
I took this shot of Veronica, below, who I was introduced to by another Veronica after I met the two Roda's next to her on the ferry. Veronica is a saleswoman who sells dried chambo (fish) in massive bamboo baskets.
By Zach Louw
The 'Nomadic Exhibition'
In exchange for principal interviews and access to the schools' classrooms and students, we offered an exhibition for the students. Sam, Rebecca and I curated 30 images to be displayed. In choosing the images, we decided that the most engaging pictures for the children to see would be other children. From Johannesburg in South Africa and Zanzibar in Tanzania, to Jodhpur in India, the children exhibited are from different religions, cultures and countries and are all independently in the pursuit of the same thing, a good education. The exhibitions were a huge success. Children touched them, compared them and quizzed each other on the photographs contents. It was great to see the children really engaging with the exhibition.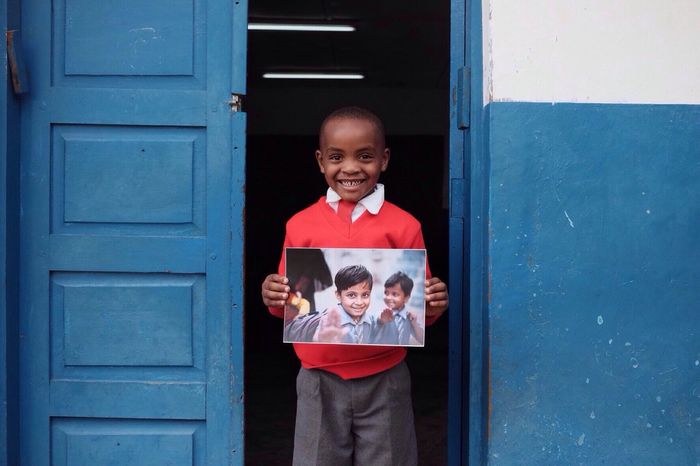 By @SamVox via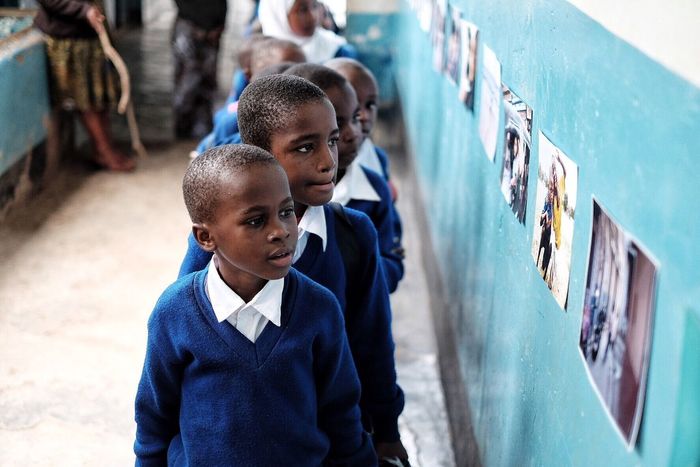 By
The Challenges
As a whole, the biggest challenge of our trip was changing mindsets. It's easy for people to assume that the aim of our trip was to give aid or volunteer. We fundamentally believe that the educators doing this difficult work have many of the solutions within their reach. They don't need a saviour in a white cape coming to rescue them. They are not helpless. As a team Sameer, Rebecca and I aimed to bear witness to their hard and good work, share their stories and connect them to others who might further celebrate and support their work.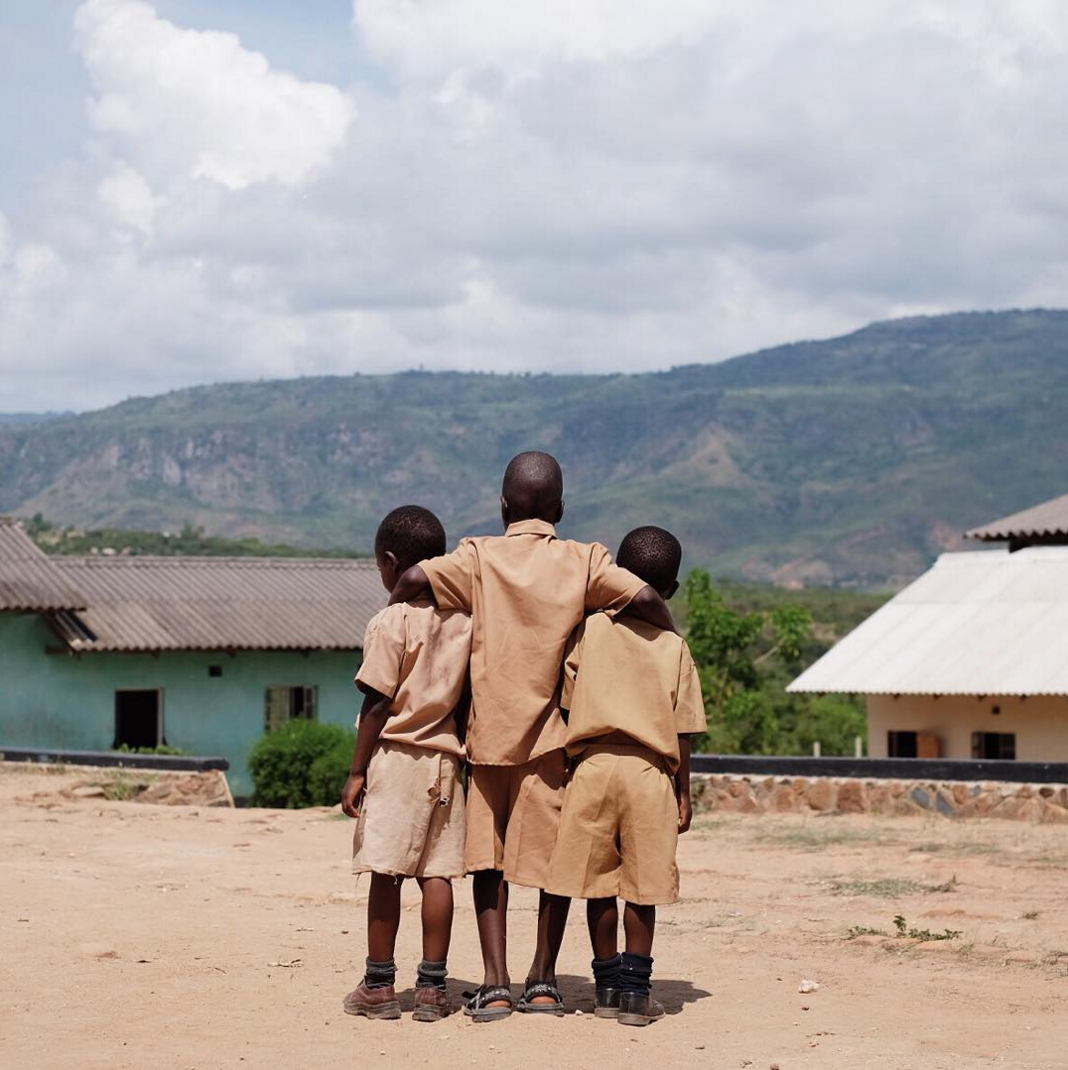 #EverydayEducation:What's Next
Currently, Rebecca, Sam and I are working on an exhibition for the Museum of African Design in Johannesburg to open in May! We have also created an account called @everydayeducation on EyeEm as a participatory way for people around the globe to share stories of teachers and students of all ages. Use the hashtag EverydayEducation to add your story to the narrative and for a chance to be featured on the account!
I'd like to thank Rebecca for her contribution and advice in helping me put this piece together. It's difficult to choose which images and stories to share with such a wealth of both. On a final note, we encourage you all to cultivate your curiosity! The more you explore, the more you learn where your passions and talents meet the needs of the world. And the more people who find that intersection, the better our world will be!
---
Zach Louw or, as many know him, @diaryofzach is a student at the University of Cape Town during the week and an event photographer at the weekend. Think you've heard of him before? We've long been swooning over his photogenic oceanside life and even chatted to him about this last year. What's more, he recently led the very first takeover on our Instagram page – see which shots he shared here.
Header image by @diaryofzach.