Join #EyeEmFestival16 – from wherever you are
Follow along to see what happens at The 2016 EyeEm Festival! Plus – win a VERY special prize pack.
When the third annual EyeEm Festival &Awards kicks off later today, we want you to be able to follow along – even if you can'tmake it to Berlin. Here's how:
First: A word about timing
The Festival begins at 11:30 a.m. CEST and we will hand out the Awards at 9:30 p.m. CEST. There's a full schedule on our site. Here's a handy converteryou can use to find out when those events take placein your time zone.
Meet Cherrie and Brogues
If you're a frequentreader of the EyeEm Blog you may already know the fantasticCherrie (@CKishazy) and Brogues (@BroguesCM), regular authors of our articles here. During #EyeEmFestival16,they'll be live-capturing everythingthat goes down – all day!There are three ways to join us:
Instagram Stories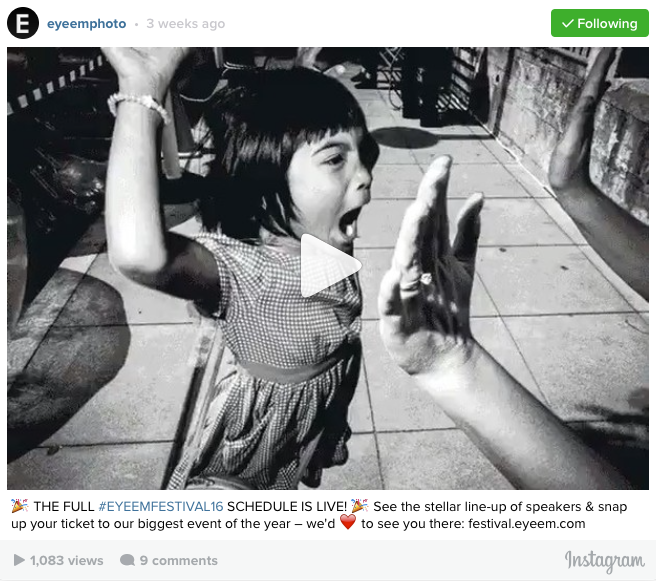 On our Instagram account, we'll bring you not just photos from the event but will also share glances behind the scenes through Instagram's new Stories feature. Brogues will show you what she sees at the Festival, talk to speakers and community members, and capture the overall vibe of the event.
---
Facebook Live
Cherrie, meanwhile, will broadcast selected parts of the Festival and Awards live on Facebook. Just make sure you like EyeEm on Facebook to see our videos:
---
Twitter
Prefer text? Follow us on Twitter or browse the hashtag #EyeEmFestival16 to see what Festival attendees are sharing.
BONUS! We're giving away a VERY special prize packto people who tweet us their thoughts today. Share a tweet using the hashtag #EyeEmFestival16 and we'll chose a winner on Monday! Don't know what to say? Just click the button below.