An Exclusive Peek into the Camera Roll of Five Influential Photographers
See what The Roll found among their images.
Back in May, we released The Roll, an iOS app that automatically organizes your camera roll and helps you find your best photos. Eightweeks into its existence, The Roll's smart keywording technology has already scanned more images that most of us will see in our lifetime.
We were keen to hear what photographers think about it, and so we got in touchwith five creative influencers. Between them, they have many thousands of photos stored on their phones, each reflecting the styles and preferences of the individual artists.We asked them for a look into their camera rolls – and to tell us what they found.

Dan Rubin (@danrubin on EyeEm and@danrubin on Instagram) is a London-based designer, photographer & creative director. His images include shots from a recent trip to Japan – and beautiful pictures of nature. Dan had this to say about The Roll:
"The engine is damn impressive — with only a few exceptions, it seems to nail the content and quality really well. I can see myself using this instead of the default iOS camera roll as it matures."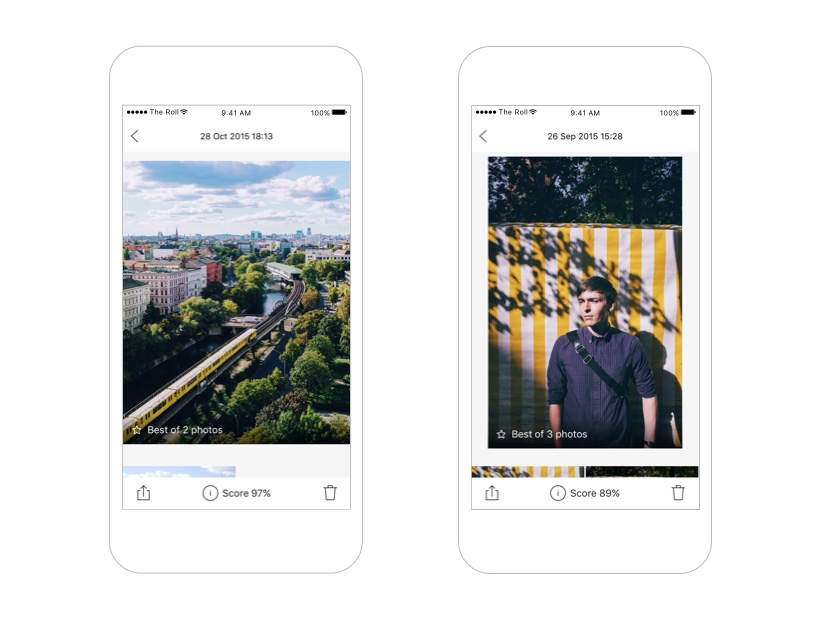 Thai Hoang (@thaihq on EyeEm and@loewe7 on Instagram) is a photographer from Vietnam and a self-described Berlin lover. He finds inspiration in big cities – and the people who live there:
"My photography is about urban life, architecture and people, with a focus on geometry, light and composition.**In my opinion, The Roll is the best organizing photo app so far. Its algorithm analyzing the photo content helps me a lot to sort out my gallery into different topics.The quality scoring is also a cool feature, which highlights some of my great shots I already forgot in camera rolls. I would definitely recommend this app for photography lovers, especially mobile photographers like me."

Sandra Juto (@sandrajuto on Instagram and on herblog) is a Swedish artist, illustrator, photographer, and blogger. She takes a diverse array of photos – ranging from art and lettering to colorful impressions of Berlin, which she calls home:
"The color-oriented categories are amazing for a color lover like me, balance and harmony, same with the 'Art' and 'Flowers' categories. Whereas the 'Cute' category makes me laugh like crazy, there is not much cute in those pictures, except for my nieces. Me making faces and using face swap in Snapchat with friends.
All in all, I like The Roll because the app surprises me, makes me laugh and helps me keep a bit more organized and find pictures I would have to search for much longer before I installed The Roll."

Ryoji Iwata (岩田 量自, @johnny777 on Instagram and on his website) is a Tokyo-Based mobile photographer with a knack for minimalist imagery. He shared his pictures of a recent excursion – and his impression of the image recognition technology built into The Roll:
"The Roll helps me to find fine shots from the huge amount of my photos on my iPhone.The app also categorizes my photos with high precision, whichalso helps me to find good pics I've forgotten about taking."
---
Danielle Reid