7 Tips for Using Selfies in Brand Campaigns
By EyeEm Team - 3 min read
How to use this photo trend the right way
Selfies existed before the invention of the mobile phone. However, it wasn't until the front-facing phone camera that the selfie spread like wildfire. These days, apps like Snapchat thrive off the concept of the selfie and with good reason! Selfies have proven their power to capture viewers and have risen to a level above mere snapshot. See why and how brands can use selfies to speak to their audience through visual campaigns in our guide below.
Looking for selfie-related photos for your next campaign? All of the photos in this article are available and ready for licensing right now via EyeEm Market. Simply click through on the photo, and add it to your cart. Find even more on EyeEm Market or reach out for a free curation by our Team.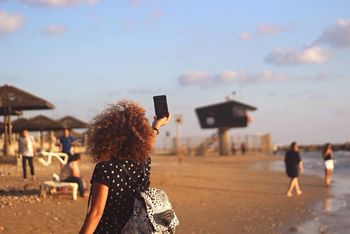 By
Why Selfies?
1. It keeps your brand relevant to what's trending
By staying in tune with how people currently use photography, particularly in mobile photography, you'll stay relevant to your audience.

2. It's humanizing for your audience
Faces or better yet people interacting in an intimate and emotion-driven scenario make your message more personal and relatable.
3. It gives your brand accessibility
A selfie-esque point of view or a selfie itself positions the viewer at the center of the brand, whether that's in a visual ad or a campaign that calls on your audience to take selfies.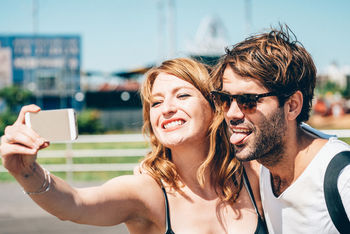 By
Tips for Using Selfies
1. Keep it real
Showing an authentic image as opposed to a staged one will give you an edge when it comes to connecting to your audience, so aim for using selfies that are genuine.
2. Source it
How do you find an authentic selfie? You can source it in two ways. 1) Mobilize your audience to shoot selfies that incorporate your brand and share it online complete with a hashtag. 2) Work with an image licensing platform, like EyeEm Market.
3. Represent your demographic
Is the selfie used in your campaign a solo shot? Maybe it's romantic or a display of family fun. Whatever your choice may be, represent your demographic.
4. Have a model release
As every selfie has a person, you will need to make sure the image you obtain to use for your campaign has a model release for each person represented. Lucky for your, every commercially available selfie on EyeEm Market comes with model releases.
ING-DiBa's ad is the perfect example of how selfies and brand campaigns can – and should – go hand in hand. And it's shot in its entirety using images from EyeEm Market! Take a look:
As mentioned above, every selfie in this article is available for licensing right now via EyeEm Market. Simply click through the image and add it to your cart. You can also search for more photos on EyeEm Market and get in touch with our Team for a free custom curation.
Header image by@H_Jing.