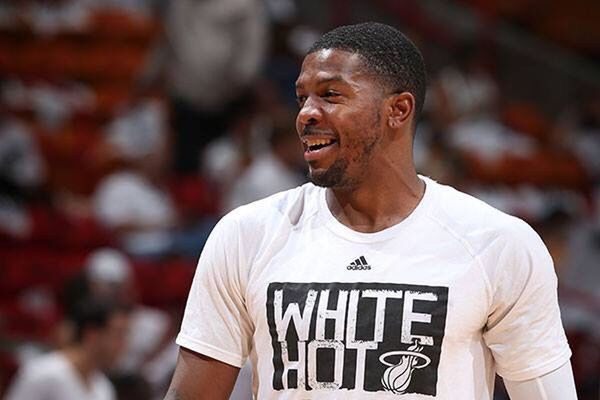 Want to buy this photo?
This photo isn't on sale yet. Please contact us if you want to buy this photo.
An unrestricted free agent this summer, Joe Johnson must decide if a ring is his priority. The two highest paid players in the NBA this season were Kobe Bryant and Joe Johnson. The former went out in an individual blaze of glory, racking up 60 points in an otherwise meaningless regular-season win against Utah. The lack of gold at the end of the career tunnel shouldn't have worried Bryant too much. He had, of course, already long ago established his legacy by teaming with Shaq to hoist three Larry O'Brien trophies in a row. Johnson, meanwhile, has now played in 11 postseasons and not yet been able to play in an entire Conference finals, let alone an NBA Finals. This spring, he clocked in with the most games of his post-season career (14) but as usual couldn't break through. His Heat lost to Toronto in seven games. It didn't have to be this way. Just over three months ago, Johnson had the opportunity to join LeBron James, Kyrie Irving and Kevin Love to form a team on par with the best team Kobe Bryant and Shaquille O'Neal ever formed. The Brooklyn Nets had just waived Johnson and James tried to convince his former USA Basketball teammate he should join the Cavaliers. "All I care about is winning. That's all that matters to me. A piece like Joe, you know what it does to your team," James told the Cleveland Plain Dealer. "If he was concerned about playing time or concerned about starting, then I'll sacrifice. I'll sacrifice to get a guy like that to help us try to win a Championship." James said he was willing to move to power forward, if necessary, to allow Johnson to slide into the small forward position. The King's courtship didn't matter. In the end, Johnson chose Miami instead, saying he wanted "security" and "somewhere I could really play and come out and enjoy the game." No doubt, Johnson has enjoyed the game, racking up seven All-Star selections, signing a $123 million contract and over the last decade, hitting the most buzzer-beaters of any player in the League. Yet as great as the 34-year-old has been at closing games, closing seasons has been an entirely different story. Part of the blame lies with Jerry Stackhouse. -Slam Magazine.