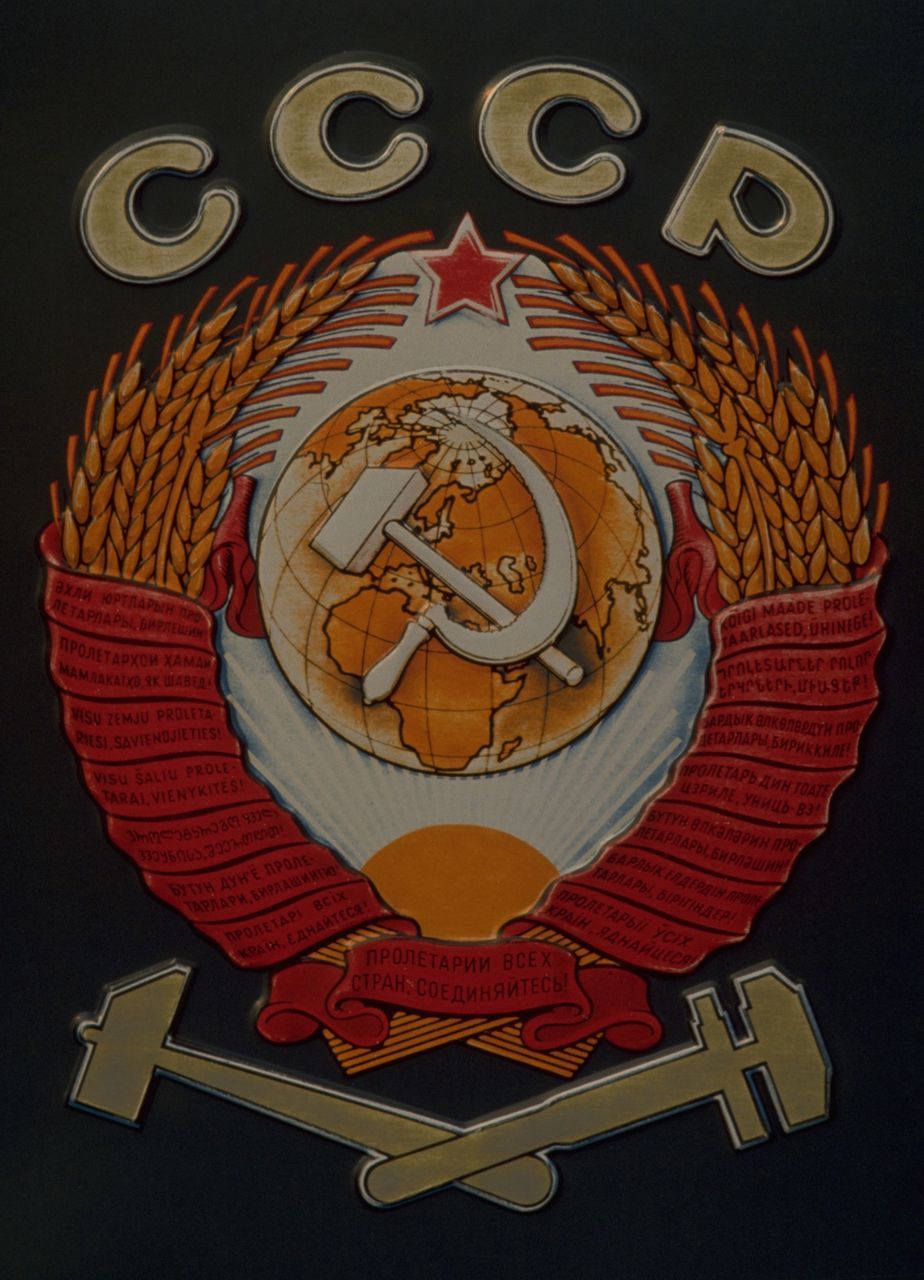 Want to buy this photo?
This photo isn't on sale yet. Please contact us if you want to buy this photo.
When I travelled by rail from Moscow to Saint Petersburg in April, 1992 I was glad to see the Soviet State Railway Emblem still on the train. The dissolution of the Soviet Union had taken place in December 1991 and Russia was now briefly a member of the Commonwealth of Independent States, or CIS. The State Emblem of the Soviet Union (some call it a coat of arms) shows a five-pointed red star above the traditional hammer and sickle over a globe, with ears of wheat around it. There is a rising sun under the globe, and a red ribbon around the two wreaths of wheat with 'Proletarians of the world, unite!' written in the official languages of the Soviet Republics. If you're interested, the languages are Turkmen, Tajik, Latvian, Lithuanian, Georgian, Uzbek, and Ukrainian on the left; Estonian, Armenian, Kyrgyz, Moldovan, Azerbaijani, Kazak and Belarusian on the right; with Russian joining them all together at the base. Between July 1956 and September 1991, there were fifteen union republics: Armenia, Azerbaijan, Belarus, Estonia, Georgia, Kazakhstan, Kyrgyzstan, Latvia, Lithuania, Moldova, Russia, Tajikistan, Turkmenistan, Ukraine and Uzbekistan.
http://pics.travelnotes.org
cccp
coat of arms
emblem
hammer and sickle
historical
Michel Guntern
Moscow
no people
Orange
Railways
Red
red star
Russia
russian
Soviet State Railways
Soviet Union
train
train spotter
Transport
Travel
Travel Photography
travel photos
travel pics
wreath
Let's Go. Together.
—
in Moscow,
Russia