The Everyday Theater of Street Photography with Artyt Lerdrakmongkol
By EyeEm Team - 5 min read
We talk to the Thai photo shop owner and photographer
Somewhere on the path between seeing and clicking a shutter lives street photography. Street photographers capture people and things that might never again occur in a single frame – but by some tiny miracle of a shutter snap, a photo exists.
Photographing the theater of the street -often clever, comedic and other times wondrous- is what analog street photographer Artyt Lerdrakmongkol does best. We talked to the Thailand-based photography shop owner and blogger about the magic of everyday street photography, what inspires him, and the story behind his favorite surprise shot.
The photographer, Artyt
Hi, Artyt! Tell us a little about you and your photography.
I am 36 and currently live in Nonthaburi, which is near Bangkok, Thailand. I own a small shop named Husband & Wife, where I sell photo film and film development equipment. I'm also a blogger at SiamStreetNerds.com.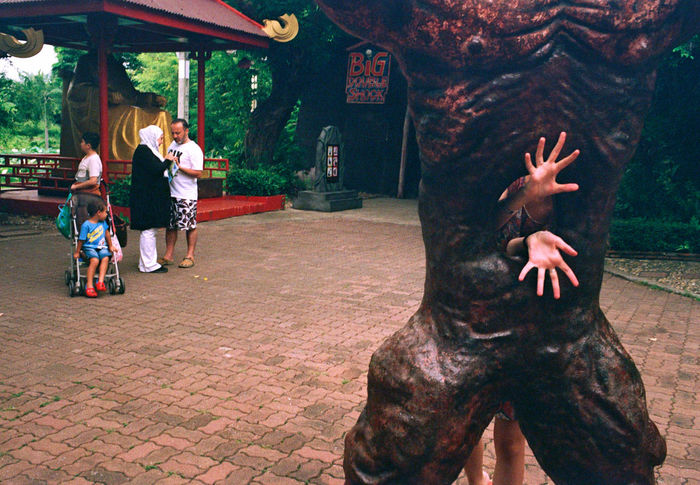 What is it that pulls you into photographing people on the street?
I like to observe people on the street, how they act or the color of their clothes, for example. On the street, you do not need a special occasion to carry your camera – you can take pictures everywhere.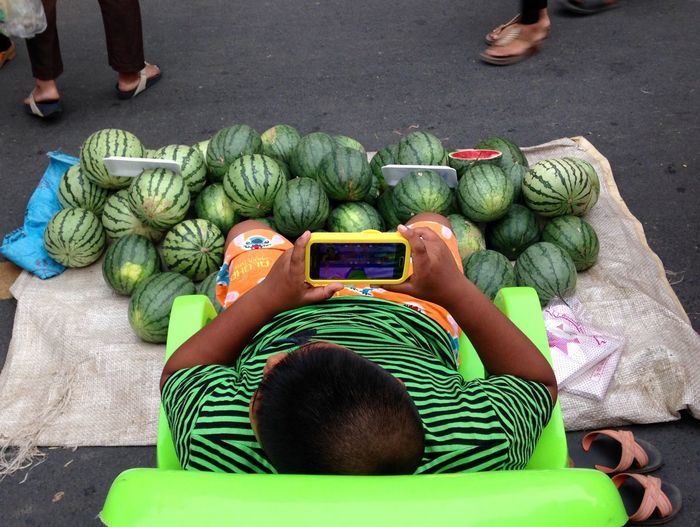 How long have you been doing this? Have you noticed your photography evolve in that time?
I have been shooting street photography for around one year. Before that, I was shooting regular pictures with people in the frame, but it seems that I wasn't satisfied with them. Within the year, I have had the chance to meet a 'Street Photo Thailand' group. By learning with them and practicing, my skills improved very much. Last month, I became a new member of 'Street Photo Thailand'.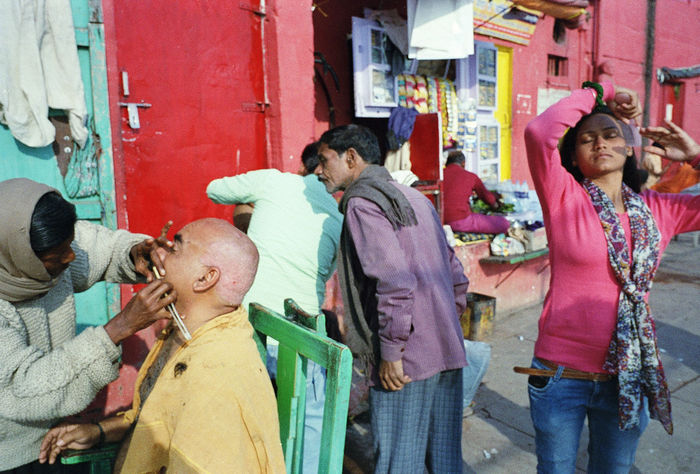 Your photos capture rare moments. It's amazing to think they're caught on film, considering the leeway digital cameras gives photographers today. How many rolls do you shoot on average?
It depends. If I walk around Bangkok I shoot 8-10 rolls per month, but when traveling, I shoot around 30-40 rolls per trip.
Your photography is full of color. The words saturation and vibrancy come to mind. What's your favorite type of film? And what camera and lenses are you working with?
I mainly use Fujicolor X-TRA 400 because even on a sunny day in Bangkok, there are a lot of shades in the objects I photograph. For outdoor, I use Fujicolor Superia 200 – I love its color.
I normally carry two cameras. One is a Leica M6 TTL with a Carl Zeiss 35 mm F2 lens. Another one is compact camera, Fujifilm Klasse W with a 28 mm lens.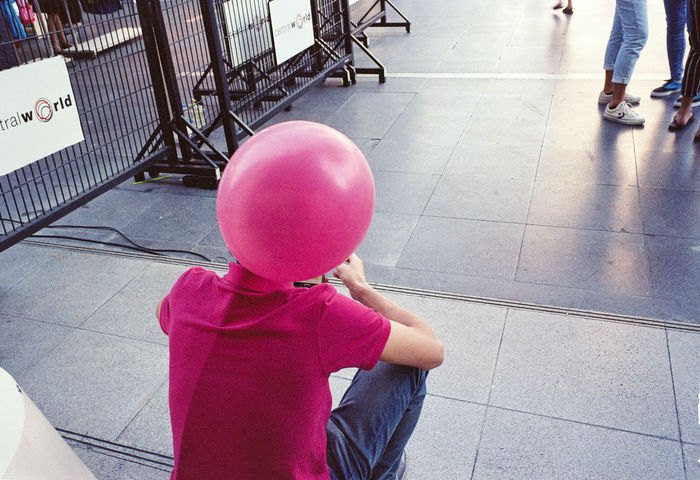 How does shooting on film shape the photos that you take?
To shoot photos with film helps me to concentrate more on the subject than on the camera… Even if it is harder to get a good street picture [with film] than on digital.
Is your street photography always spontaneous?
Firstly, I will go to the location I am interested in, like a community or an event. Then, I observe and shoot. But sometimes, I just walk around town, notice people around me and shoot.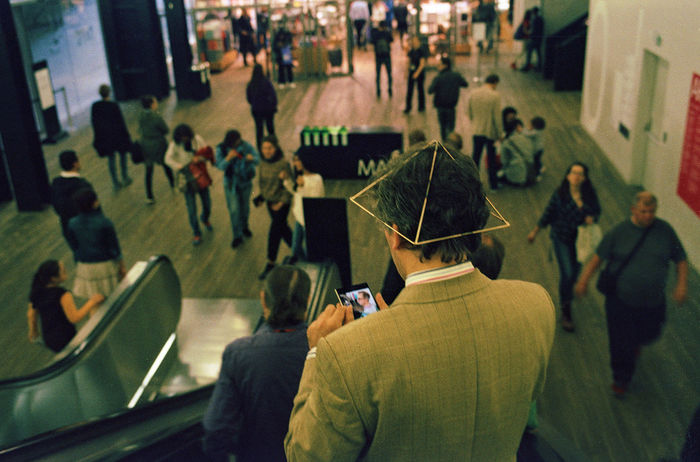 Was there a recent image that surprised you? Show us the photo and tell us about it.
This is a photo I took last month at the 'Songkran festival' at which people walk the streets having water fights using containers of water or water guns, soaking anyone who passes by. That night, I walked many hours to take photographs, my body and my camera soaked! Then, after developing my film, I got this odd photo that looks like a flame coming out of the man's head. Taking flash at night always surprises me.
Who are your favorite photographers?
I like many photographers but the ones I like the most are Martin Parr and Harry Gruyaert. I like the criticism, seduction and humour in Martin's works. And his photo books 'Bad Weather' and 'The Last Resort' give me inspiration to make my own series or set of photos rather than just making a single photo at a time.
For Harry's, I love all of the color in his photos and also his composition. I had the chance to meet him at his show in London – that encouraged me to develop my work like he did.
What places inspire you to shoot?
I like traveling and find new places no matter where it may be – near or far, I always want to shoot, especially when a place has an interesting lifestyle.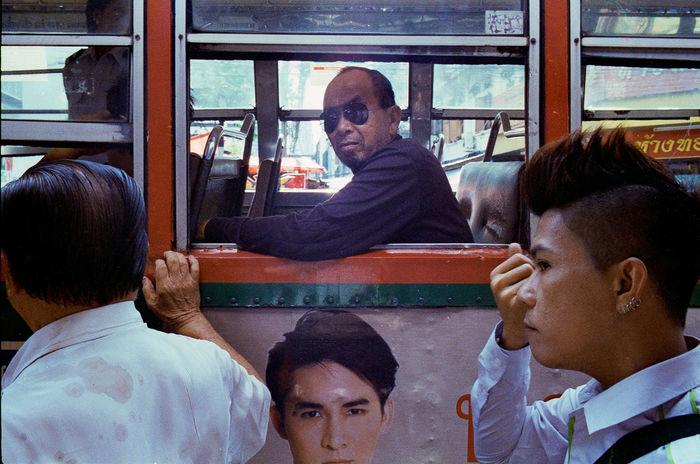 What's a lesson you've learned in photography (or life) that you'd like to share with our community?
After practicing street photography, my perspective has changed. I have become more observant, walk a lot and walk to places I have never been. I can see beauty in many things I never noticed before. I think we can find the aesthetic everywhere from our personal perspective.
What fantastic food for thought – thank you, Artyt. Follow Artyt on EyeEm and make sure send him a comment on your favorite street photo of his!