Relive the #EyeEmFestival16
All the details, lots of photos, videos, and much more!
The EyeEm Festival & Awards is our biggest annual celebration of photography, art, technology, and all the people who make up the community. Couldn't make it this year? Here are some of the highlights.
The Best Moments From #EyeEmFestival16 from EyeEm on Vimeo.
The Venue
This year's Festival took place at Heimathafen Neukölln, a beautiful former theater in the south of the German capital – and just a few subway stops away from the EyeEm HQ.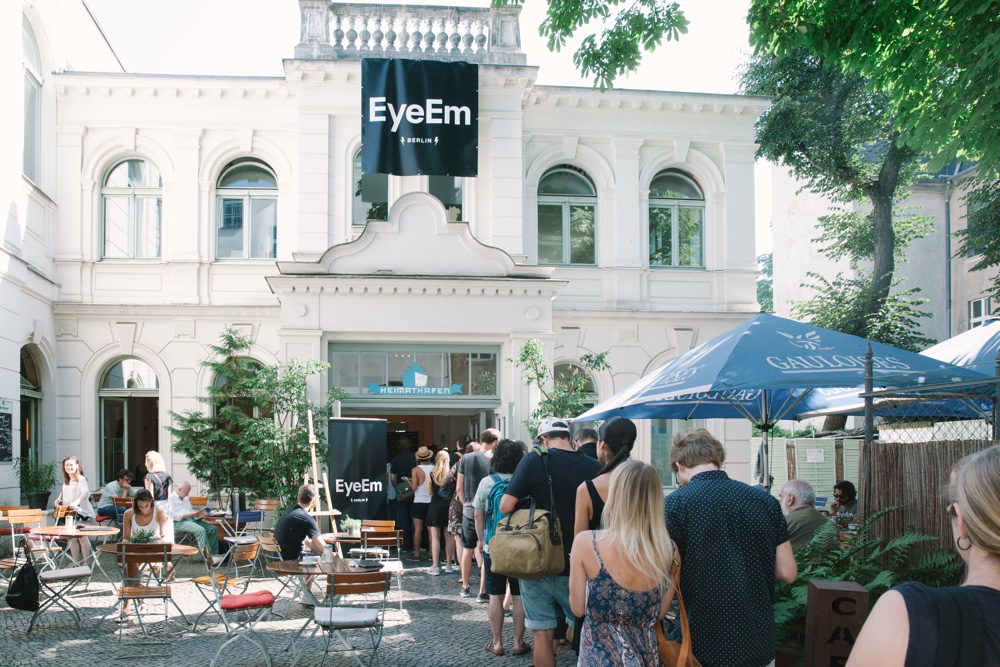 Queuing at Heimathafen Neukölln
Waiting for the guests to arrive
Photographers in attendance
The Talks
The first part of the day consisted of presentations and discussions about the state of photography – and where the medium will go in an age of seamless sharing, computer vision, and new audiences. It was hosted by Severin Matusek, EyeEm's VP Community and Festival Director. Here's a brief rundown of what the speakers shared.
The audience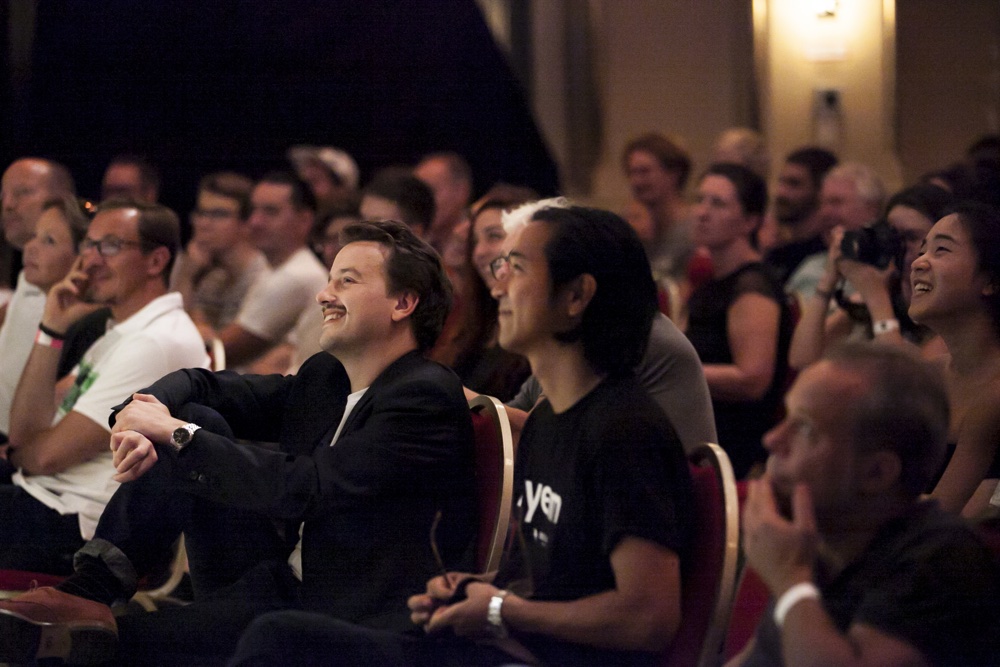 Watching the talks
Florian Meissner
EyeEm's co-founder and CEO welcomed all festival guests with a brief introduction about what it means to be a photographer today – namely that taking pictures has become more seamless and accessible than ever: "The tools we have now simply didn't exist five years ago." He finds this particularly exciting in the context of unearthing new talent: Not only are the ranks of photographers always swelling, computer vision is also becoming capable of understanding who takes particularly great images: "We're in the age of decoding beauty."
Chase Jarvis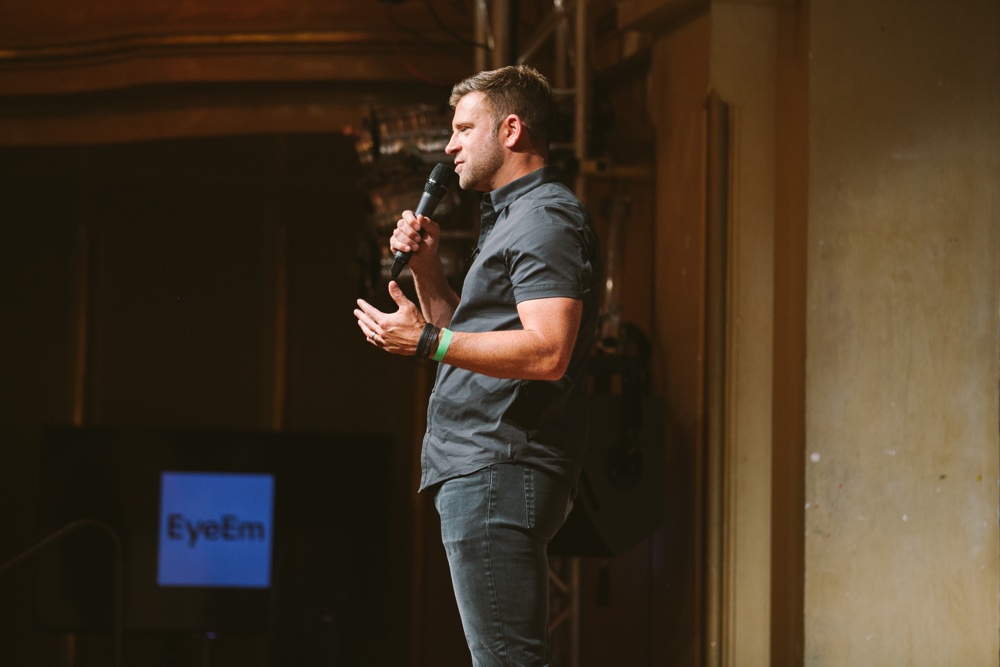 Chase Jarvis
The keynote speaker at the EyeEm Festival was the popular photographer and Creative Live founder Chase Jarvis, who made an appeal for more creativity by sharing a dramatic story from his own life: Years ago, he narrowly escaped an avalanche during a photoshoot – by remaining creative even as he was being swept off a hill. He devised a solution and managed to ski out of the danger zone.
"We talk about creativity only in the context of art", Chase said. "But we need to think about it in the biggest sense possible, as a force for problem-solving". And to keep growing our collective creativity, we need to keep creating: "The science is indisputable: the craft of making rewires your brain to think up more innovative solutions in any context."
Announcing the School of Photography
School of Photography
Together with Severin Matusek, Chase went on to announce the EyeEm School of Photography: A free ten-week course of selected Creative Live videos with corresponding EyeEm Missions. Find out more about this collaboration by heading over toschool.eyeem.com– and make sure to sign up.
Listen to Chase Jarvis' take on the Festival:
Lars Boering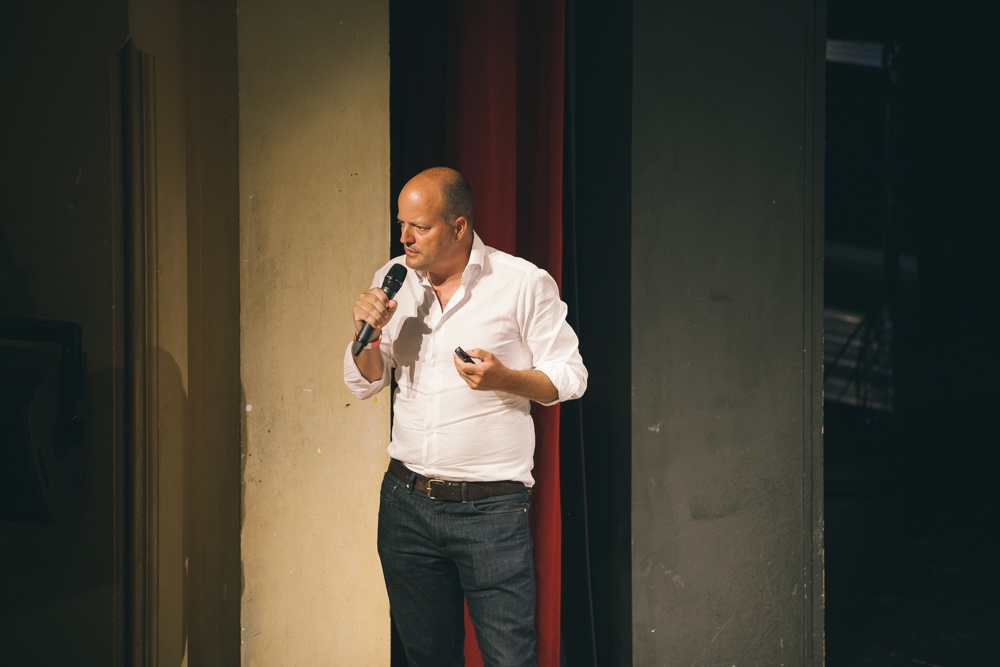 Lars Boering on stage
The head of the World Press Photo organization spoke about the difference between taking photos in an artistic and a journalistic context – and the difficult question of what modifications are allowed in a photo. "Modifications determine whether someone works as an artist or a journalist. It's completely fine to say that you are an artist and edit your pictures."
He also spoke about the inevitability of technical progress, remarking that digital had long overtaken analogue photography in the journalistic space and that resisting progress, no matter what form it took, would sideline any artist. "Don't fight it, anyone who in the past has lost."
Monica Allende
Monica Allende is an award-winning editor and photography consultant. At the EyeEm Festival she questioned the way we tend to use photography for documentation – and made the case for trans-media storytelling. Showing a list of projects, Monica explained how to leverage a combination of images, text, video, and even VR to make a point – and to leave behind the constraints of single images. "The idea of a photograph is too limiting to really tell a story", she said and encouraged the audience to think about additional formats: "You should collaborate with videographers, designers, musicians" – anyone willing to add an extra element to a story.
Sam Cannon
Specialized in moving graphics, Sam Cannon is pushing the boundaries of what a photo can be. On stage she described herself as "a photographer, kind of" and she explained her art before a backdrop of animations. It became clear how movement imbues her art with character, emphasizes certain elements, or just retains attention through constant repetition. Sam talked about her images as "photos without end points" – and how much she loved the "idea that my art keeps moving after I have left the room".
This is what Sam had to say about the Festival:
Ramzi Rizk
As co-founder of EyeEm, Ramzi introduced some of the capabilities of EyeEm's image recognition technology. "Wewant tomake what's a really tedious job for photographers – adding relevant tags–something that happens in 20 milliseconds on a machine". He said that image recognition is solving the problem of search in stock photography, automating the process of finding the best photos by translating an image buyer's taste into parameters we can use to search for photos.
But Ramzi also wanted photographers to discuss what this technology would do: "Think about what it means when a machine can tell you something is beautiful or worth money, tells you to share something. Where does your role as photographer end or begin?"
Ramzi's thoughts on the Festival:
Samim Winiger
To answer Ramzi's question, technologist Samim claimed that creativity itself needs to be reexamined: He showed off examples of "generative design" – technologies that can create new works of creative art based on previous examples. "We can train an engine with romantic novels and then ask it to write a new story in the same style." The phenomenon, he pointed out, is being used across industries: From creating digital art, writing news stories, or even designing fashion. "Where we're heading by augmenting creative processes with AI and machine learning systems is the democratization of creativity itself – and we're seeing more and more creative output as a result."
Loïc Baboulaz
Digital art is different than physical works – and Loïc works on bringing the two closer together. He showed the different behaviors people elicit when looking at a digital image or a painting in a museum – paying much more attention to the latter. Right now, Loïc pointed out, seeing a digital representation of an artwork is like "looking at an artwork through a pinhole". He then described how his project Artmyn enable a more lifelike browsing of art – by enabling a look at their texture, or digitally emulating light that falls onto an artwork.
We asked Loïc how he liked the Festival:
Frederik Frede
The founder of Freunde von Freunden spoke about his experience of turning a design agency into a publishing house. His magazine started out covering the houses of his friends and turned into a publishing juggernaut over a few short years. He explained how losing clients during the financial crisis had given his team the time to create a passion project that could double as showcase – which led to entirely new types of projects and content collaborations with big brands.
Frederik put particular emphasis on quality and encouraged listeners to create timeless, high-quality content: "Creating something sustainable is what enabled our success. People have become really keen on the style we have established."
Frederik Frede and Noah Rabinowitz on stage for a Q&A with EyeEm's Severin Matusek
Audience question
Noah Rabinowitz
Noah works as Art Director at Medium and talked about the publishing platform's efforts to enable storytellers to get their word out in the easiest way possible: Not only by creating a platform that had made online publishing as simple as to start writing, but by creating a community of writers and readers. "Why would you publish on an island if you could publish in an ecosystem where your readers already are," he asked.
Hear Noah talk about the Festival atmosphere:
Phil Toledano
Phil talking about an art project that pictures different possible futures
A conceptual artist, Phil shared how he moved from photography to conceptual art after having the revelation that ideas didn't have to be "shoehorned into the constricting box of photography". He showed a few of his projects, ranging from the documentary to the "delusional" and to show how moving beyond photography had become "incredibly inspiring": "Don't get stuck in a certain medium. What's more important is the idea – that's the only currency which can't be copied. You can have plenty of style and technique, but those aren't ideas."
Phil's take of the Festival:
Portfolio Reviews and Interactive Sessions
For the first time at our Festival, we offered guests the chance to show their work to acclaimed photographers and image editors, who discussed their work and suggested improvements.
Portfolio review with Mustafah Abdulaziz
Portfolio review with Milena Carstens
Meanwhile, we also hosted Interactive Sessions where speakers like Google's Anna Dickson, Getty Images' Jacqueline Bourke and members of EyeEm's own Creative Services team talked about current visual trends and answered the questions of attending photographers.
Anna Dickson, talking about the transformation of mobile photography
The Grill & Mingle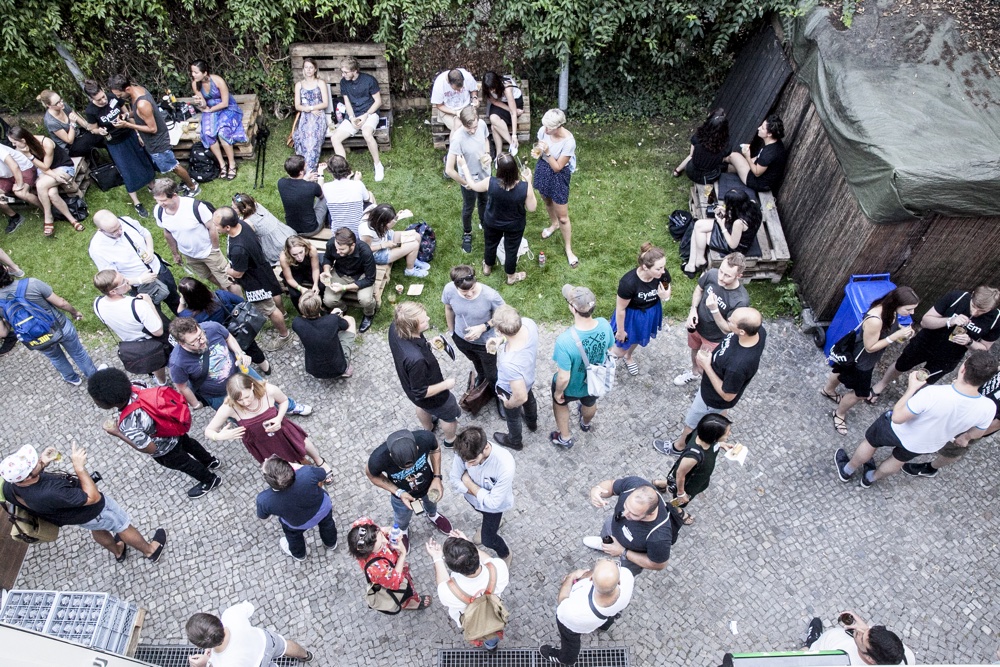 Gathering outside the venue
Drinks in the garden
After the Festival talks and before the awards handout, there was plenty of time to talk and play around with new cameras, cool down with freshly-brewed iced coffee, try out the free clip-on lenses provided by BlackEyeLens or enjoy some retro instant photography with The Impossible Project.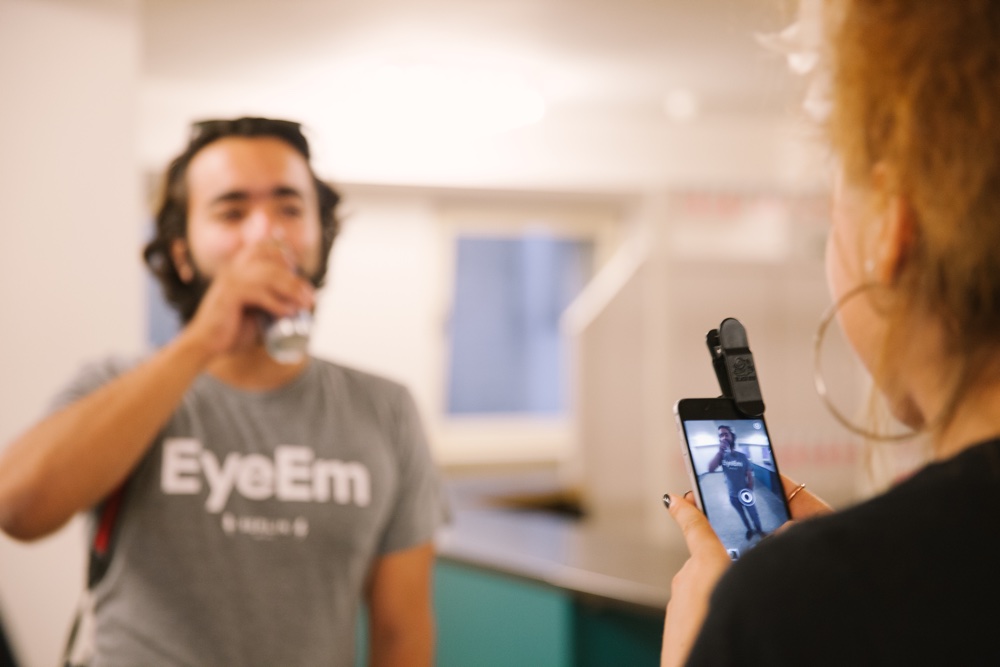 Taking photos with the BlackEyeLens clip-on lens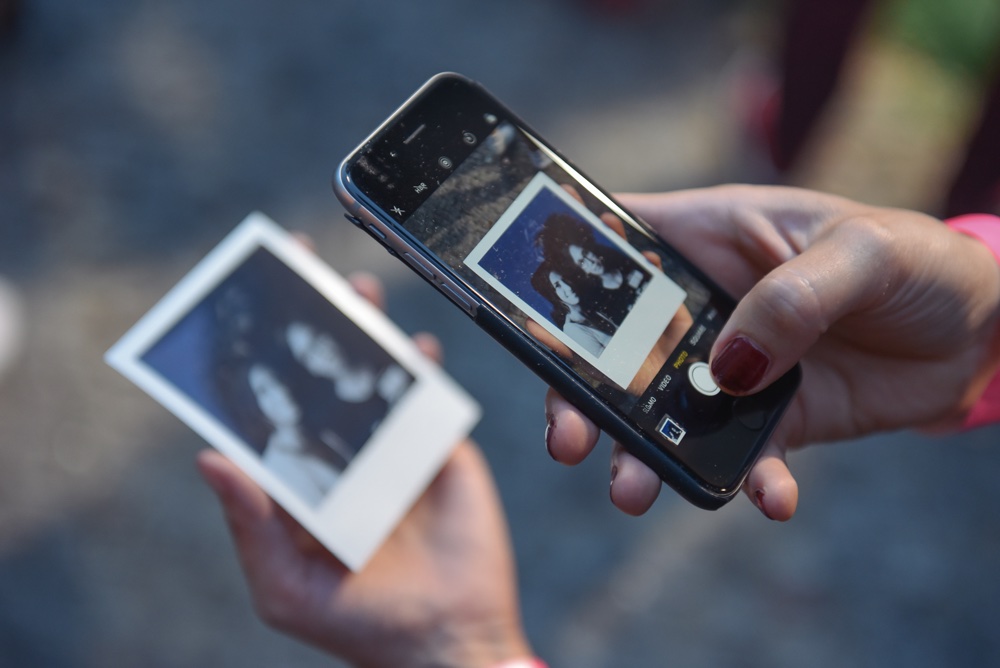 Black and white instant photos with The Impossible Project.
The Awards
At 9pm we unveiled the category winners of the EyeEm Awards as well as the EyeEm Photographer of the year. Read this article to find out more about the winners.
The exhibition of finalists before unveiling the winners.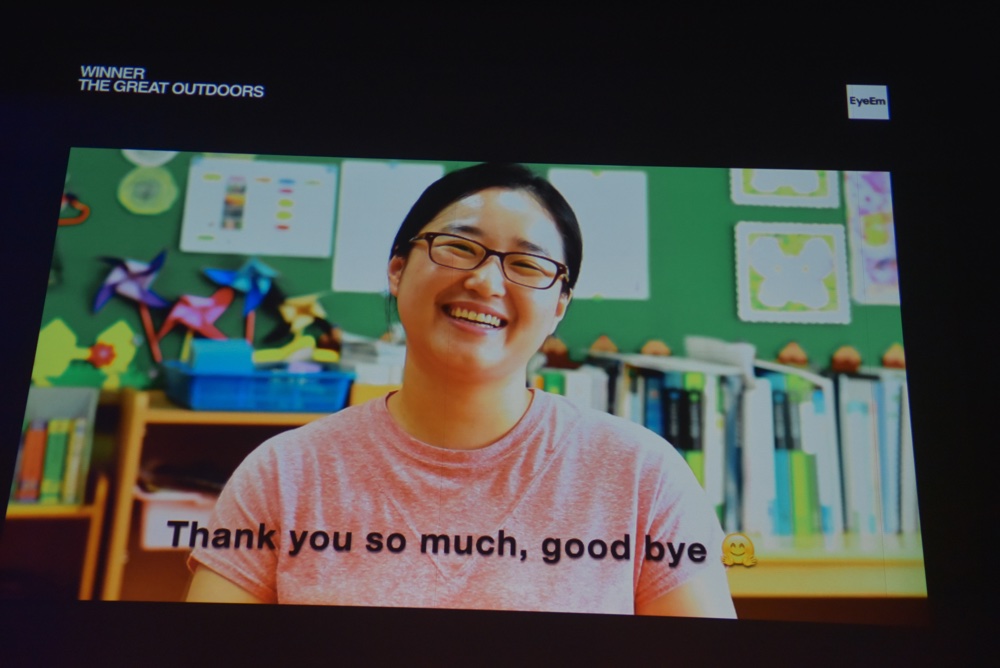 Ji-hyun Park, winner of The Great Outdoors, sent video message
Handing out the awards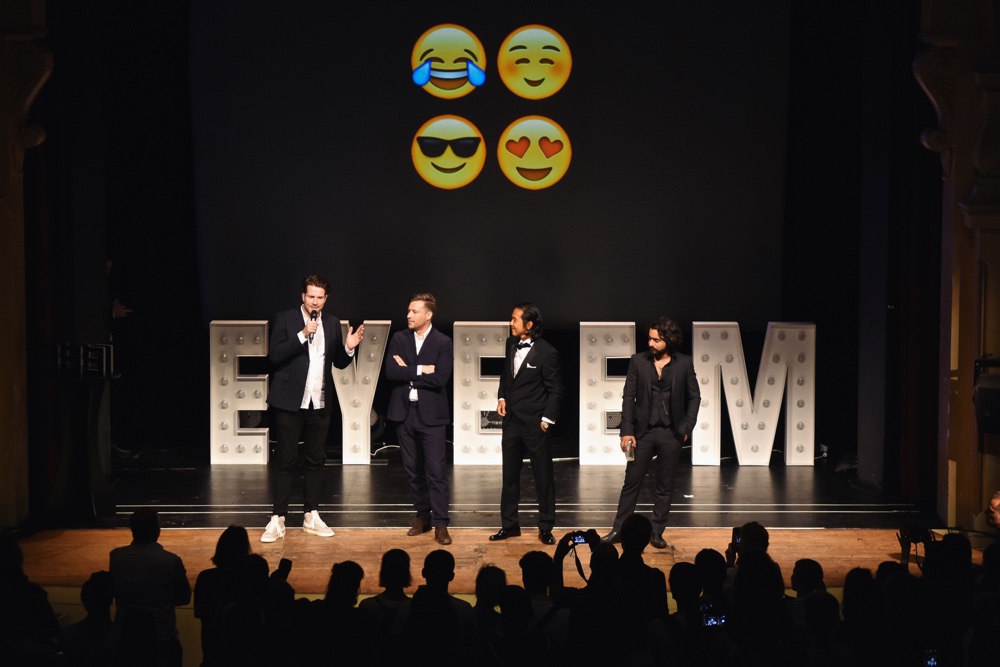 EyeEm's co-founders on stage
Introducing The 2016 EyeEm Photographer of the Year from EyeEm on Vimeo.
Final Words
Thanks to everyone who made it out to Berlin this year – it was great to meet all of you in person and to hand over the awards to our winners. And a special thanks to our sponsors who made this year's Festival possible: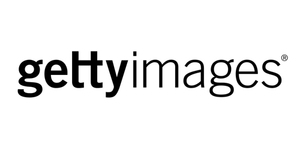 Additional thanks to: BCG, Sofitel, Astra, Huawei, Whitewall, Generator Hostels, MOO, Mumm, Westin Berlin, Coffee Circle, BlackEyeLens, Mister Party Events.