New York Based Photographer Victor Utama Shares His Practical Tips for Street Photography
By Guest Author - 5 min read
Not sure where to start in Street Photography? Professional photographer Victor Utama tells us how he captured New York City's 2019 #Pride parade and shares his essential tips to prepare you for your next street photography project!
To celebrate our partnership with Canon for The 2019 EyeEm Awards's 'The Street Photographer' category we spoke to professional photographer Victor Utama.
Victor's photos tell the stories of the individuals shaping city life and in this guest feature Victor shares how he captured this year's #Pride festival from the streets of New York City.
Capturing The Stories That Make New York City's #Pride Parade Unique
I'm a New York and New Jersey based photographer and visual storyteller. I started my photography career shooting landscapes and a bit of portrait. However, two years ago I started doing street photography with my first film camera.
"I like to challenge people with my street photography and make them curious to find the meaning of each image."
Street photography is unique, interesting, honest, and spontaneous. It can be either complicated or direct, and so I like to challenge people with my street photography and make them curious to find the meaning of each image. Today, I travel around the world to I photographed stories on the streets.
I've photographed NY Pride parade as part of personal projects for many years, but it wasn't until last year that I had the opportunity to photograph the event from inside the parade.
Based on those experiences, I learned that It's impossible to cover everything in the parade even with the vast amount of prior planning it requires.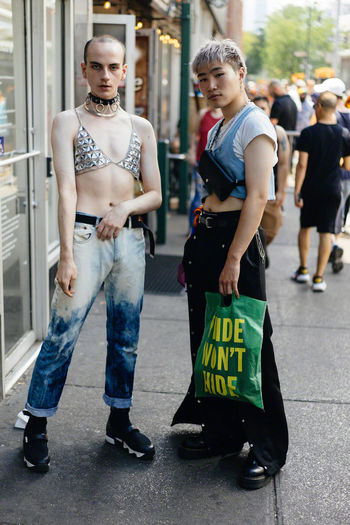 "this year, I decided to approach it in a different way."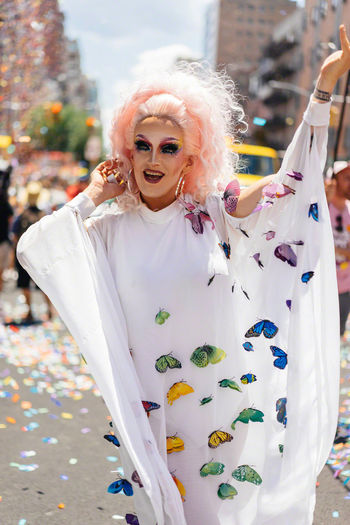 Preparations include finding the right location to shoot, the route of the parade, knowing what's in the parade, how to travel between different points, what to capture, which gear to bring, and if I need a photographer pass to get close to the parade. As a photographer, figuring those things out is essential before I go out to shoot the parade.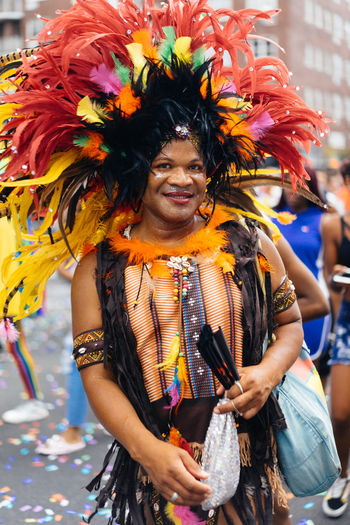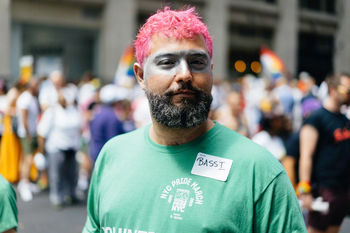 During last year's parade, I was photographing a politician and her group. I had to stay close and march with them from start to finish. Looking back I realized I missed a lot of opportunities to photograph the rest of the parade as I was restricted to the project. Therefore this year, I decided to approach it in a different way.
I only focused on certain parts of the parade - the beginning, middle and end of march. This way, I had more freedom and was able to focus on getting the photos I wanted. I had more time to prepare and see what was coming as well.
"people from all walks of life came together to have a good time."
Photographing New Yorkers in the streets has been a great personally challenge for me. Firstly, I can lack a certain confidence to ask strangers if I can take a photo of them. Secondly, most New Yorkers aren't known to be easy to photograph.
At the same time, New York is a one of a kind place, where something unique or interesting can happen at any moment. I've seen this happened during the pride parades of previous years. When I am there, I want to freeze those moments. Thankfully, this year I was able to focus on my vision and capture them.
For me, this year was all about photographing people's true self-expression, their expression of pride, and that people from all walks of life came together to have a good time.
One of my favorite quotes is one by Pablo Picasso, "Everything you can imagine is real." My visual style is generally natural and simple, when I'm taking photos that's all it can be. I like things to show things as they are with a little touch of creativity. It looks more honest and genuine that way.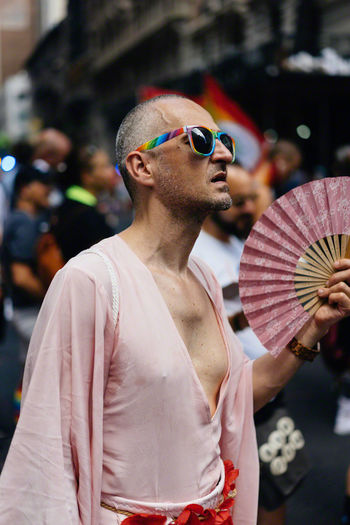 Having connection with the object is important. It helps to produce better photos that will speak to the viewer. When I'm photographing people from the parade, I am mostly aware that I'm going to towards their 'space'. I should respect it and thank them for letting me to photograph them. My way of doing that is by letting them being themselves.
Victor's Essential Tips for Street Photography
1. Do some research on the event.
As I mentioned earlier, this kind of event can get really challenging. Some research will help you to meet your goal. Find out what's happening during the parade, which route are they taking, If there will be any important people to photograph. And if it requires a photographer pass, apply ahead of time!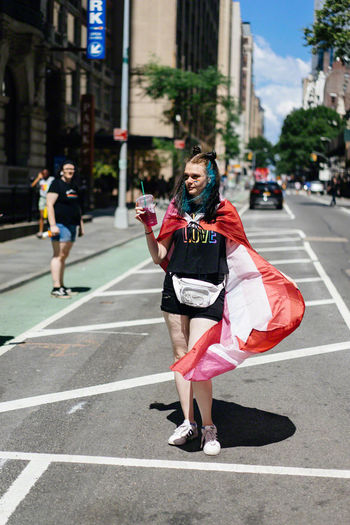 2. Travel light and wear comfortable shoes
When you are working on this kind of event, it's more likely that you'll be on your feet all the time. By carrying less gear, it will allow you to move around freely.
3. Keep yourself hydrated and don't go on an empty stomach
It was one of the hottest days this Summer. So it's important to stay hydrated and not hungry.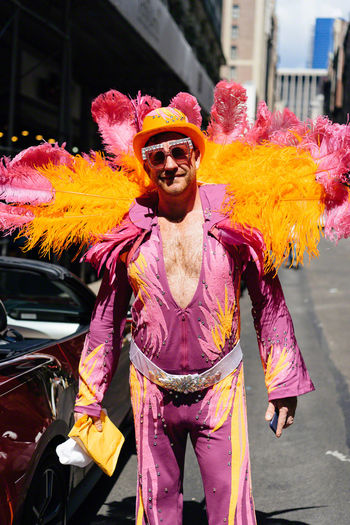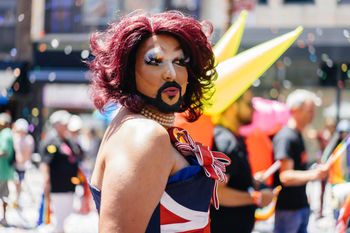 4. Know how to navigate yourself through the parade
Once you know the route, the next thing you should do is figure out how to move between points. This is important especially if you are not familiar with the area.
5. Don't go on your own
I do photography because it's fun to do. But It's more fun to go with your photographer friends (up to four is ideal for me). Not only to share ideas but also they can help if you need them.
See more of Victor's stunning work on EyeEm or Victor's website. Upload your photos to #EyeEmAwards 'The Street photographer' to win a brand new Canon EOS M50 Camera! There's no limit to the number of submissions so share your full story to catch the attention of our jury!