Less Racism, More Dancing: Photographing Sunday's Anti-Racism Rally in Melbourne
"The streets of Melbourne became a battleground of competing ideologies." – Thomas Lim
It's Monday afternoon at EyeEm HQ in Berlin when a flood of images hits our Following feeds. Powerful pictures of protests, of placards with the words "Melbourne says NO to racism" and "Stop racism now" held high. Photographer and EyeEm Community member Thomas Lim grabbed his camera and hit the streets of the Australian city. It was April 3rd 2016 and an anti-racism rally was underway.
Desperate to know the full story, we pinned Thomas down for a chat. Why did he decide to grab his Sony A7 and document the emotions and opinions of that day?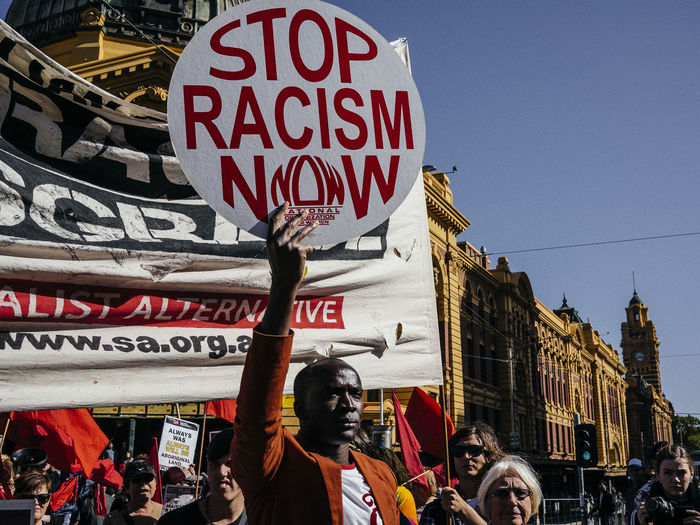 By Thomas Lim
Tell us what happened that day – and why.
Anti-racism campaigners gathered in Melbourne's Federation Square at 2pm on Sunday afternoon to protest the far right-wing United Patriots Front (UPF). The UPF had announced a rally to mark the anniversary of an anti-Muslim rally they held last year. However, there was no sign of UPF supporters. They reportedly dropped their plans after hearing that anti-racism campaigners would be there.
Speeches were made before the anti-racism group marched through the city's streets. Unlike the violence I experienced last July, this was a peaceful rally with no confrontation from opposing groups.
By Thomas Lim
What was the situation in Melbourne that led to the rally?
A year ago the far-right groups Reclaim Australia and the United Patriots Front – a hate group intent on demonising Muslims, refugees, LGBTIQ and indigenous people – burst onto the scene with rallies held around Australia. At Federation Square in Melbourne, they were met with strong opposition from progressive, anti-racists groups and individuals. More than 3000 people clashed. The streets of Melbourne became a battleground of competing ideologies.
Since then, rallies and counter-rallies had been organized all around Australia, from peaceful gatherings to violent scuffles. Cities have been brought to complete standstills. Last weekend the Coalition Against Racism and Fascism (CARF) organized this rally to mark one year of opposition to the extreme right in Melbourne.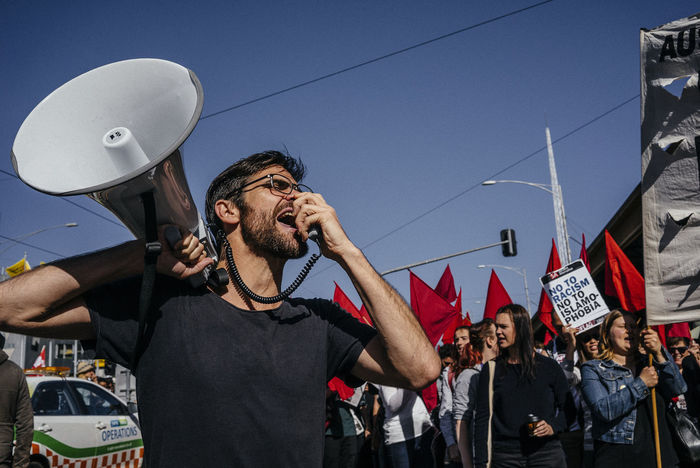 By Thomas Lim
Which photo tells a particularly important story?
An Aboriginal man holding a "Melbourne Says No To Racism" placard. In Australian history, the indigenous people suffered from racial discrimination the most. As a migrant in Australia, I acknowledge that they are the traditional custodians of this land.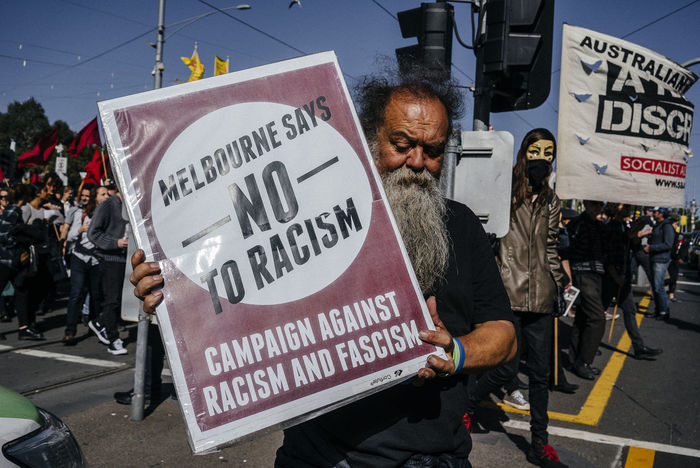 By Thomas Lim
What camera did you shoot with that day – and what was your editing process?
I was using my Sony A7s with a 35mm lens. I didn't want to spend time editing on the spot, I might have missed something while doing so. In an event like this, anything can happen, so it's important to open your eyes and observe your surroundings. I processed the images when I got home.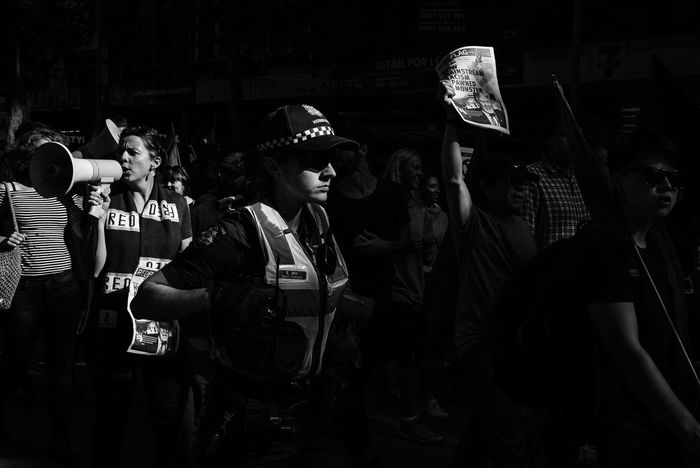 By Thomas Lim
What had the biggest impact on you that day?
Compared to the violent protest I experienced last July, this was on a much smaller scale and far more peaceful. Saying that, I had a shock when I saw a man in a unicorn mask. For a moment I thought he was from the opposing group until I read what was on his shirt.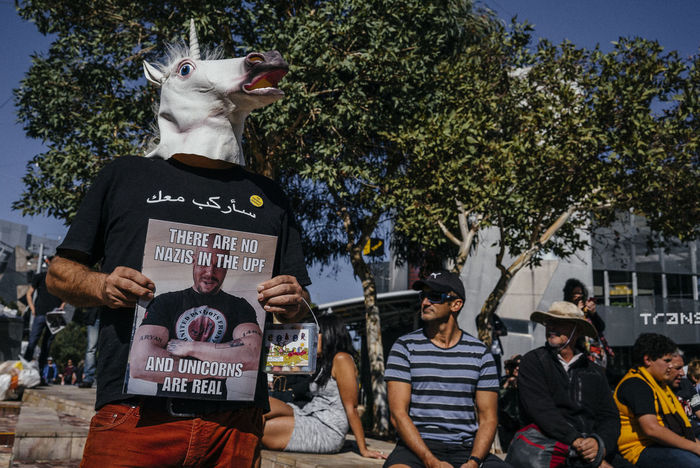 By Thomas Lim
You've photographed socio-political happenings before. What attracts you to such events?
The best time to practice photographing people up close are these events. People who attend them expect to be photograph – they want their messages to be broadcasted. I'm against racism, but when you are there as an observer, you can see a bigger picture. Whether it's the leftist or rightist, there will always be a small group of troublemakers looking to provoke one another.
Be street smart though. Look out for danger. If you don't feel comfortable, keep a safe distance or leave immediately.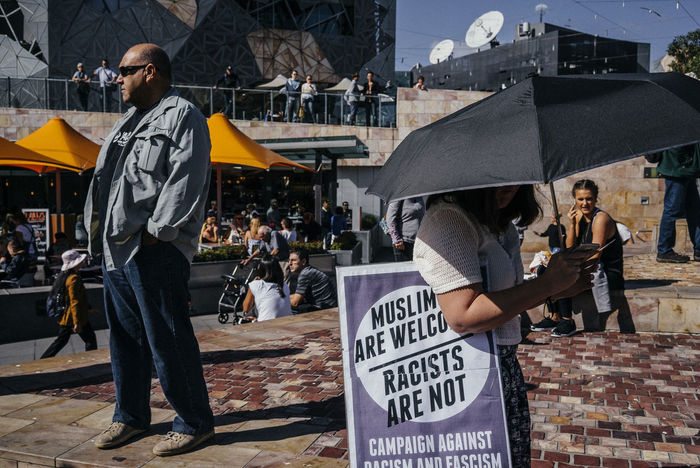 By Thomas Lim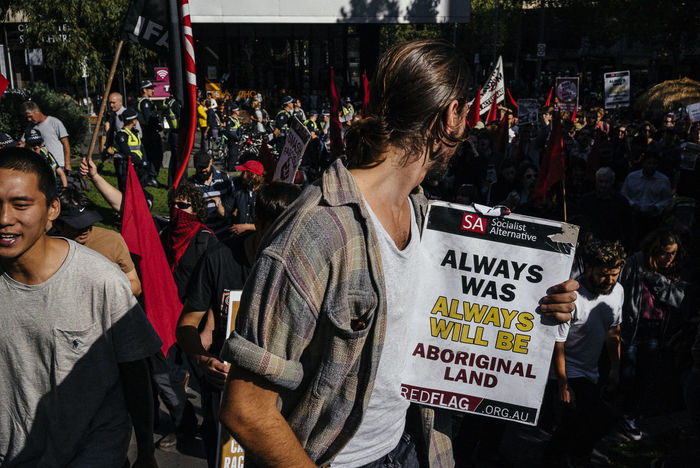 By Thomas Lim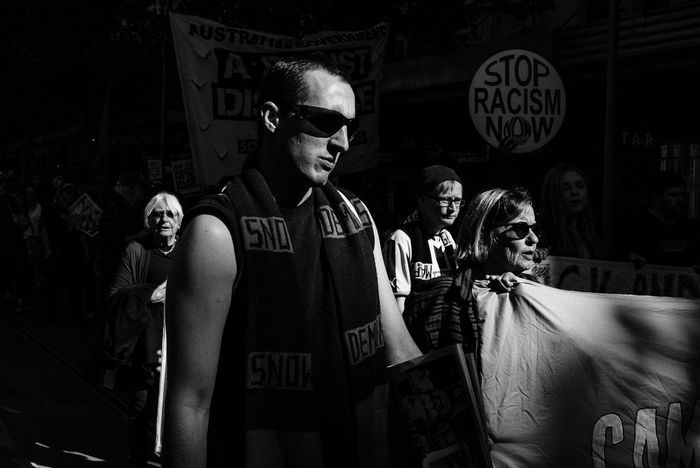 By Thomas Lim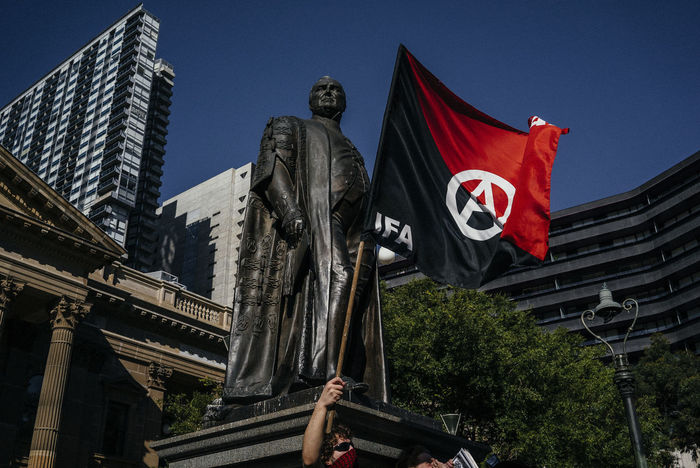 By Thomas Lim
Thank you for the fascinating interview Thomas! Follow Thomas Lim on EyeEm to see even more of his photos from Melbourne's anti-racism rally.
Header image by @thomaslim24.