Insta CRT: The world's first real world filter app
Let us introduce you to Insta CRT: an app / machine that adds a real world filter to your photo. Developed by 3 friends from Sweden – Martin Ström, Ruben Broman and Erik Wåhlström – the project became popular very quickly. We sat together with Martin, one of the co-founders, to find out how Insta CRT came to life.
Hey friends,
Let us to introduce you to the awesomeInsta CRT today! It's a unique app / machine that adds a real world filter to your photo. Developed by 3 friends from Sweden – Martin Ström, Ruben Broman andErik Wåhlström – the project became popular very quickly and also made a brief stint at our Photo Hack Day in September.
We sat together with Martin, one of the co-founders, to find out how Insta CRT came to life.
Hi Martin! How did you come up with the idea for InstaCRT?
The three of us behind InstaCRT all come from different backgrounds (programmer, filmmaker and photographer) but share the same interest in technology — both digital and analog. We're working from the same studio and had many old parts laying around and wanted to build something with them.
This was in fall of 2011 when many mobile apps with filters (like Instagram and others) started to get really popular so we started to talk about creating a "real" filter app instead of the software based others were using.
How does InstaCRT work?
Let's start with the original, black and white, version. You take a photo using the app and send it to our machine located in our studio in Stockholm, Sweden. The photo is then displayed on a small CRT screen from the 80s. A modern digital SLR camera then snaps a photo of the screen and that photo is sent back to your iPhone again — in less than 30 seconds.
#instacrt by wolohipster101
#instacrt by adriannilsson
What's the story behind your latest color upgrade?
To make the color version work using the same screen, we first separate the incoming photo into three grayscale photos (one for each RGB channel, red, green and blue) and send them through the machine. These photos are combined into one full color photo again, and sent back to your iPhone.
So for every color photo sent from the app, actually three pictures are taken by the machine — which is also the reason why they take longer.In total the machine has taken almost 150.000 photos so far!
When you started the project gained a lot of press attention. Did you expect such a response?
Not at all! Everything really started out as a hack one night, to see if we could get it working. Initially, we weren't even sure whether we should release InstaCRT on the App Store at all, because it could be pretty hard to keep the machine running smoothly for a longer time. But after a few weeks of tweaking and beta testing it seemed stable enough and we thought it would be fun to see if people liked it.
What do you do when you're not sending photos through cyberspace?
The limits tend to be pretty vague sometimes but these are the projects that take most of my time right now:
– Loopcam
– CopyPasteCharacter.com (and the iPhone app)
– Linkli.st
– An emo robot that drives around and finds dark spots where it stops and play dark, sad music.
– A soon-to-be-released web based music player
I try to keep my siteupdated as new stuff are released.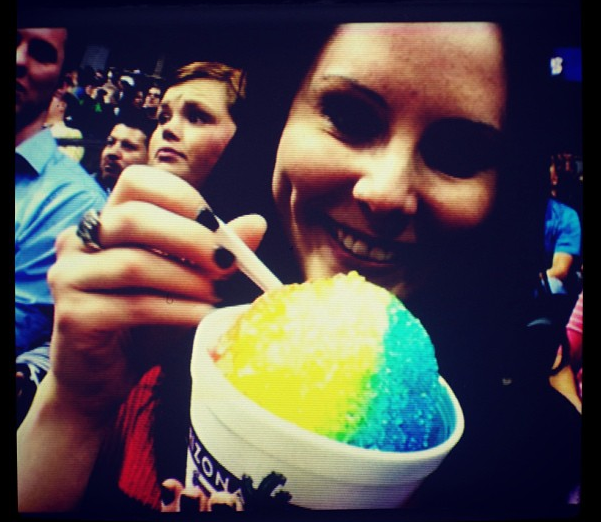 #instacrt by robbfladry
#instacrt by bc2116
Did any funny, outrageous, particular stories happen with people using InstaCRT yet – any special or unexpected results?
It was pretty intense when we hit the front page of Engadget in May. We didn't see that coming at all and suddenly we had queue times over 18 hours and hundreds of new photos coming in every minute.
Both the machine and server totally crashed so we had to run out and buy a new computer the next day to handle all the traffic — and I setup the machine remotely from Berlin using screen sharing.It's really not the easiest project to scale up : )
What are your favorite 3 InstaCRT pics of recent times?
We're using the Instagram API to pull in the #instacrt and #instacrtcolor tagged photos on our site. It's hard to pick and of course a lot of them are never shared publicly but I want to highlight one of our first real fans, the famous Adam Goldberg's photos.
Also I love that a fan made atumblr just for InstaCRT.
#instacrt by adamgoldberg
With InstaCRT and other projects (like the Impossible Instant Lab) we see more and more technological solutions for making digital images "real" again. Why do you think is that so?
Everything is so available and in super good quality these days. We have phones that take perfect photos and everything is instantly available. There is something charming with things that take longer time, sometimes a bit more cumbersome and are not perfect — and most importantly — physical.
I think we want to see our creations in the physical world again. And there is always something with projects that are a bit too cumbersome than the rest.
All three of us behind InstaCRT are also using analogue cameras (both for work and not) and Erik is even running his own lab.
What's next for you and the team?
We actually have a new idea planned which plays in the same field as InstaCRT but yet something totally different. More on that next time!
Thanks for the interview, Martin!
Go and have a look at InstaCRT yourself and say hi to Martin, Ruben and Erikif you like what they're doing!
Further links:
Insta CRT.com
InstaCRT on Engadget
InstaCRT on The Verge
InstaCRT on FastCoDesign
Recommended Blog posts