How We Worked With Mashable to Crowdsource Authentic Images
By EyeEm Team - 4 min read
Think the trip to work is boring? Together with Mashable, we showed how vibrant it can be – and helped engage their global readership.
Mashable is an American publishing company that runs an eponymous blog about technology and life in the modern world. With a social media following of over 28M and social shares averaging 7.5M per month, it has a global reach that extends to large audiences in Asia, India, and Europe.

Engaging such a widespread following requires a steady supply of not just fresh content, but also stories and images that connect with readers, delights and surprises them, and encourages sharing.
Paradoxically, the most striking content is often about something quite common, which has been reexamined from a different angle. In June 2016, we worked with Mashable to find such content, focusing on a topic that seemed quite unremarkable at first – commuting.
The Task: Picture the trip to work
The daily trip to work is an activity that unites all of us – no matter where in the world one lives, we head to the workplace every day, embedded in the societies and cultures surrounding us. Commuting is a lens through which we can see how different everyday life can be – and what striking parallels nevertheless exist.
"The idea of commuting is one that is shared by millions of people around the world," says Dustin Drankoski, Photo Director at Mashable. "It is an activity that is so ingrained in day-to-day existence that most people don't even think about it." He and his team wanted to weave a visual story that celebrated the diversity of Mashable's global audience, a story that was engaging and relatable on a personal level.
How we did it: The "My Commute" Mission
At EyeEm, we regularly run Missions: photography competitions that ask our community of 18M photographers to shoot certain topics with the chance to be rewarded and featured.
Working with Mashable, we launched "My Commute", a Mission that asked photographers to provide "a visual look at how people around the world get to and from work everyday."
"The thing is, a commute in New York City looks a whole lot different than a commute in New Delhi," Dustin told us. "We wanted to both highlight the differences of what that trip can look like, but also how similar the experience is – regardless of regional location."
With photographers from over 150 countries active on EyeEm, the submitted captures showcased the diversity that characterizes commuting in different locations: "EyeEm has an international audience, which allowed Mashable to tell the story of commuting through the eyes of locals," Dustin says. "Having people capture their own commutes meant that we were getting more authentic imagery and experiences."
The Outcome: An Outpouring of Creativity
"EyeEm provided access to international photographers and a quality level that we knew would meet our visual standards."
– Dustin Drankoski, Photo Director at Mashable
In only 7 days, our "My Commute" Photo Mission ended up receiving over 8.5k submissions from photographers across the globe. EyeEm's team of photo curators selected a shortlist of the best images, from which Mashable picked a winner. It was a huge outpouring of creative talent and quality photos. Most importantly, each submission was a snapshot of a true experience – one that anyone could relate to.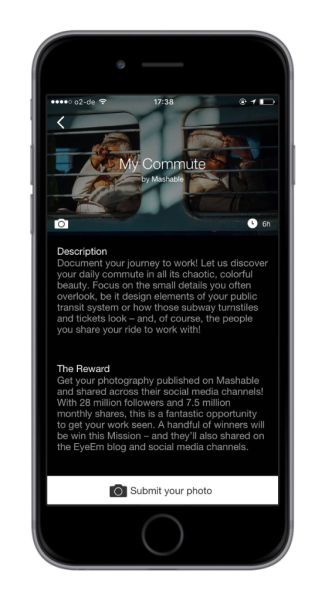 The "My Commute" Mission, as seen in-app.
Asked about the difference between working with EyeEm's community-generated images versus photos from stock agencies, Dustin told us, "Using crowdsourcing produces more authentic images, that hopefully allows our story to relate to a much larger audience."
Mashable compiled the winning images into a large photo feature on their site. The final story was shared over 1.2k times and provided a significant amount of exposure for the winning photographers. Check out the final story here.
Header image by @la_lima