How One Photographer Captured Cuba in Photos Before it Changes Forever
By EyeEm Team - 7 min read
We interview Jan Kickinger on the old and new of Cuba's changing identity.
In the last two years, Cuba has seen sweeping changes in its relationship with the United States – including a visit from President Obama, the first from a U.S. president in 80 years, and the opening of an American embassy. The Cuban Thaw as it has come to be named is history in the present. We visit Cuba with German photographer Jan Kickinger, who traveled throughout Cuba on the cusp of its transformation and who had a similar experience himself having lived through the transformation of the German Democratic Republic. See Jan's portrait of Cuba, a nation known for having been frozen in time for decades, before it undergoes an irreversible and historic change.
Jan Kickinger is a Berlin-area based photographer, a long-time part of the EyeEm community and co-founder of the blog mobilephotography.de.
By kickin
Why Cuba?
It was quite a coincidence that led me to Cuba. I jumped in as a traveling companion for my brother because my father was not able to make the journey for health reasons. I had to jump on this opportunity, and I am so happy I did. I have always wanted to travel there.
How long were you there? Where did you go and what did you see?
I was there only for two weeks unfortunately, a far too short time to really get to know the country and the people. In the first week, we rented a car and drove around the island. We started our trip from Varadero to Havana. In Havana, we stayed for two days, and I fell in love with this beautiful city with its unique charm. From there, we visited the tobacco plantations on the west of the island and then moved on to Cienfuegos, Trinidad, Sancti Spiritus and Santa Clara. Actually, it's one of the classic tourist routes. The second week was spent on the beach of Varadero. We would have rather driven across the island to see even more of the beautiful country, but unfortunately, that didn't happen.
People outside of Cuba have viewed it as a place where time has stood still. What did you find?
You can say so, and this was also my impression. I saw old 50s era American road cruisers. I got to stand in front of beautiful colonial buildings. It was interesting to see how many of the old cars are beautifully maintained, and even though the buildings are in bad shape, there is a morbid charm to them…
You can feel a very expectant mood among Cubans, and there are also some fears. Fears that much could be lost from the special way of life and the identity of the Cuban people and their land will be sold out by commercialized western model and be peppered with Coca Cola, McDonalds and Starbucks.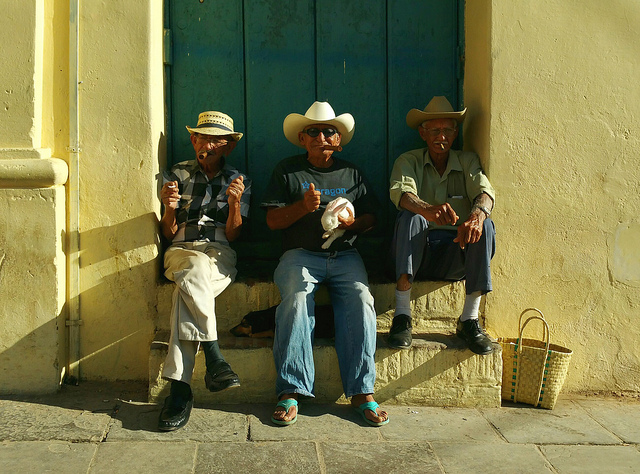 Your photos meet people face to face. What was that like – photographing Cubans?
It was basically very easy for me because Cubans are very open and friendly people. I never had the feeling that they were uncomfortable with being photographed. It was quite the opposite. When they noticed my camera they would smile for me, pose or dance. Music is everywhere.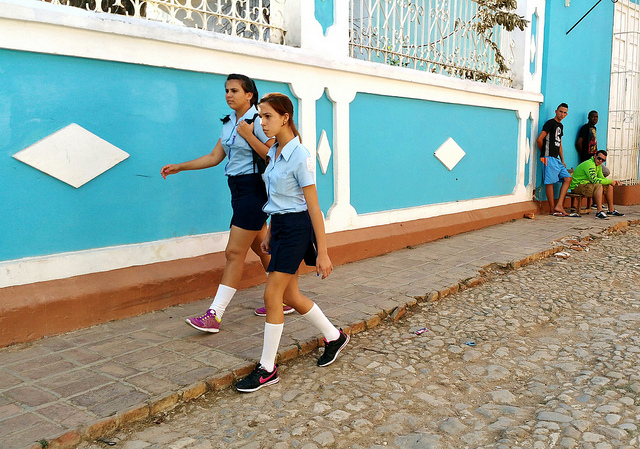 How did you generally go about approaching people?
This is quite different and depends on the situation. You have to develop a sense and communicate with people but often, rich glances or just a smile. Sometimes, there are situations where it is better not to photograph a person… In my opinion, it is necessary to gain a sense for when it is appropriate to take a photo.
Media, press and the internet are tightly controlled by the Cuban government. As a photographer who shares his photography through the internet and media, what was that experience like?
It was really difficult because we had no internet access for days. This is only possible in the larger hotels. I couldn't post the photos immediately, but only days later. On the other hand, I enjoyed being offline for a long time. But that is not what the Cuban people want, of course. They want free access to information – they find very imaginative ways to get around this.
Tell us more about that.
For example, they use the hotspots of the hotels and get the passwords maybe from hotel staff. Then, they download content such as music, videos and movies on hard drives and swap them among themselves. Very few people have a Facebook account, but I saw even some Cuban photographers on Instagram.
The Cuban people are very resourceful, because they always have to improvise, there is a shortage economy. And they find ways around to outwit what the government controls. It reminds me of the times of the former GDR (German Democratic Republic), where I grew up. There was no Internet of course, but it was possible to use Western media to get information. The government could not prevent this. I hope for the Cubans that this policy changes soon.
What did you take away from your time photographing there?
A great longing, the desire to return to the island as soon as possible because the country is a paradise for photographers. The lovely people, the gorgeous landscape, the old cars and buildings, the wonderful colors and the special light. I hope that this will not be all gone soon.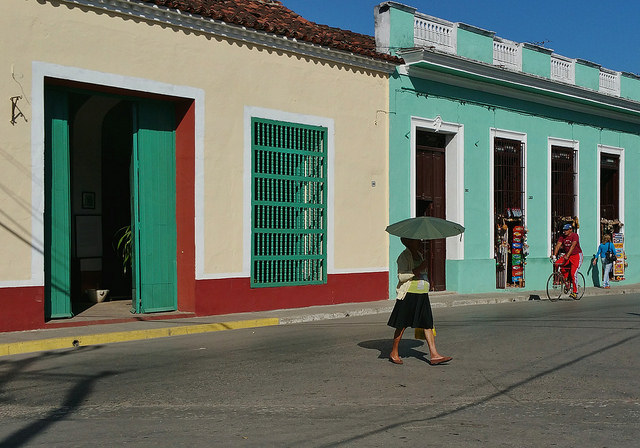 Your visit was prior to America reopening an embassy in Cuba (July 2015). What's your sense of how this affects how you saw Cuba vs. a photographer who might be visiting today?
The atmosphere is full of expectations and great optimism, mixed with fears. People want to build their own small business, and there are quite a few small private restaurants and accommodations. However, I fear that the change will take place very rapidly and radically and unfortunately what might be lost is much of the charm and flair of Cuba.
But, I'm also happy for the Cuban people, and in these changes are a lot of opportunities to gain a better life for the people. It also reminds me of the turning point in the former East Germany, I can still vividly remember this particular optimism. Sure, many expectations were not met, but I think for most people it's much better now and hardly anyone wants those old dark days back. I would like to be in Cuba to experience this change and to document it in photos.
Tell us about you.
I live in a small town on the southern outskirts of Berlin, and I work as an Architecture/Construction Manager in Potsdam. In addition, I am a project and event manager specializing in urban development and city management. Photography has fascinated me for as long as I remember. I worked with film cameras in the past. In the summer of 2010, I got the magic back when I bought my first iPhone 4.
How did your relationship with photography evolve when that happened?
When I first started shooting with my iPhone, that whole excitement of having a camera and mobile processing lab in my pocket became addictive. The ability to take photos, 'develop them' and get feedback from others was incredible. I could learn from and be inspired by others and their work… Photo sharing apps such as Instagram and EyeEm have led me to meet very special people, some of which have become real friends. Together with Moritz aka @brainyartist, we founded the blog mobilephotography.de and we regularly organize photo walks for the community.
Thank you, Jan! You can follow Jan, and see his latest photos at @kickin on EyeEm.
All images including header image by @kickin