Q&A with Illustrator Gustavo Malucelli
By Stephanie - 6 min read
Guz created our one-of-a-kind conference table, so we thought we would get to know a little more about him.
Gustavo Malucelli, or Guz, is an illustrator, painter, a Hyper Island Alumni, and a lover from Brazil. Currently following his passion for art and travelling everywhere. "Shut up and enjoy, douche" is his mantra. Guz is part of an art collective The Barefoot Basterds and also a French one called Violence. He took some time out of his busy schedule to customise our conference table, so we thought we would get to know a little more about him.
Rumor has it, you grew up in Brazil, but spent the past year and a half in Europe. What has that meant for you?
I was very lucky to be accepted in one of the trendiest schools in the world: Hyper Island, based in Stockholm, Sweden. It has changed my way of thinking and living in so many ways that only people that are part of that can understand. It helped me to build confidence to do whatever da fuck I want and be anywhere in the world doing what I love.
Also, my network is so big now that I have a couch to stay basically everywhere I go with a personal city guides aka great friends that I can have a beer with. Last time I went to Amsterdam, one of my friends bought a bike for me to hang out around the city. In Berlin, great tips for underground exhibitions that I would never find out on the Internet. In Paris, friends that I could go paint and do Graffiti, and so on.
Please tell us a little more about your middle name
My middle name? Martini?A good friend of mine likes to say that Martini is a grown up drink. It's very complex to prepare properly and the correct way to drink is with two sips maximum. Basically, it's not for amateurs. I agree with him. But I think a better middle name for me would be Gustavo "any beer brand" Malucelli – I don't care that much about this bullshit Martini thing.
What are you doing with those collectives?
The Barefoot Basterds is a collective for people that give a fuck about not giving one. We come from Brazil, Sweden, France and Switzerland, united in the same ambition. Put our team in super duper extreme environments. Just to see if we can:1. survive 2. produce awesome art 3. get a good excuse to GTFO of commercial work for a little while.
So far we have been doing well. Confining ourselves for 2 weeks on a deserted island in the Philippines, creating an underground video event in Switzerland, tagging walls and eating burgers. So it's a lot of fun for sure.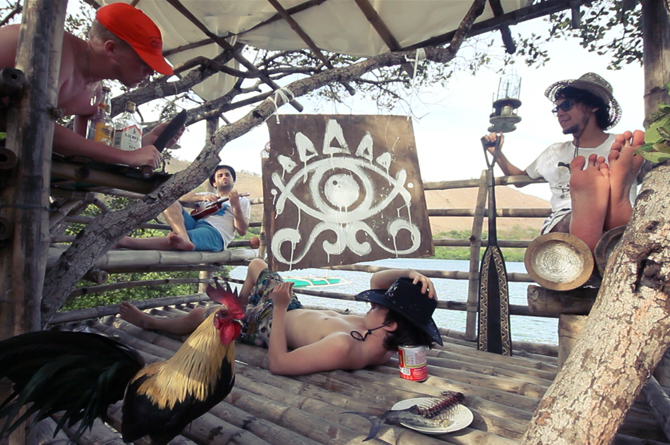 VIOLENCE is a collection of creative minds with a lot of different skill sets and personalities. We are filmmakers, photographers, digital creatives and illustrators. We strive a lot for quality and an enjoyable working process.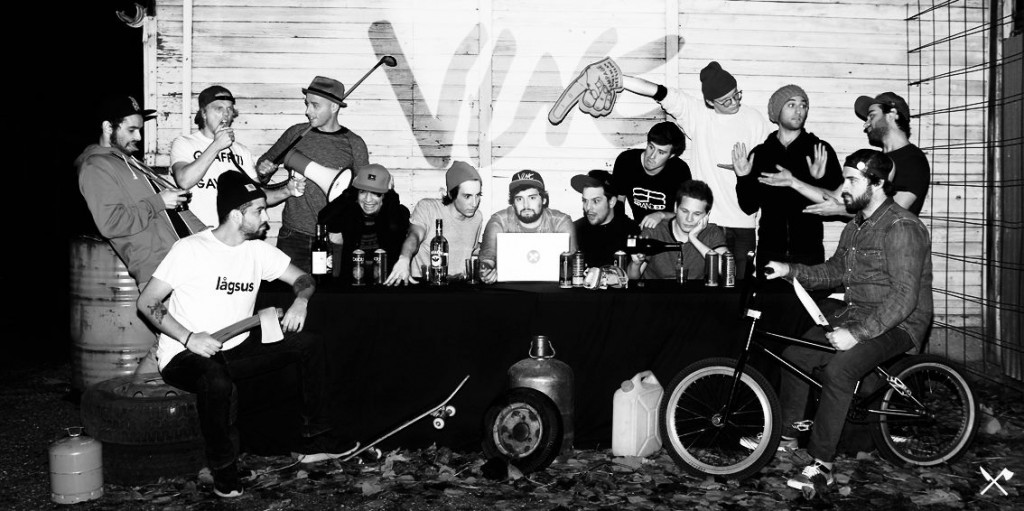 Love what you did with the leaves! Out of all things to spray paint, how did you decide on leaves?
So far, the extension of my work – when it becomes something physical and tactile – is with the nature. When The Barefoot Basterds were on the Philippines, during the summer, I've done a piece that I call "Happy Tree". There was only one tree on the entire island without leaves, so I decided to cut colorful leaves on paper and place on that tree. When I showed the final result to one of my friends he suggested me to do the same during Autumn. So I went for it and made a "Happy Autumn" piece.
Message to Sweden from Gustavo Malucelli on Vimeo.
Is there a reason why all your work is very colorful?
Colors are part of my personality. I love to look objects that are very colorful. I like to dress with strong colors and use a lot of contrasts. I speak with colors and I like to eat colorful food. A great example is the Tulip Fields in Netherlands . Perfect balance, vibe, feeling and life.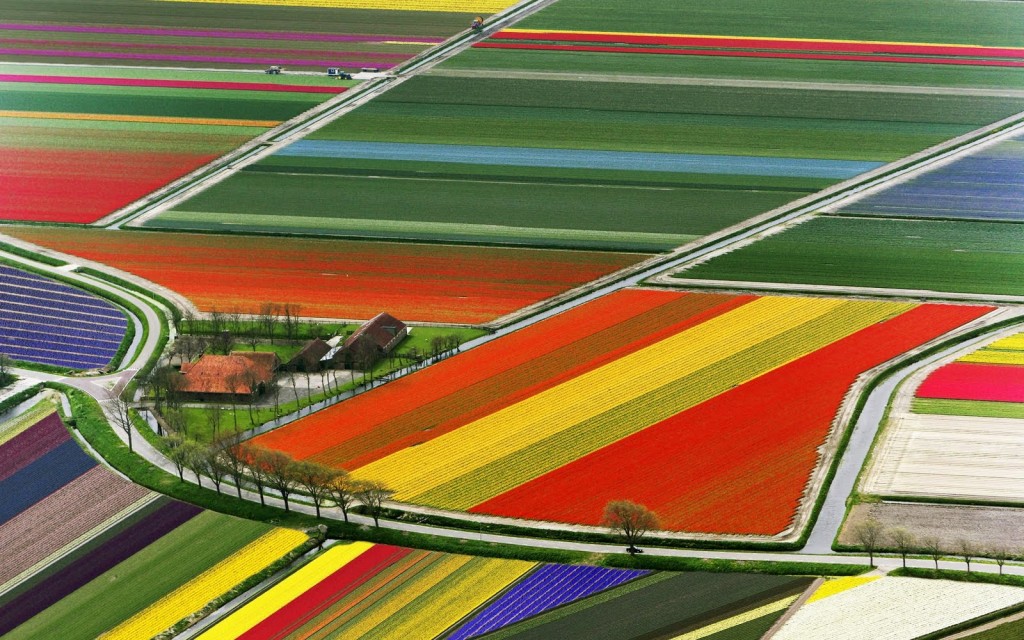 What does your ideal day look like?
Waking up in Palawan, Philippines, and have a Mango Smoothie + Banana Pancakes for breakfast. Get my bike and go all the way to Amsterdam to meet up with some friends, discuss some projects and sketch a little bit. Have lunch in Paris (food is brilliant there) and do some Graffiti in Berlin during my afternoon while I drink beers, tell jokes and discuss about life with other people. For dinner I would choose some Brazilian barbecue and then party in Stockholm with Swedish babes.
Is there anything you can tell us about the table you painted for us?
It was a big pleasure to paint the table for EyeEm. The idea behind it was to make a piece that could bring some good energy for the environment. I've drew different personas that are using the App now, so, in my head, you guys could actually use the table as a tool when discussing about different targets and ideas for the App.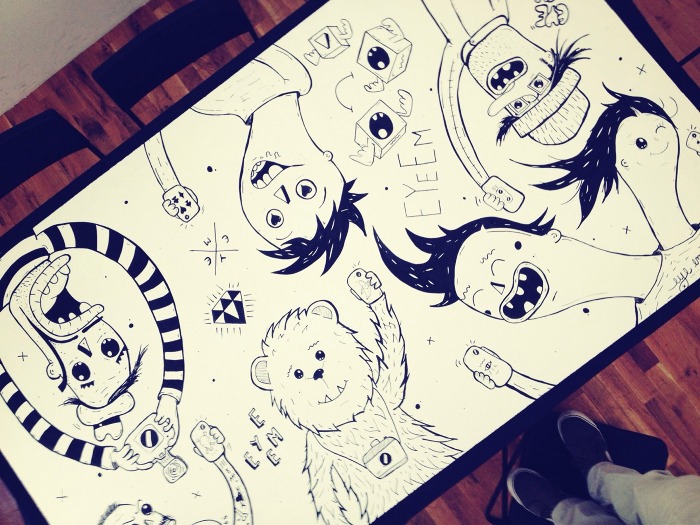 Also, the strategy in this piece is to have a good fun vibe if you have new clients, and people that you're making business – it's a good starting point to talk about something else – like the illustration on table – in stead of jumping directly to the business serious part.
What's next? Any big plans?
I'm moving to Seoul, Korea, by the middle of January with one of my mates from The Barefoot Basterds. Basically, I'll be focusing on producing material to make proper Exhibitions and art around Asia, have fun and meet awesome crazy Korean people.
Follow my Korean adventure here and here.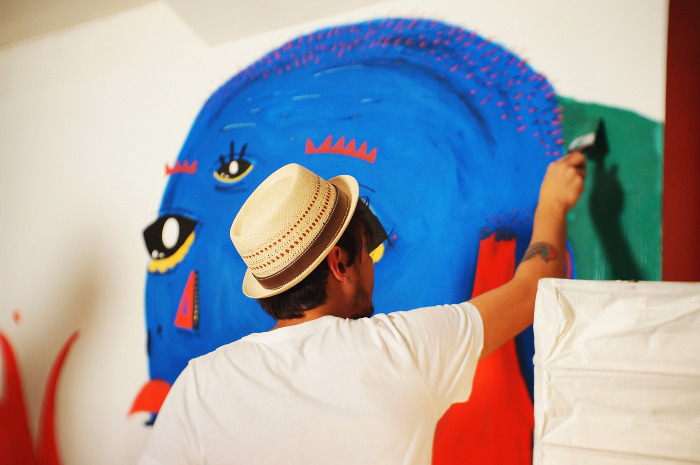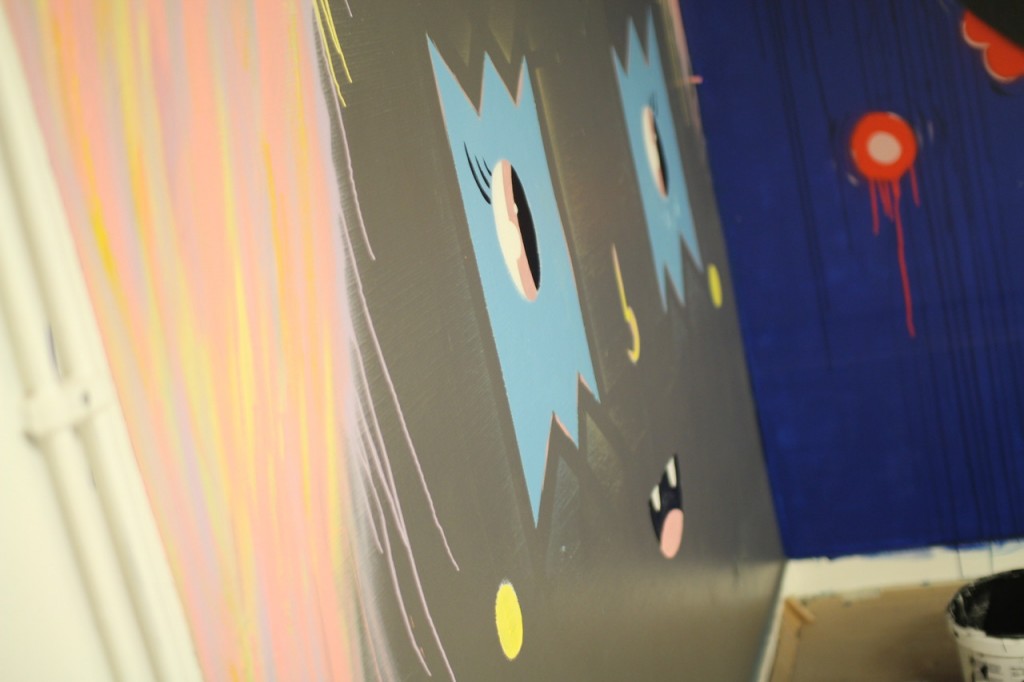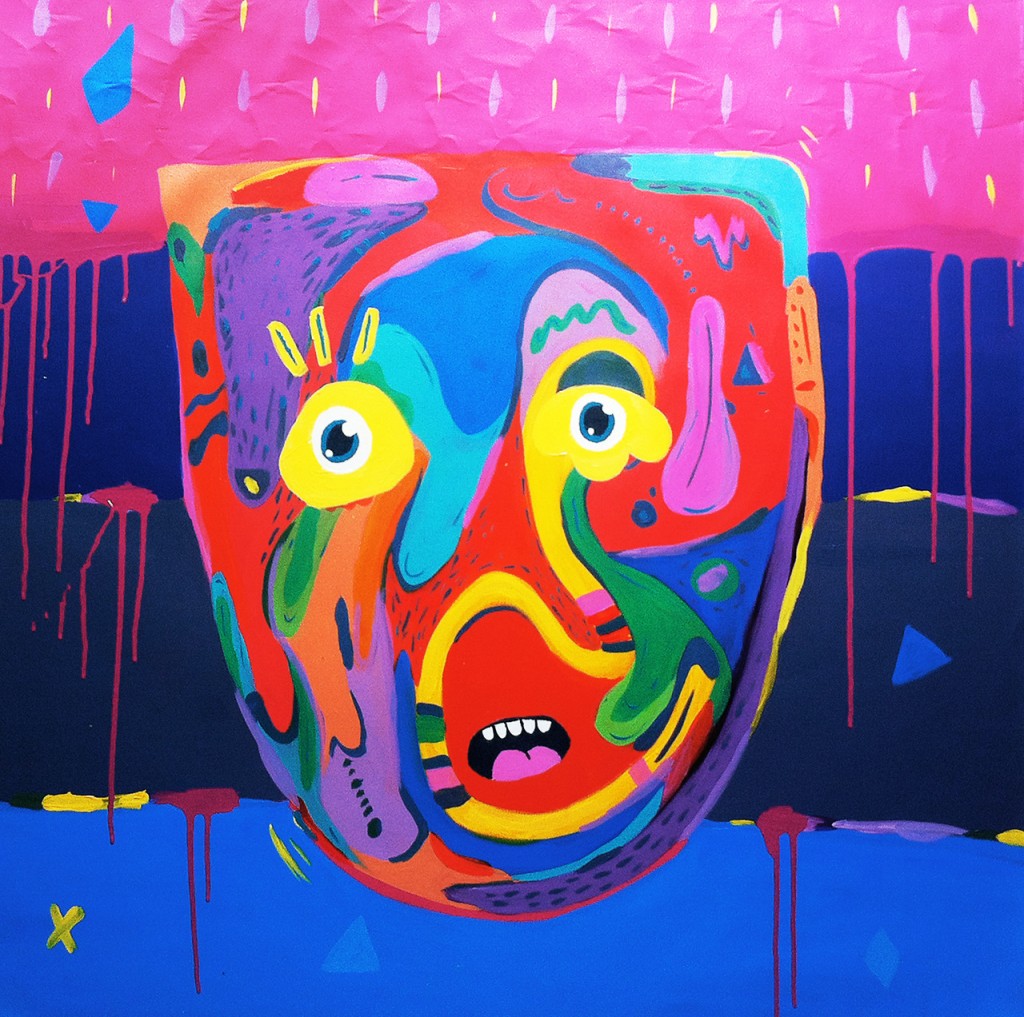 Thanks for the interview Guz!