#EyeEmAwards18: Street Photography Tips from Highsnobiety's Nik Schulte
By Marili Persson - 3 min read
Street photography is candid photography of life and human nature. The Street Photographer, presented by Highsnobiety, is all about visualizing our surroundings, and showing how we as photographers relate to them. We sat down with Highsnobiety's Image Director Nik Schulte, to discuss what he's looking for when judging works submitted to this year's Awards category, 'The Street Photographer'.
The true character of an urban environment can be found in the arteries and veins that flow traffic and people around a city's beating heart – its streets. The Street Photographer invites you to share your perspective on the world's everyday life and society.
Highsnobiety, our partner for this year's Street Photographer category, started as a blog for street art, culture, fashion and footwear from around the world. Today, Highsnobiety is a leading new-media brand for the next generation of tastemakers, trendsetters & style-conscious young men. We sat down with Highsnobiety Image Director and EyeEm Jury Member Nik Schulte, also known as 'Aesthetnik', to discuss what he's looking for from submissions, his day-to-day work, and his beautifully minimalist Instagram feed.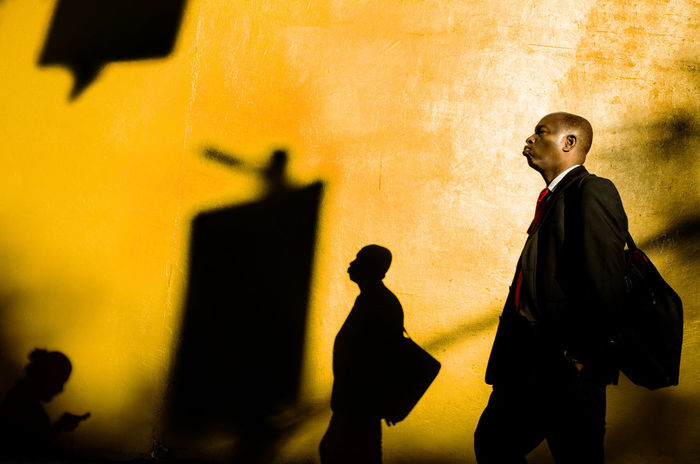 We'd love to hear how you got involved in photography: How did your interest for photography come about, and what's your relationship with photography today?
When I was living in NYC, photography was my way of expressing myself and connecting with other creative people in the city. At that point, photography was only a creative outlet for me as I balanced it with my normal day job. Fast forward a couple of years - I'm now leading the Photography Department at Highsnobiety as the Image Director, and I'm happy to say that photography is now my full-time job.
What is it about street photography that inspires you?
In street photography, it is purely about the moment you capture in time. It doesn't matter too much if you're a professional or an amateur; if you have the latest camera or just a normal one. The thing that really matters is being at the right time at the right spot and pressing the shutter. To capture that one moment that tells it all, one also needs an eye for detail and a lot of patience.
The visual style and mood in your images is quite distinct. Can you tell us a bit about your signature minimal and clean aesthetic? How did your style develop?
I started as a street photographer, just roaming the streets of NYC and capturing the moment of me being there with my camera. At that time, sharing your photography over social media was becoming really popular and soon I also started doing it. But eventually, I got bored with seeing images of the same locations over and over again, and I wanted to distinguish myself more from other photographers. So I started to capture the same building and locations as everyone else, but I tried to give it my own spin through editing and perspectives. Over time, my clean/ minimal aesthetic developed more and more until it truly became my own. To this day, I still try to push it to the next level when it comes to my edits.
You're the Image Director at the leading new-media brand Highsnobiety. How would you describe the day-to-day work in your role there?
Every day is different since my team and I work on all kind of projects. From small editorial project to big commercial projects, we do everything. A lot of my time is spent on planning upcoming productions, which includes everything from coming up with mood boards and locations scouting to picking the models and the stylist, and so on.
You have quite a following on Instagram. What does this online community mean to you, and what effect has it had on your photography?
It's great to know that there are people out there who have been following what I've been doing for years, and also stuck with me as I continue developing my style and aesthetic. It can be really encouraging, but also quite intimating, to know there are so many people keeping an eye on what I do. One great effect it had for me in the beginning was the ability to meet so many new people and share our ideas and creativity with each other. Definitely influenced my photography, especially when I first started.
What are having an outlook for in new talents?
I'm fascinated by young talent that already have a certain look to their photos and have developed their own signature aesthetic.
What do you in particular looking for when you're judging works submitted to #EyeEmAwards18 category The Street Photographer?
I'm looking for originality in the photos and the moment of surprise. I want to see images that make me look a second time, and maybe need a moment to fully understand on what's going on.
What's the last photographic work that really inspired you?
It's a series called Warp Classics by Foam Studio. It's just so surreal. I'm still trying to fully wrap my head around how they did it - if anyone knows, hit me up!
You're talking to a younger version of you, what would you do differently to get to where you are now?
I honestly don´t know. I'm happy where I am and how I got here, and I don't think I would or should do much different.
Urban streets can be a hive of energy, or a quiet place for an individual to contemplate. Share your perspective on the world's life on the streets. Click here to submit your work to The Street Photographer.