3 Lessons on Brand Storytelling from Google, Mashable, and Carbone Smolan
Creative masterminds Anna Dickson, Paul Pierson and Dustin Drankoski shared their insights on a recent panel discussion we hosted in New York City
July 27, New York City: the crowd is taking their seats in our Breather loft on 24th street. On the front row:
• Anna Dickson, Photo Lead for Google's Content & Community Team
• Paul Pierson, Managing Partner at Carbone Smolan Agency
• Dustin Drankoski, Director of Photography at Mashable
• and myself, Severin Matusek, VP of Community at EyeEm – and the moderator of the evening.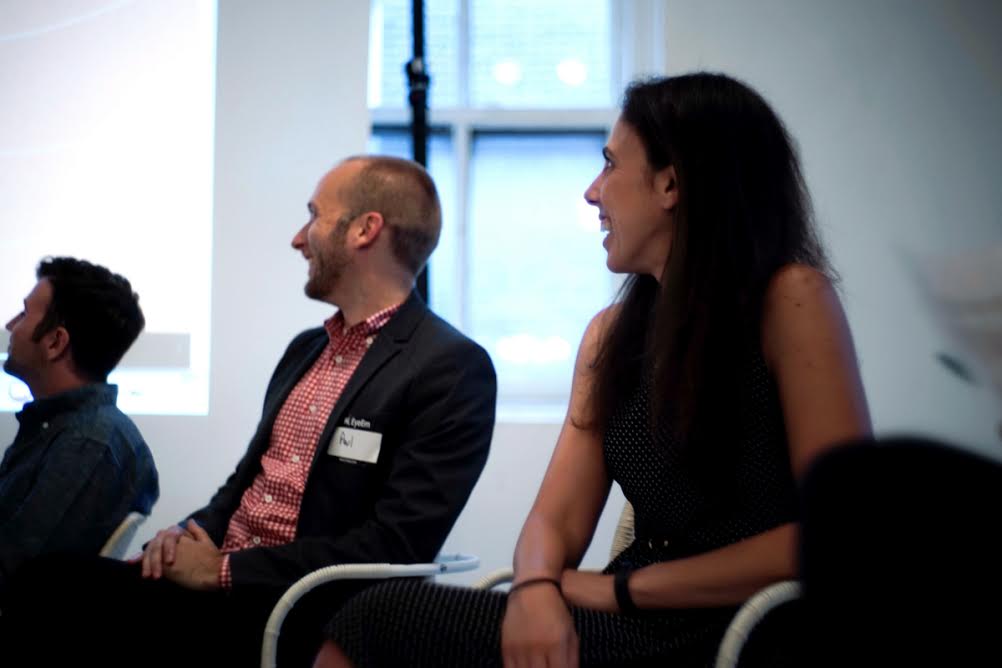 Dustin, Paul and Anna during our panel discussion. July 27, New York City
Each of the three panelists are profound experts in photography, marketing and visual communication. Anna innovates within Google to bring new visual narratives to platforms such as Zagat and Google Local Guides, Paul helps re-define the visual languages of some of the world's biggest firms like The Boston Consulting Group and Dustin leads a team of editors to visualize compelling stories on one of the world's largest news sources, Mashable.
So what's to learn from these smart individuals? Here are my 3 key insights from our discussion:
1. Stream it live or it didn't happen
Remember the days when you switched on the TV to tune in live for that one show you couldn't miss? They are long gone in the days of on-demand everything. But believe it or not, the magic of being part of an experience in real-time is coming back.
"Live streaming is the evolution of how to consume content."
Tweet this
says Anna, and refers to her current project#Foodtripping. A team of food enthusiasts from food platform Zagat and The Huffington Post are traveling across the country to document the coolest food destinations the U.S. has to offer — and it's all live via Facebook, Periscope, Instagram, Snapchat and Tumblr.
How they do it is quite fascinating: instead of a pre-produced, all-things-taken-care-of social media campaign the #Foodtripping live streams are DIY and raw. One person films, one is on camera and another plays background music with an iPhone. If something goes wrong everybody sees it. For brands this might be a risk, but ultimately it shows that you're real and authentic in what you do.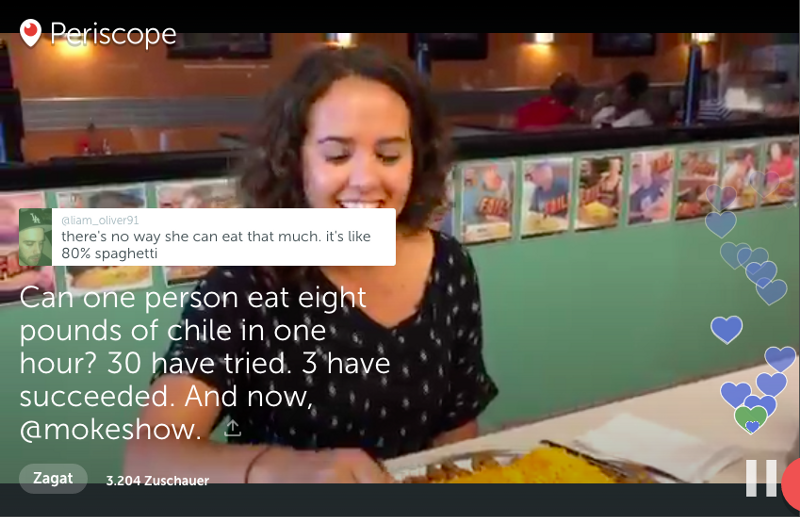 Molly from #Foodtripping tunes in live from Ohio while watchers on Periscope add comments and give hearts.
2. Social media is not just distribution. It's content itself.
In the early days of social media brands needed to be on Facebook and Twitter for the followers. It was an effective way to distribute content that you hosted on your website, blog or elsewhere. Now, things have shifted. Instead of just distributing your content on social media, you make content for social media — and tailor it to each specific channel.
"Social and interaction is where it's really going." says Paul Pierson. "It opened up a whole new world of how content is made."
What you want is interaction and engagement, not just followers. It's not a secret anymore that anything you put out there has to be optimized for social sharing and SEO. As Dustin Drankoski put it:
"If you don't share your story in a way that's natural to your audience, then it won't be seen."
Tweet this
One recent story that Dustin worked on as Mashable serves as a good example. In"From Raqqa to Norway"he commissioned a photographer to accompany a Syrian family on their journey to Norway. The result is an extremely compelling, authentic and personal story that takes the viewer right into the scene as if they are a part of it.
From Raqqa to Norway tells the story of a Syrian family on their way through Europe. Via Mashable.
3. Create a visual language for your brand
There's so much hunger for visual content today that it's even penetrating the world of big business. You can't not communicate. The challenge is to find out what you're good at and what works for you.
"For brands, I like to think of content being as a long tail chart." said Paul Pierson. "Quantity as the vertical axis and production value as the horizontal. There's advantages at both ends of this. The low-production value end has enormous value for it's immediacy and it's volume. With the right tools you can get very high quality work. And at the very other extreme of high production value, work done by top professionals also has powerful storytelling value. As a brand, the place you don't want to be is in the middle."
An example that showcases Paul's approach is Carbone Smolan's recent re-design of the website of global consulting firmThe Boston Consulting Group. With the aim of defining a new visual language that represents the firm's core values, Paul and his team commissioned crowd-sourced images through EyeEm, custom shoots by Magnum photographer Paolo Pellegrin and parametric art through artist Reza Ali.
While there's no one recipe for any one brand, the key to successful visual communication lies in visual literacy. Just like knowing a second language, you must be fluent to understand how to communicate visually, on different platforms and tell stories using multiple tools. The difference between professionals and amateurs doesn't exist in this framework anymore.
Whether you're an individual or a brand, your ability to cut through the noise and create something that's meaningful to other people makes the difference. As Anna Dickson puts it:
"It doesn't matter who's doing it, it matters how."
Thank you Anna, Paul and Dustin for sharing your thoughts and insights with us. We'll keep the conversation going.
Header image by @storyphotos.