7 New Portrait Photography Books That Will Inspire You
By EyeEm Team - 4 min read
Check out these reads hand-picked by the editors
We all have our go-to books when it comes to brushing up on F-stops or seeking inspiration, but there's no reason your library should stop there. If you're looking for the latest in portrait photography, here are our recommendations from currently exhibited work to how-to guides.
1. Read This If You Want to Take Great Photographs of People
Second in a series of educational books on photography, Henry Carroll leads the way through seven major topics to sharpen your portrait skills: Composition, Context, The Gaze, Control, The Street, Black and White or Colour and The Psychology of Light. These are illustrated with photography's finest portraiture from Gary Winogrand and August Sander to Richard Avedon and Cindy Sherman.
Find it here published by Laurence King.
New York City, Bruce Gilden, 1990
2. Schude – Ryan Schude
A collection of contemporary photographer Ryan Schude's best photography. Schude's large scale photographs take a step beyond the traditional portrait. Elaborately composed, detailed and often consisting of multiple images, it is not far-fetched to describe each as a true work of art.
Find it here published by Roads Publishing.
By the way, you can win this book! Submit your photos by January 25, 2016 to our Photographic Memory Mission with Fotografia magazine.
3. Lartigue: Life In Color
Wes Anderson and Richard Avedon have named 20th century photographer Jacques Henri Lartigue as an inspiration for their own work. Known for taking photographs of friends, family and lovers, he was also recognized for predominantly shooting in black and white. Many of Lartigue's color photographs are reproduced for the first time in this book. His work here is rich in hue but also in subject-matter – Lartigue captured those closest to him, as well as his fantastic travels.
Get Lartigue: Life in Color in February 2016 from Abrams.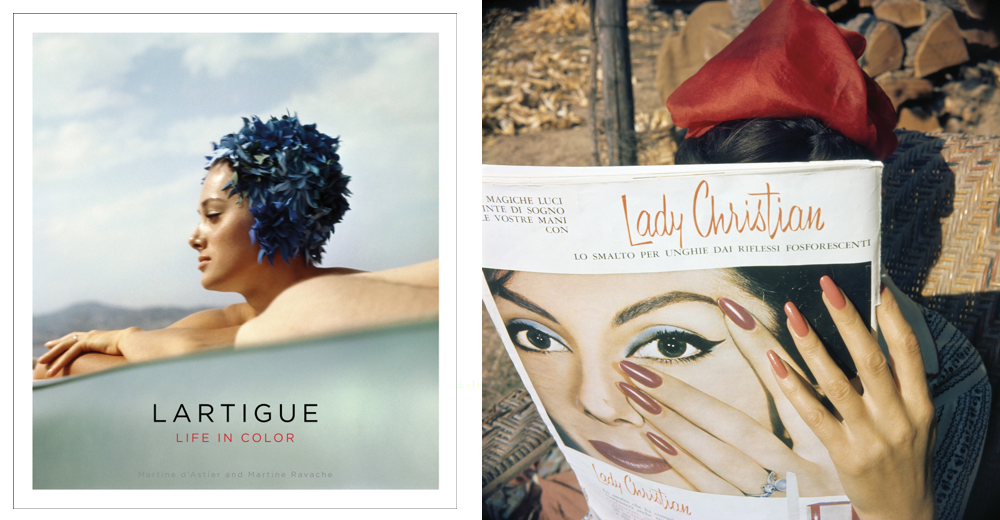 Left – Lartigue: Life in Color (Abrams)
Right – © Ministère de la Culture – France/AAJHL. All rights reserved.
4. Short Flashes – Wiktoria Wojciechowska
Wiktoria Wojciechowska's portraits of Chinese cyclists calls out individuality in a place where people are often treated as a mass. She describes the project developed during a time of her own loneliness during her stay in China.
Pre-order Short Flashes, releasing in May 2016, at Bemojake.
© Wiktoria Wojciechowska
5. Kids in Love – Olivia Bee
Olivia Bee's Kids in Love made its debut at a prominent New York gallery in 2014, though the photographer began gaining recognition a few years earlier at the youthful age of 17. With a foreword by Tavi Gevinson (who previously interviewed Bee for Time), this collection of photographs paints a portrait of its namesake in vibrant color through an intimate lens.
Find the book here at Aperture when it releases in April 2016.
Olivia Bee, Pre-Kiss, 2010, from Olivia Bee: Kids in Love (Aperture, 2016)
6. Notes for an Epilogue – Tamas Dezso
Over the course of four years, Hungarian photograph Tamas Dezso has documented "scenes of a world irreversibly decaying." Romania's communities and their long-held traditions find themselves under threat due to communist industrialization. Dezso explores both the disappearance of tradition among Romania's people but also the loss of physical heritage, the places that made up these communities. In this way, his work serves as witness.
See Notes for an Epilogue exhibited at the Robert Koch Gallery February 4 to April 30, 2016, where the accompanying book will also be available.
Tamas Dezso courtesy Robert Koch Gallery
7. Diving for Pearls – Nan Goldin
Diving for Pearls is the book that runs alongside Nan Goldin's 2011 "Scopophilia," recently exhibited at the Kestnergesellschaft in Germany. Goldin was invited by the Louvre to photograph artworks in their collection, which she then connected to her own work. Upon looking at paired images, visual echoes appear, bringing classical and contemporary together to be seen in a new light. 400 images make up the project, along with new photographs never seen from Goldin's "Saints" project.
Get the book from Steidl Verlag in April 2016.
Scopophilia – Matthew Marks Gallery website
For more portrait inspiration, see our portrait collection on EyeEm.
Header image by Tamas Dezso courtesy Robert Koch Gallery