11 Things You Should Know About EyeEm 3.0
Here's a handy list of tips & tricks of what you can do with the new EyeEm
With last week's update to EyeEm 3.0 we've introduced lots of new things. To give you a roundup of what you can do with the new EyeEm, here's a handy list of tips & tricks:
1. The Discover feed
At the heart of EyeEm 3.0 lies the Discover feed, which is your go-to source for everything new and relevant in the EyeEm universe. We recommend it especially for these uses:
– Fire it up wherever you are to discover what's around you.
– Check it out after you uploaded a photo and you'll see the photos connected to it.
– Browse through it anytime and you'll discover new stuff, tailored to your interests.
We're constantly improving the secret sauce algorithm behind the feed. Open your eyes for more discovery to come!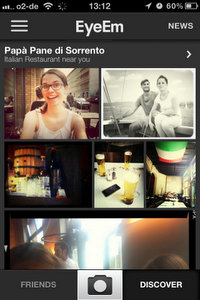 2. Comment or loop someone in using @mentions
@mentions are a great way to address someone directly in a comment or loop someone into the conversation. To do so, just tap @ in the comment box and a list of people who already commented on that photo will pop up. Now you can choose the person you want to address. If you want to loop someone in just enter @username and the person will receive a notification.
Please note: you will always get notified when someone comments on a photo you uploaded. But if you're part of a conversation on a photo someone else uploaded, you'll only receive a notification when you're @mentioned.
3. Hide an album from Discover feed
In case there's an album you want to hide and never ever see again in your Discover feed, there's an easy function to do that.
On iPhone: just swipe from left to right over the album and tap "Hide".
On Android: tap on the little triangle on the right bottom corner and confirm that you want to hide this album from your Discover feed.
4. Queue photos with A-Sync Upload
A slow internet connection shouldn't prevent you from uploading your shots. That's why A-Sync Upload does the job for you: upload your photo as usual and it will be uploaded as you go or queued until you're back with a working internet connection.
5. Edit your notification and sharing settings
EyeEm has many options to customize your notification and sharing settings. To do so, just go to Settings > Sharing Settings to adjust what you post to your social networks and to Settings > Notification Settings to adjust what notifications and emails you receive.
6. Swipe to choose your filters and frames
No need to tap around forever: just swipe left and right to switch between filters and up and down to switch between frames. Easy.
7. Switch between grid view and full frame view
While sometimes it's good to have an overview of photos, you sometimes just want to browse through an album and view each photo on full screen. To give you the freedom to choose, we introduced the switch from grid view to full frame view in EyeEm 3.0. The switch is located on the top right of your screen and allows you to change viewing modes whenever you want.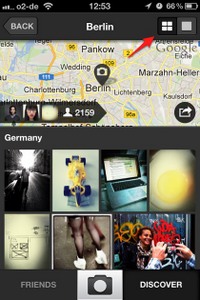 8. Use the Search function
On top of your navigation panel there's the Search field. It separates album and people search results and shows you everything there is related to your search query. As an example, try searching for "Camera" – you'll be surprised how many different albums exist with that name.
9. Tag your location even if you aren't there at the moment
If you are somewhere with no internet connection (e.g. on holidays in a different country) you can always upload your shots later. There are two ways to let EyeEm know where the photo was taken:
A. You had GPS turned on when you took the shot. EyeEm will then suggest you the right location tags, no matter where you are at the moment of uploading.
B. You didn't have GPS turned on. If so, then just find the album of the location, tap on the camera and upload your photo directly into the location album.
10. Zoom into maps
With 3.0 we introduced the maps feature that shows you exactly where an image was taken in location based albums (green bubbles). The cool thing about it: tap on the map and you'll directly zoom into the location and open it in Maps to find your way there. It's a really great tool to explore your surroundings.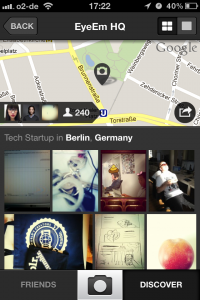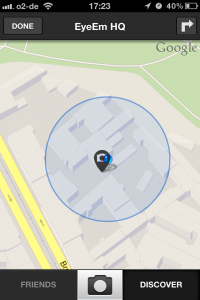 11. Pull to refresh your feed
This works for all album views (Friends feed, Discover feed, Album view, Around You, Popular): pull (swipe down) to refresh the feed and see what's new.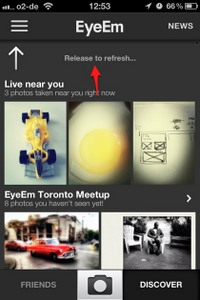 That's it! Of course there are many more things you can do with EyeEm, but we'll leave those up to you to explore : )
Make sure to also check out our detailed documentation in our help centerand let us know if you have any questions.